PORTLAND, Ore — Demonstrations continued around Portland for the eighth day in a row on Friday as protesters speak out against the death of George Floyd, the Minneapolis man who died after a police officer knelt on his neck for nearly nine minutes.
Protesters are also speaking out against the death of Breonna Taylor, who would have turned 27 years old on Friday. The young woman was shot and killed by Louisville police officers in her own home on March 13 as they searched for a man who did not live in her home and was already in police custody.
Demonstrations took place in Lake Oswego, Southeast Portland, Northeast Portland, downtown, and more.
Demonstrations remained completely peaceful most of the night, until the Portland Police declared an unlawful assembly and civil disturbance outside the Justice Center, just after 11 p.m. Shortly after that, police used smoke and gas to disperse protesters.
Real-time Updates
Police announce they have made multiple arrests so far.
Police said these items were recovered after being thrown at officers.
After walking to Pioneer Courthouse Square for a short time, the remaining protesters returned to the Justice Center.
The Multnomah County Sheriff's Office tweeted these photos of other items thrown at officers.
Police Chief Jami Resch said this improvised explosive was thrown at officers tonight, but the fuse went out.
The Multnomah County Sheriff's Office confirmed that smoke and gas were deployed outside the Justice Center.
Police used crowd control munitions to try and disperse protesters.
The mood of the crowd outside the Justice Center changed, as police told protesters to, "Leave the area now or you will be subject to use of force."
Portland police declared the Justice Center protest a civil disturbance and an unlawful assembly. Everyone was told they must leave the area.
Portland Police Chief Jami Resch said she is in communication with Mayor Wheeler about police use of tear gas.
The protest at the waterfront ended and the crowd left back across the bridge.
The crowd outside of the Justice Center continued to grow.
Protesters at Waterfront Park held up their phones in a peaceful demonstration.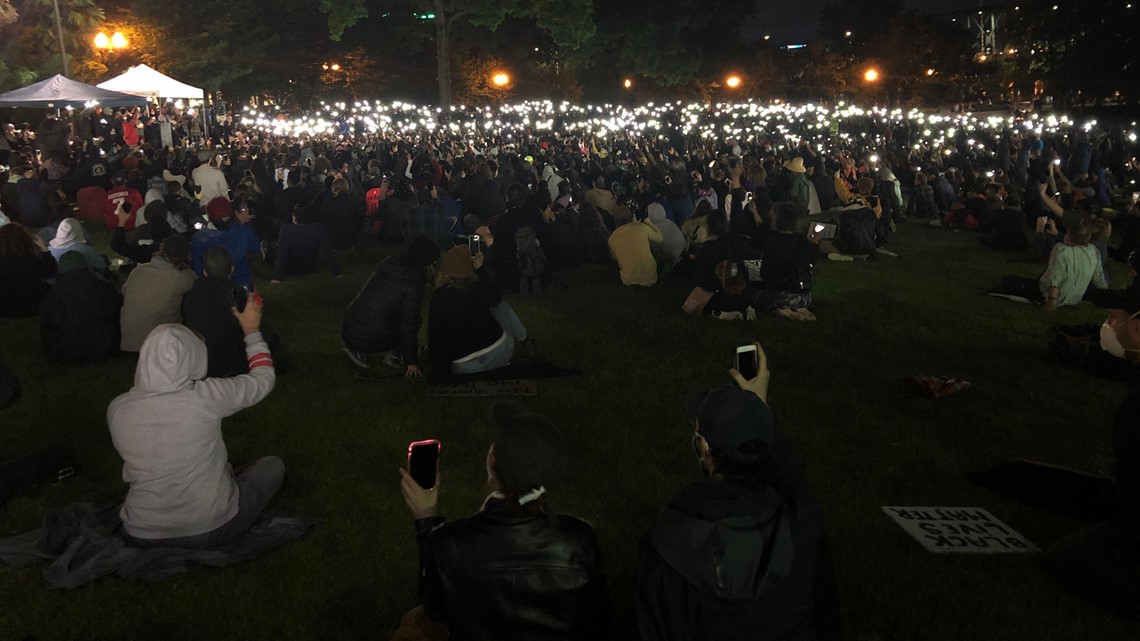 Jo Ann Hardesty, the first black woman on the Portland City Council, was one of the speakers at Waterfront Park where thousands gathered in protest.
The Justice Center gathered a large crowd on Friday night as it had the night before.
While there is a crowd at the Justice Center, thousands are also gathering at Waterfront Park.
Mayor Ted Wheeler is outside the Multnomah Justice Center which has had a fence around it since it was vandalized and broken into on Friday. Since then police have stood behind the fence while protesters have gathered in front of it. Thousands continue to march toward downtown.

Portland Mercury News Editor, Alex Zelinski was there and took video of Wheeler announcing that LRAD will no longer be used against protesters. He also called the use of tear gas "ugly" and said that he and his team would be making an announcement tomorrow on whether it would be banned for 30 days, an action that was recently taken by Seattle.
Though a crowd was outside the Justice Center, thousands were marching toward Waterfront Park.
Teachers from David Douglas High School and community members are protesting new 112nd and SE Division as smaller demonstrations across the city continue.
Mayor Ted Wheeler said he has directed police not to use the Long Range Acoustic Device except to share information. The device can emit a sonic warning tone which is louder than normal speakers and is used as a tactic to make crowds disperse.
Rain has started, as a big crowd gathers at Revolution Hall in Southeast Portland to start another peaceful protest.
Kids and families arrive in Northeast Portland to march down Alberta Street.
People gather in the Woodstock neighborhood to start marching.
The march was organized to be a family march, and hundreds showed up.
Protesters gather at a rally for George Floyd in Lake Oswego.
Hundreds gather at Laurelwood Park in Southeast Portland for a memorial for George Floyd and a benefit show for Don't Shoot Portland.
The event started with a rally, then musical performances, and then a protest.
Protesters write the names of black Americans who have died as a result of racial injustice and police brutality.
Madison Smalstig, an intern for The Oregonian, is sharing photos from the event.
Medical workers around the country are standing up against racism, with a movement called White Coats for Black Lives.
In Pioneer Courthouse Square, a group knelt in silence for minutes, in solidarity with George Floyd and all other black lives lost in the hands of law enforcement.
A sea of white coats were seen in Pioneer Courthouse Square as healthcare workers stood in solidarity with Black Lives Matter.