PORTLAND, Ore. — Community members and city leaders came together Friday afternoon to condemn the violence, looting and vandalism that took place Thursday night and into Friday morning in Northeast Portland.
Police say a group of people set the Portland Police Bureau's North Precinct on fire while people were inside, and damaged and burned nearby businesses, all of which are owned by people of color, during an hourslong clash with police officers.
"The acts that took place here last night are not only reprehensible, but they are evil," said Portland Police Chief Chuck Lovell. "There are people inside these buildings we are trying to protect. It needs to stop and stop today."
The Portland Police Bureau called the group's actions "more aggressive and violent than those seen in weeks past." Officers used CS gas to disperse the protesters out of concern that the lives of officers and others inside the North Precinct were at risk.
One officer was seriously injured and taken to a hospital, and several other officers suffered minor injuries. All are expected to recover.
Many faith leaders and members of Portland's Black community spoke passionately during Friday's news conference, denouncing the violence as an attempt to distract people from the momentum of the Black Lives Matter movement.
"We've got to call terrorism terrorism," said Pastor Steven Holt. "A distraction from owning the systemic racism that's brought the community to this point."
"Whoever was behind this that [thinks] they were doing it, or perhaps are trying to have us think that they are doing it, in the name of Black Lives Matter we know that it was just the opposite," Self Enhancement, Inc. President and CEO Tony Hopson said, "Not only is it not about Black Lives Matter, it's against Black Lives Matter! Don't allow ourselves to get distracted. I'm almost upset [we're] even here and have to put this kind of attention on them."
Champions Barbering Institute is in the same complex on NE Martin Luther King Jr. Blvd and NE Killingsworth as PPB's North Precinct. Founder Jamaal Lane said in the press conference that the business owners in the neighborhood are not in support of tearing their community down.
"Whatever went on here last night was not a part of our community because our community don't get down like that," Lane said.
Portland Mayor Ted Wheeler voiced his support for the Black community and decried the violence, calling it "totally unacceptable."
"What happened here is not helping bring about any meaningful change," said Wheeler. "It was an attack on our community."
On Thursday night, a group of people marched from Fernhill Park to the PPB's North Precinct at Northeast Emerson Street and Martin Luther King Boulevard.
Around 10 p.m., the group began building a fence stretching from the police station across Emerson Street to the Boys and Girls Club. According to police, the crowd tried and failed to breach the police precinct's doors and began barricading the doors instead to trap officers inside. Members of the group also began throwing things, including glass bottles, at officers.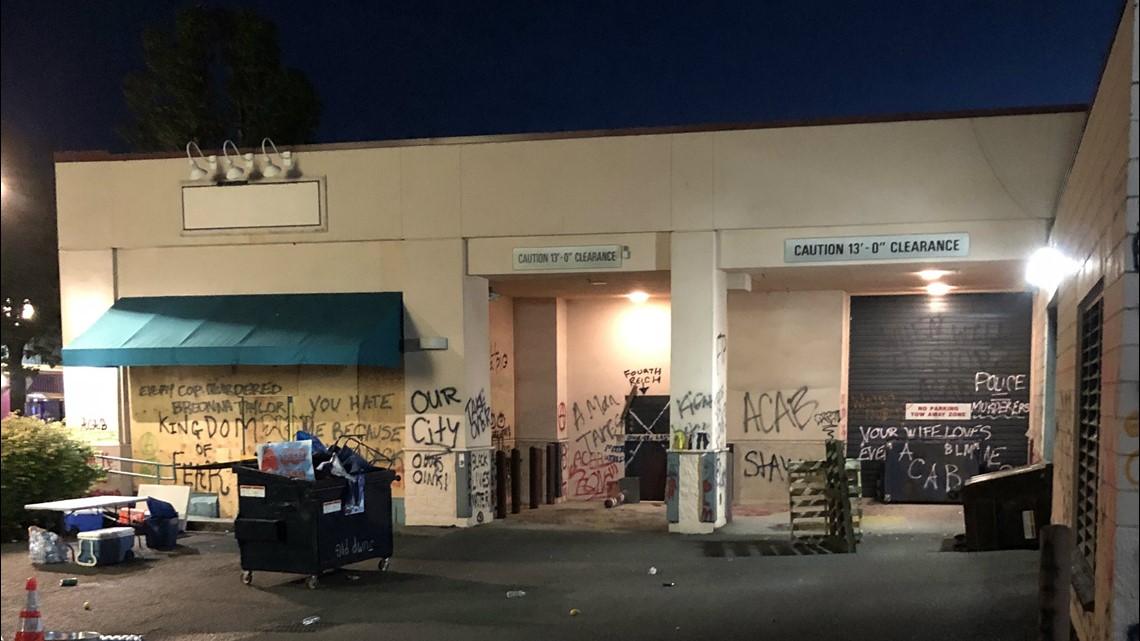 People threw fireworks at officers and threatened to burn the police station down, police said.
Police declared an unlawful assembly around 1 a.m. and began dispersing the crowd about 20 minutes later. The violent crowd fought back and shot officers with paintballs, police said. Someone shot a mortar onto the roof of the police station.
Around 2:15 a.m., the group set the north side of the police station on fire. Officers used CS gas to disperse the crowd.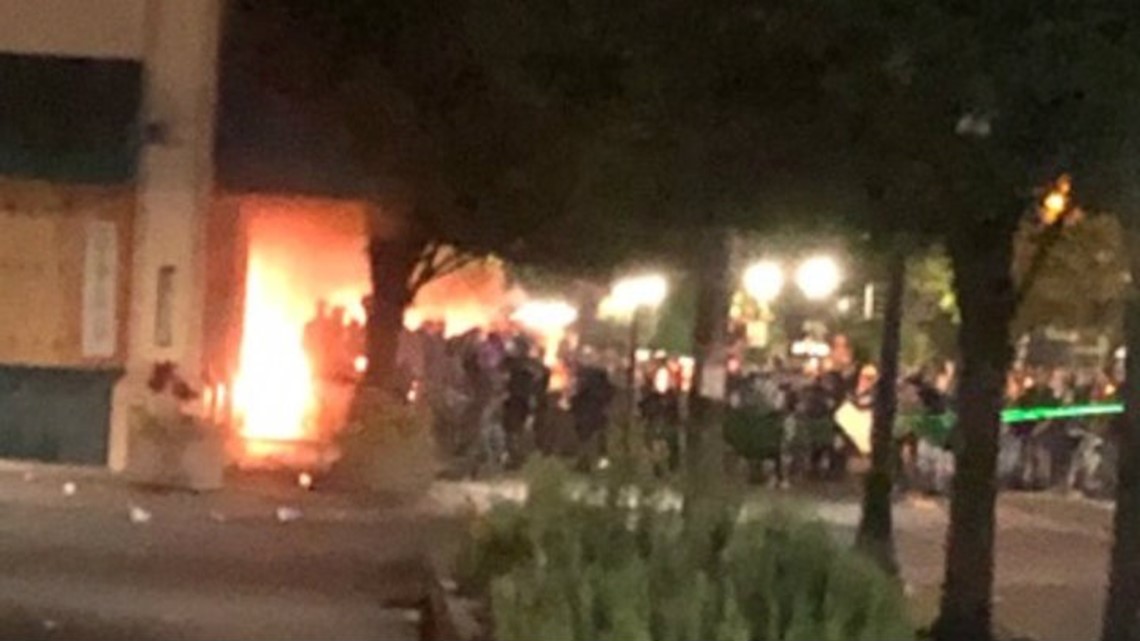 People looted and set fire to several surrounding businesses.
The crowd was largely gone by 3:30 a.m.
Officers arrested four people for the following charges:
Joshua Shane Morris, 33, interfering with a peace officer, resist arrest
Charles Randolph Comfort, 23, interfering with a peace officer, riot, resisting arrest, disorderly conduct II, assaulting a public safety officer
Olive Baldwin, 22-year-old, interfering with a peace officer, resisting arrest, riot
Tudela Jackson, 24-year-old, riot, disorderly conduct II, resisting arrest, interfering with a peace officer
Protests have continued in Portland since the death of George Floyd on Memorial Day. Many demonstrations and marches around the city have been nonviolent, others have escalated into clashes with Portland police officers, who often used force to disperse the crowds.
"This is a transformative time and that transformation is taking place each and every day," Wheeler said. "What happened here last night… that is not transformation.
"Last night was plainly and simply about arson. It's blatant criminal violence."