Portland protests: Nonviolent gatherings and unlawful assemblies in the wake of George Floyd's death
A look at demonstrations in Portland in the days immediately following the death of George Floyd, a black man who died while in police custody in Minnesota.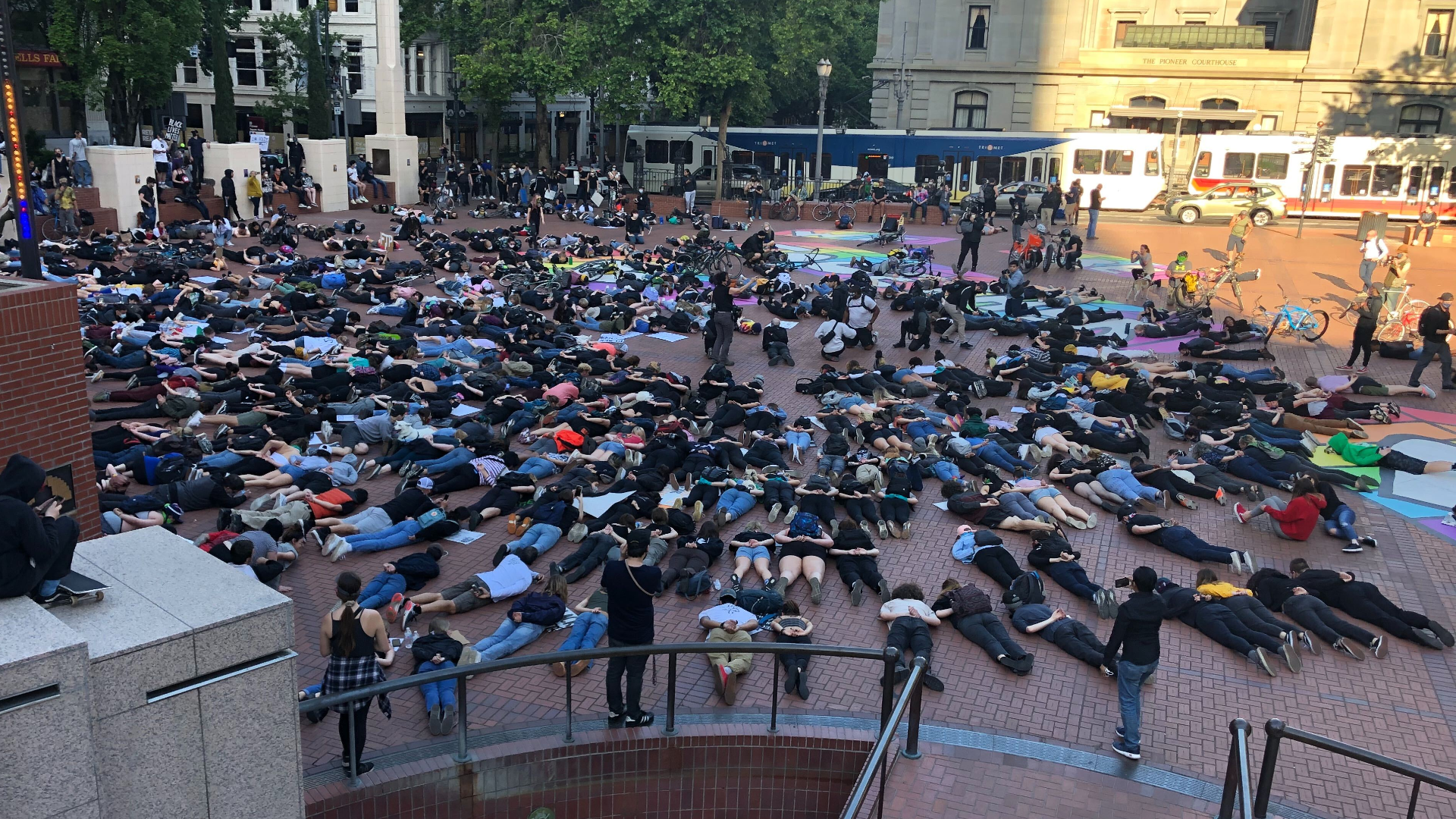 Portland has joined hundreds of cities across the country where unrest and riots have occurred in response to the death of George Floyd, a black man who died while in a Minneapolis police officer's custody.
Floyd was accused of using a $20 counterfeit bill and he died as police were taking him into custody. Protests began four days later.
Former Minneapolis police officer Derek Chauvin, who has been charged with third-degree murder and second-degree manslaughter, allegedly kept his left knee on Floyd's neck while Floyd was pinned to the ground, for 8 minutes and 46 seconds.
During that time, Floyd said "I can't breathe" multiple times and repeatedly said "Mama" and "please," as well. Chauvin kept his knee on Floyd's neck for nearly three minutes after officers discovered Floyd was non-responsive.
The protests in Portland are mostly nonviolent vigils and rallies, with thousands gathering to honor Floyd and other black men and women killed by police officers nationwide and to call for a stop to police violence against people of color.
Here's a look back at the daily Portland protests in the weeks following George Floyd's death.
Friday, May 29
:
It started Friday afternoon with a peaceful gathering organized by the NAACP and then a vigil in the evening at North Portland's Peninsula Park.
The vigil was organized by activist group PNW Youth Liberation Front. Hundreds of people, spread out across the park, showed up to honor Floyd and listen to speakers.
"We stand with the grieving family of George," said Rev. Roy Tate of Christ Memorial Community Church while addressing the crowd. "Those who are in Minneapolis, we stand tonight with them."
At around 9 p.m., the group of protesters started to march down Martin Luther King Jr. Boulevard while chanting, "black lives matter," "no justice, no peace," and "I can't breathe."
The event turned quickly, however, as some demonstrators broke away from the group and started vandalizing businesses along Martin Luther King Jr. Boulevard. The rioters and looters shattered store windows and tagged buildings with graffiti that police say stretched for 20 blocks.
At around 10 p.m., a protester fired a shot at an occupied car on Northeast 7th Avenue and Morris Street. A person inside the car was grazed by a bullet and treated at a local hospital.
The march reached downtown, where demonstrators broke into and started a fire inside the Multnomah County Justice Center, home to hundreds of inmates. No inmates were injured.
Other protesters set fires throughout downtown, torching dumpsters, trash cans, cars and pallets. Police deemed the demonstration a riot and used tear gas, flash-bang grenades and other uses of force to disperse protesters.
Demonstrators used electric scooters to smash police cars at Southwest 4th Avenue and Yamhill Street. Two officers were hurt. One was hit by an incendiary device and another was struck in the head with a rock. Both will be OK.
Police arrested 13 protesters and early Saturday morning, Portland Mayor Ted Wheeler declared a state of emergency and enacted a citywide curfew from 8 p.m. to 6 a.m.
"I cannot condone last night's violence," Wheeler said during a press conference Saturday morning. "I can't stand by and watch our city be destroyed, buildings set aflame. I won't. But nor will I stand silent as men like George Floyd are murdered by the very institutions that are supposed to protect and serve them."
Saturday, May 30
:
Leading up to Saturday's night of protests, state and city leaders spoke about the importance of standing up for change and committing to racial justice while also condemning the acts of violence and destruction from the previous night's protests.
"Yesterday thousands of Oregonians mourned and spoke out for justice together. But late last night small groups decided to smash windows and light fires. Senseless violence does not honor George Floyd's death or create accountability. Only the hard work of racial justice will," said Oregon Gov. Kate Brown.
Volunteers with groups like Central City Concern and Portland Patrol, Inc. showed up Saturday to help remove graffiti, sweep up broken glass and help store owners repair damaged storefronts. Portland business leaders thanked the volunteers and said the destruction they witnessed was devastating.
"This is heartbreaking," said Vanessa Sturgeon, chair of the Portland Business Alliance board of directors. "These businesses were already hurting because of the COVID-19 crisis. This is just another blow. This is one of the saddest moments in our city's history."
Saturday night's protest began around 6:30 p.m. at the Multnomah County Justice Center in downtown Portland.
By 7:15 p.m., police had declared the gathering an unlawful assembly and Portland Police Bureau Chief Jami Resch declared the gathering a civil disturbance at 8:30 p.m.
Protesters threw fireworks at the Multnomah County Courthouse, projectiles at officers and assaulted an officer. Hundreds of protesters attended the initial demonstration but quickly disbursed into smaller groups as SWAT officers spread throughout the city in an effort to quell rioting and violence.
Saturday's protest was less crowded and destructive than Friday. As of 10 p.m., only small groups remained downtown and by 2 a.m., police tweeted the protests had started to die down. A total of 48 adults were arrested during Saturday's demonstrations.
On Sunday morning, Wheeler extended the citywide curfew another day and said that "rioters and looters" were co-opting the protests. He said the rioters' actions didn't feel like sincere mourning for Floyd.
"You're not just burning and destroying someone else's home. You're burning your community, too," Wheeler said.
Sunday, May 31
:
Sunday's protest was larger than the protests the previous two nights and remained peaceful for hours.
Before the protests got underway, Portland police asked the Oregon Department of Transportation to shut down freeway off-ramps leading into downtown Portland. During an appearance on MSNBC, Wheeler said they made the unusual request because they'd received intel that some demonstrators were coming from outside the city.
A smaller protest group gathered at the Multnomah County Justice Center early Sunday night. Police quickly declared that gathering an unlawful assembly and dispersed the group. Portland police said protesters were throwing water bottles at officers.
The main protest, with thousands of people in attendance, started at around 6 p.m. at Laurelhurst Park in Southeast Portland.
The group first marched to a former police precinct building on Southeast 47th Avenue and Burnside and then peacefully marched several miles westbound, crossed the Burnside Bridge and entered downtown Portland. They reached the justice center around 9:30 p.m.
As the crowd marched to downtown, police announced over loud speakers that they would protect the demonstrators' First Amendment rights if they remained peaceful. "The actions of this group will set the tone for this evening. Do not destroy your city," police announced.
For hours, the demonstration remained peaceful. A group of three community members and protesters met with Portland Police Bureau Chief Jami Resch during the demonstration.
One of the community members, Michael Richardson, said racial injustice isn't isolated to George Floyd in Minneapolis but has been a widespread problem for generations across the country. Resch called the meeting a "very good conversation."
The conversation was cut short though, because around 11:30 p.m., police said some protesters were setting off fireworks and "aerial morters" at officers. Police declared the gathering an unlawful assembly a short time later.
Police used flash bangs and tear gas to disperse protesters. The group splintered into smaller groups and there were reports of vandalism and people setting fires through the early morning hours of Monday.
Twelve people were arrested, police said.
On Monday morning, Wheeler extended the curfew another day and called on Gov. Brown to deploy the National Guard, which the governor did Monday afternoon.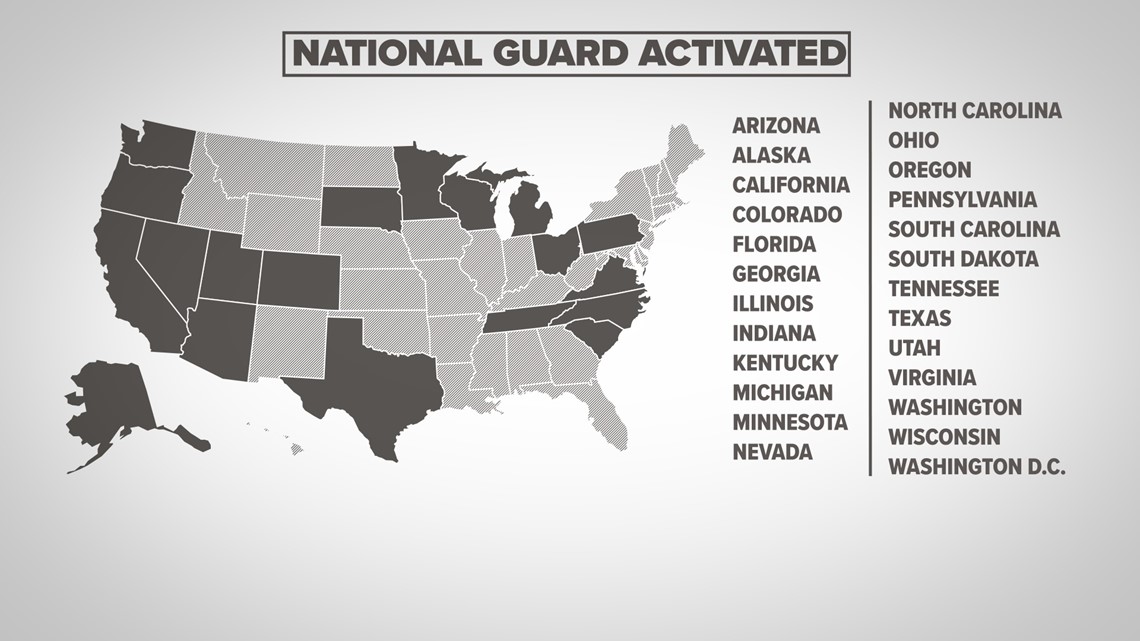 Monday, June 1
:
Subtitle here
A group of thousands of demonstrators in Portland peacefully protested the killing of George Floyd, the Minnesota black man who died in police custody after a Minneapolis police officer knelt on his neck for nearly nine minutes, for hours on Monday night.
After they disbanded on their own accord for the night, a clash between police and a separate, smaller group of about 100 protesters took place in the early hours of Tuesday morning around Southwest 4th Avenue and Salmon Street.
The Portland Police Bureau said that clash, which lasted until about 1 a.m., involved protesters throwing projectiles, including glass bottles and rocks, at officers in downtown, prompting police to declare an unlawful assembly. One officer suffered minor injuries when they were hit by an object.
Police said they used crowd control munitions to disperse the small group. Police tried to stop a woman who was driving through the streets handing out items to protesters but she fled, hitting several cars in the process. The woman was arrested after officers deployed spike strips to stop the driver near Southeast 14th Avenue and Franklin Street. One officer was injured during this incident.
"Thousands of demonstrators participated in an extensive march without engaging in violence or destructive behavior," said Portland Police Bureau Chief Jami Resch. "Thank you for keeping this event peaceful. Your efforts to police the event yourselves created a safer environment for all.
"We will continue to arrest and hold responsible those who engage in acts of violence directed at the police, community members, or who commit other criminal acts," Resch said.
While Monday night may have ended with that clash, the main protest group of the night remained peaceful during its hours-long demonstration.
That group started the night on Portland's east side, marched across the bridge into downtown Portland, gathered outside the Multnomah County Justice Center and then packed into Pioneer Courthouse Square before heading back to the east side where they disbanded near Revolution Hall at around 11:30 p.m.
Lt. Tina Jones with the Portland Police Bureau said the demonstrators were self-policing and it made for a more peaceful atmosphere than previous nights.
Tuesday, June 2
:
Subtitle here
On Tuesday night in Portland, thousands of demonstrators marched to Pioneer Courthouse Square to protest the killing of George Floyd, the black man who died in police custody after a Minneapolis police officer knelt on his neck for nearly nine minutes.
Similar to Monday night's protests, the demonstrations involving thousands of people remained peaceful for several hours before a smaller group was declared an "unlawful assembly" due to illegal activities. Police at about 10:30 p.m. demanded everybody leave downtown, and announced a safe exit across the Burnside Bridge for peaceful protesters.
Police said people from the smaller, separate group threw projectiles at officers, including fireworks, bottles, bats, ball bearings and batteries, and police used tear gas and flash bang grenades to disperse protesters from that smaller group.
By the end of the night, police say more than a dozen people were arrested or detained.
"I want to recognize the thousands of demonstrators who came downtown in a peaceful manner and exercised their First Amendment rights. There are many thousands of you who are not involved in the violence and destruction and I thank you. I still hear your message and I know the others who are engaging in criminal acts do not represent you," said Portland Police Bureau Chief Jami Resch.
By 8 p.m. thousands of marchers from the east side had crossed the Burnside Bridge and made their way to Pioneer Courthouse Square, where the two demonstrations converged for a peaceful rally, police said.
The rally downtown was so peaceful by 9 p.m. that KGW reporter Mike Benner said police presence had been completely unnoticeable for several hours.
It wasn't until around 11 p.m. that the smaller group broke off and began throwing things at police.
The peaceful protesters went back over the Burnside Bridge and had already begun to disperse by the time the unlawful assembly began.
Wednesday, June 3
:
Subtitle here
On Wednesday night, protesters held marches and gatherings across Portland.
By 10 p.m. a large group of protesters gathered around the Multnomah County Justice Center, where police had put up a fence around the perimeter. The fence has been there for several days after Friday night's riot, which saw vandalism and a fire inside the building.
Portland Police Bureau Chief Jami Resch expressed her support and appreciation for the large group of peaceful protesters.
"The Portland Police Bureau continues to have [dialogue] with the demonstration organizers to facilitate safety for all and to allow for the exercise of First Amendment Rights," Resch said in a prepared statement. "Tonight was a great example of a safe and responsible demonstration. This speaks to the testament of the thousands of participants and sends a powerful message. I greatly appreciate the community for expressing themselves while respecting others."
Around 2 a.m., after the protest ended, Portland police reported that some people were setting fires, vandalizing buildings and throwing objects at officers, including fireworks, mortars and bottles.
Police said windows were shattered at a building on the southeast corner of Southeast 2nd Avenue and Salmon Street and that a security officer was injured by a glass bottle. An officer was hit in the face with a full beer can, police said.
By 4 a.m., police tweeted that the crowd had been dispersed.
Thursday, June 4
:
Subtitle here
A large group of demonstrators picked up Thursday night where they left off the day before, gathering at Southeast Portland's Revolution Hall and marching in protest of racism and police brutality in the wake of George Floyd's death in police custody.
This was the seventh day in a row of large protests in Portland. Among those protesting Thursday night was Portland Trail Blazers All-Star Damian Lillard.
Lillard was at the front of the group as they marched onto the Morrison Bridge, took a knee and stayed for a short gathering. Then, they marched across the bridge to Waterfront Park as they had on Wednesday night.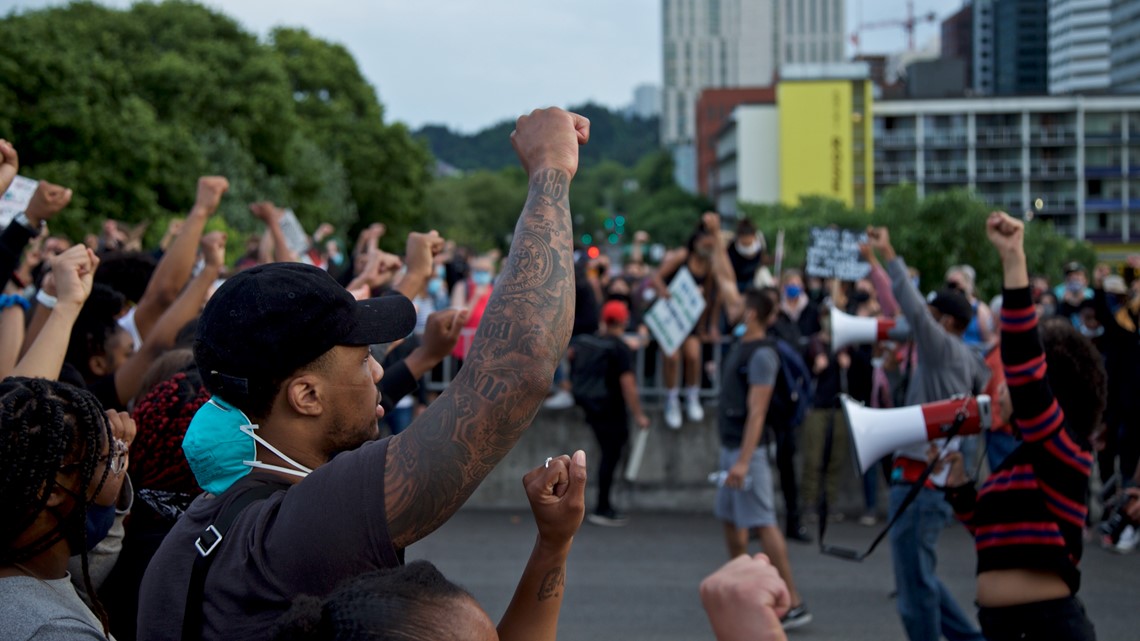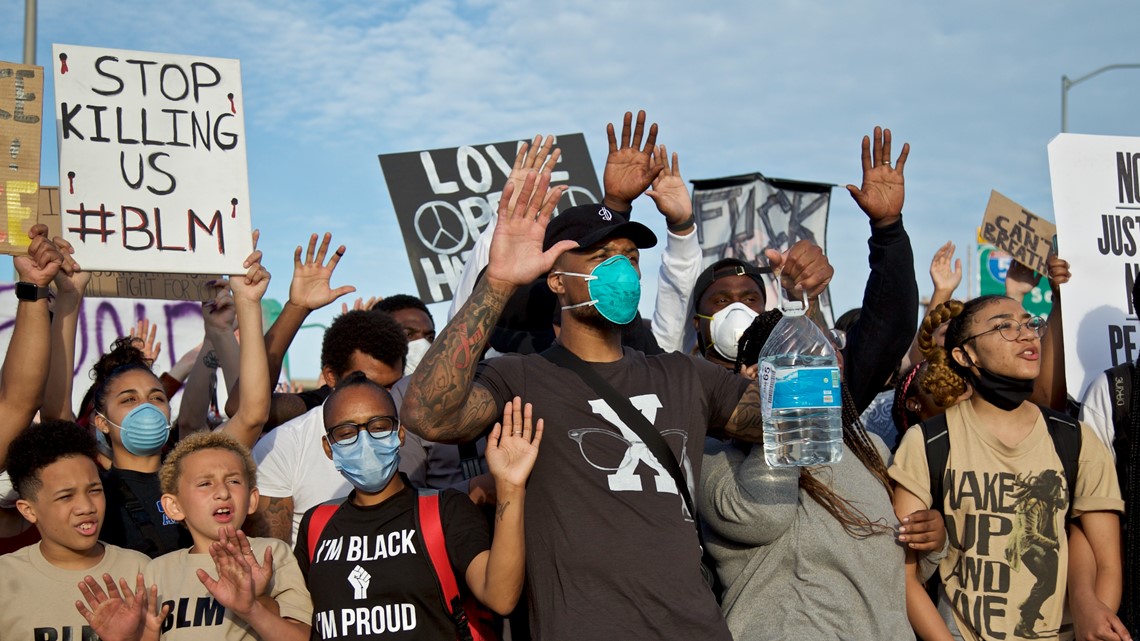 At Waterfront Park, the large crowd gathered to listen to several speakers, including Marva Campbell, whose son Aaron was fatally shot in the back by police officers in 2010. Officers were responding to a call that he was suicidal; he had just found out his brother died.
The rally at Waterfront Park concluded around 10:30 p.m. and remained peaceful throughout.
Friday, June 5
:
Subtitle here
After several nights of demonstrations ending with little conflict, police declared a civil disturbance outside the Multnomah County Justice Center Friday night and used force to get hundreds of the remaining protesters to leave downtown Portland.
Police on Saturday morning announced 20 people were arrested.
As had been the case of most previous nights, following hours of peaceful protest, many demonstrators ended up outside the Justice Center, which is fenced off and has been the site of past clashes between police and demonstrators.
Shortly after 11 p.m., Portland police declared the crowd an unlawful assembly. Police and the Multnomah County Sheriff's Office said protesters threw projectiles, fireworks and participated in criminal activity.
"Lives were at risk; our officers deserve better than to be pelted with incendiary devices, batteries, glass bottles, sling shot projectiles, and bricks to name a few," said Portland Police Chief Jami Resch. "Fortunately, demonstrators, media, and public safety officers have not experienced serious physical injuries in the past week, despite the dangerous life safety risks we have witnessed."
Before that, the night began with thousands of people peacefully uniting together to call for changes to end systemic racism. The largest group of the night met outside Revolution Hall in Southeast Portland and marched to Waterfront Park in downtown across the Hawthorne Bridge.
Several people spoke at the park, including Portland City Commissioner Jo Ann Hardesty, the first black woman on Portland's City Council. After the gathering, police said many people headed back across the bridge to the city's east side and went home for the night.
Saturday, June 6
:
Subtitle here
For the ninth straight night, demonstrations across Portland continued. People gathered to protest the death of George Floyd, the Minneapolis man who died in police custody after an officer knelt on his neck for nearly nine minutes, and other police brutalities and racial injustices.
Portland joins many other cities across the country in demonstrations.
As with previous nights, thousands gathered at Revolution Hall to march across Portland. Another group gathered at Terry Schrunk Plaza to protest police brutality across the nation.
On Saturday, the group at Revolution Hall marched to Irving Park, instead of downtown as it had nights before. The group remained peaceful and began to break up at about 9 p.m.

Shortly before 1:00 a.m., Portland police tweeted that multiple people were arrested during the unlawful assembly, and that crowds downtown have mostly dispersed.
Sunday, June 7
:
Subtitle here
Sunday was the 10th straight night of huge demonstrations in Portland. And similar to previous nights, thousands nonviolently called for change to end the systemic racism that continues to plague the United States.
There was a march across Portland's iconic St. Johns Bridge early in the evening.
In Northeast Portland, thousands gathered at Irving Park. The large crowd of thousands initially met at Revolution Hall in Southeast Portland around 6 p.m., then marched to the park. The area outside Revolution Hall has been a common meeting spot for protesters.
But police declared a demonstration outside the Multnomah County Justice Center in downtown an unlawful assembly. The Justice Center has been the site of several clashes between police and demonstrators over the past week. The building, which houses hundred of inmates, is fenced off after rioters broke in and set small fires on the first night of massive demonstrations, May 29.
The unlawful assembly declaration was made around 11:45 p.m. after, police say, demonstrators threw and launched objects like full beverage containers, glass bottles, hard boiled eggs and rocks. Police and fire officials said a medic was injured with a rock. At least 20 people were arrested.
Monday, June 8
:
Subtitle here
A leader involved in the protests, Devin Boss with Rose City Justice, offered qualified optimism as reaction to the change at the top.
"I like the idea of having a black man with a history of engaging with and aiding all people within the community. However, I'm going to hold off celebrating until I see his actions in his new role," Boss said.
At the very least, protesters said the change shows their voices are being heard. But they say further reform, including defunding the police, is necessary.
Rose City Justice led a demonstration of thousands Monday night. As they have done consistently, they met at Revolution Hall in Southeast Portland around 6 p.m. From there, protesters went on a miles-long march to Northeast 15th Avenue and Alberta Street, chosen because of the gentrification that has occurred in the Alberta Arts District.
On their way to Alberta Street, the protesters marched on Interstate 84, taking police by surprise. The group marched on both sides of the freeway, from Northeast 12th Avenue to Northeast 33rd Avenue, lasting about 30 minutes. The march led to a shutdown of the freeway.
By 7:45 p.m., protesters exited onto Northeast 33rd Avenue as they continued their march. Once at Northeast 15th Avenue and Alberta Street, protesters listened to several impassioned speeches.
"This doesn't stop because we have a new police chief. This doesn't stop because we pass one or two things. We want systemic change," one speaker told the crowd.
Once speeches were completed, the group marched back to Revolution Hall.
In downtown, hundreds of people again gathered outside the Multnomah County Justice Center. While police said protesters were shaking the fence and throwing items, including glass bottles, over the fence, there were no major confrontations reported.
What's next?
:
Subtitle here
In the week following the June 8 demonstrations, protests continued with a familiar pattern: Thousands gather, march, and gather again to listen to speakers sharing their stories of how racism and police brutality have impacted them. And while those actions are taking place in different spots around the city, a smaller group surrounds the Multnomah County Justice Center, clashing with officers until police declare an unlawful assembly, deploy crowd control devices and arrest several people.
And many protesters have no intention of stopping anytime soon.
Protesters taking part in both the nonviolent demonstrations and the more destructive ones want reforms in the system set up to protect and serve, including defunding police departments.
"I am encouraging them to continue until the message has been driven home," said NAACP Portland Chapter President Rev. E.D. Mondaine. "We've got to be a consistent force, an ever-ready and present voice that says, 'We, as the people, are demanding change.'
"Thank god for millennials who are stepping up to the plate and saying, 'Damn it, we're going see this happen.'"
Changes are taking place in Portland and across the country, but a shift in law enforcement as a whole won't happen overnight. Rev. Mondaine says it will take a persistent push and swift change of laws, policies and procedures to turn things around.
How will protesters know when their message is actually, finally being heard?
Rev. Mondaine said they'll know when state and national lawmakers and politicians, including President Donald Trump and his administration, start speaking a different language.
"You're going to see that, I guarantee you," Mondaine said. "It's reaching the ears of our lawmakers that sit in Congress. They're beginning to listen."