PORTLAND, Ore. — For the 79th night in a row following the death of George Floyd, Portland protestors called for an end to systemic racism, police brutality, as well as defunding police on Friday night.
A group of an estimated couple hundred people has been marching through North Portland, but Portland Police officers blocked streets heading to the Portland Police Association headquarters.
Police warned demonstrators, starting just after the demonstration began and throughout the night, to stay out of the streets because they are open to traffic, and if they didn't, police could arrest or cite them. That warning also included press and legal observers.
The Portland Police Bureau, in a press release, said protestors threw objects, lit dumpsters on fire and pointed lasers at officers. Four people were arrested as a result of the protests on charges of resisting arrest, assaulting an officer, criminal mischief, disorderly conduct and interfering with a police officer.
The majority of demonstrators did disperse after 1:30 a.m. leaving several demonstrators who eventually stood on the sidewalk and in the street outside of Portland Police Association headquarters on Lombard until 3:45 a.m. as Portland Police reported.
Police initially declared an unlawful assembly just after 10 p.m., saying protesters threw "paint bombs" and other projectiles at officers. Independent journalist Andrew Jankowski cited the "bombs" were like balloons.
There have been reports of police using smoke to disperse the protesters. Video from Sergio Olmos shows a clash between police and protesters.
Portland Commissioner Jo Ann Hardesty voiced her disdain of police actions in a tweet.
"This brutality is unacceptable," Hardesty said. "This is the community the police are sworn to protect and serve."
The group began the night meeting at Peninsula Park in North Portland. They started marching shortly before 9:30 p.m. and appeared to be headed to the Portland Police Association headquarters, located on North Lombard Street near Campbell Avenue when officers first met them. The police union building has been the target of protesters in previous nights, and in some instances, has been set on fire.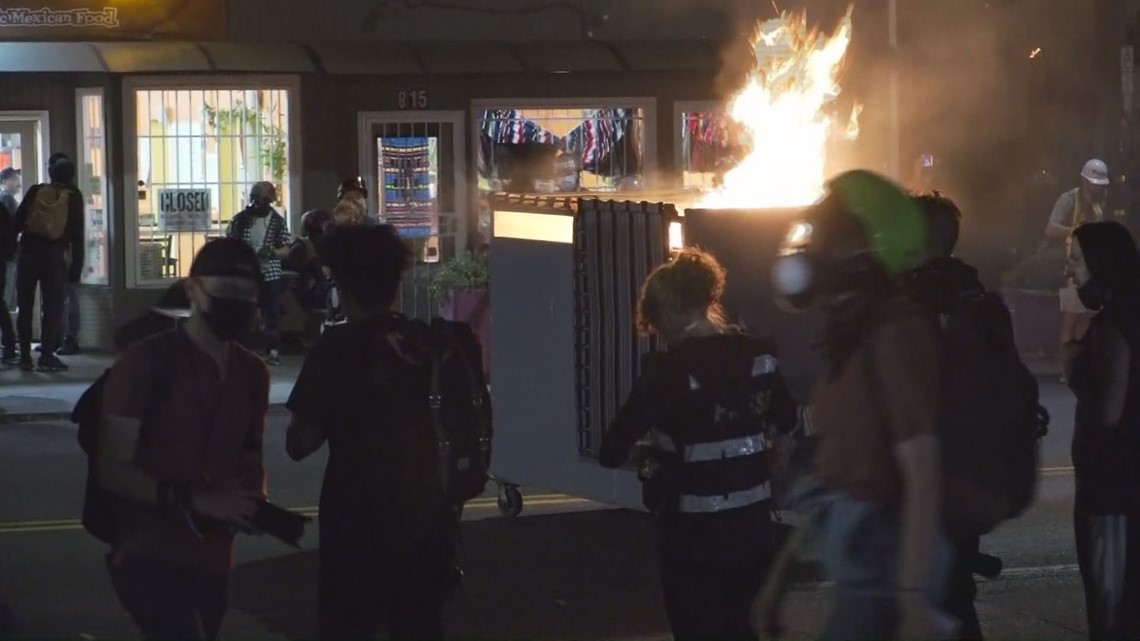 On Thursday night, a few demonstrations went on across the city, all of which remained peaceful.
Black Unity PDX held a rally at Peninsula Park in North Portland focused on mental health in the Black community earlier in the evening. The group wanted to bring to light the emotional toll that ten weeks of protesting can have on Black people.
There was a small gathering around the Justice Center of maybe 20 people. It remained quiet through the night.