PORTLAND, Ore. — Rain in Portland is nothing new, even minor flooding and mudslides. But it used to be, when torrential rain would fall, entire first floors of buildings would flood all over the city.
This first week of June marks the worst flood in Portland history. Worse than 1996. Worse than Vanport in 1948. It's the 125th anniversary of the Great Flood of 1894.
Never heard of it? History geek Doug Kenck-Crispin of the Kick Ass Oregon History podcast took us along for a walk to show us.
"We didn't have the seawall or the dams on the Columbia and Willamette. Not to sound too hippy, but the river was just allowed to be a river, man!" That's how Kenck-Crispin sees it from the perspective of the 1800s. Things could go sideways in a hurry if there was too much rain, especially in downtown Portland.
On June 6, 1894, water climbed 33 feet above what they called "low water." On our modern streets today, the water would have been up to most of our shoulders or necks. Back then, the streets were a lot lower, so it meant the entire first story quickly went quickly underwater for many buildings.
Wooden oar boats, over 1,000 of them estimated by The Oregonian, filled the flooded streets to get businessmen around and move goods. It was front page news for days while cattle died, and docks and homes washed away.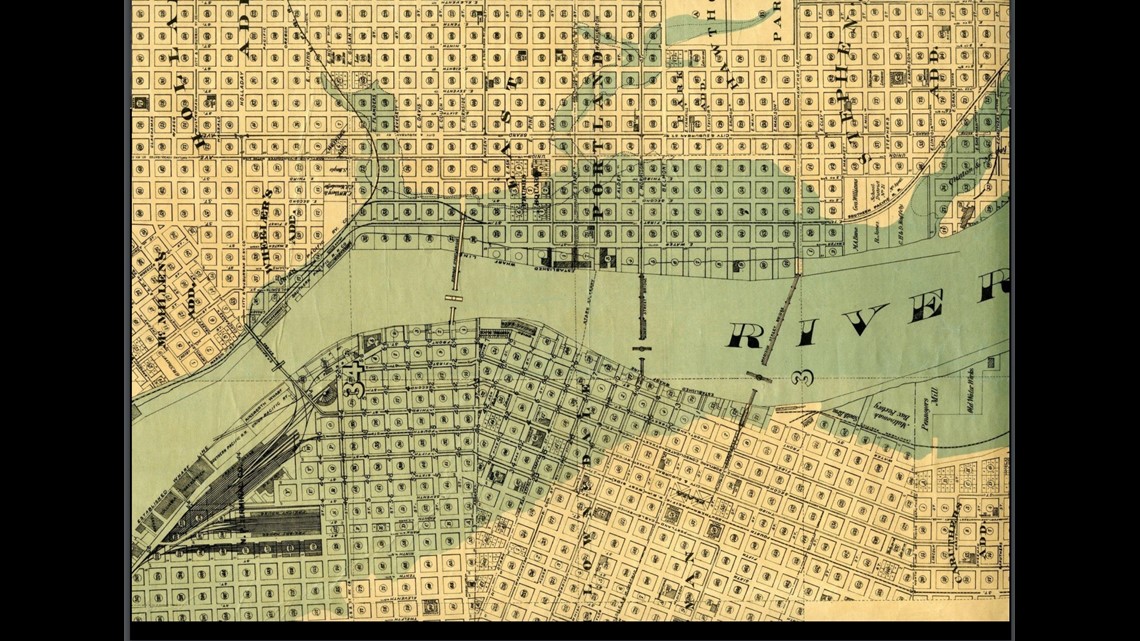 But while this was a historic level, flooding every season was pretty standard. Many buildings at water's edge were atop pilings into the river. Not too smart.
There was no sea wall, nothing to hold it back. What was worse: The river was also the sewer, so when it flooded, it was ... gross. That's why the city finally got smart and built the sea wall in 1929.
Kenck-Crispin has been unearthing historic and archive photos of all kinds of Portland history of the years. He collects copies and designs walking tours in addition to telling people about our wacky history through his podcast.
He finds the 1894 flood fascinating and we walked the streets to match up the old photos with some from today to see how much has really changed.
Then and now: Portland's worst flood in 1894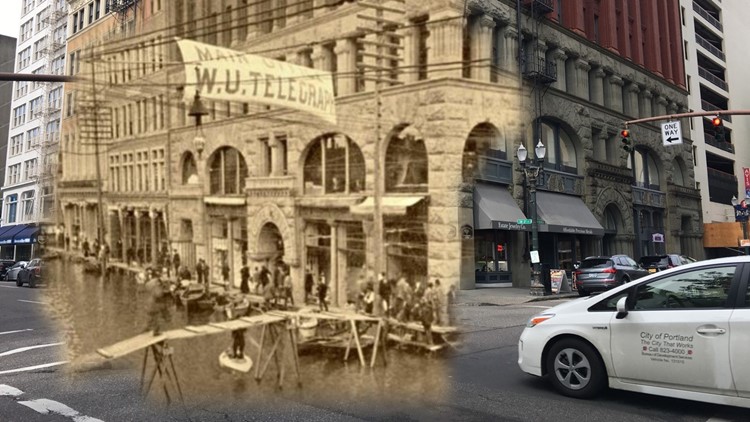 Kenck-Crispin will lead a walking tour Saturday, June 8 at 3 p.m. to commemorate the 125th Anniversary of The Great Flood of 1894.
On this tour, a small group of 20 guests will walk around to specific locations and look at photographs of that exact spot from June of 1894, when the Willamette was a record 33 feet above the high water mark. This tour is hosted just once a year.