PORTLAND, Ore. -- Portland Mayor Ted Wheeler said Friday's brutal attack on a MAX train was an act of terrorism.
The mayor's office confirmed Wheeler's stance, following an impassioned press conference Monday.
During the press briefing, Wheeler called for a permanent memorial dedicated to the three victims of the violent stabbings.
"This is a seminal moment in this state's history," Wheeler said. "The names of those three men: Rick, Taliesin and Micah, they will be up there with the greats. Their sacrifice is supreme."
On May 26, 35-year-old Jeremy Christian allegedly stabbed three men who were trying to protect two women, believed to be Muslim, after Christian shouted racial and anti-Muslim slurs at them.
Rick John Best, 53, of Happy Valley, Taliesin Myrddin Namkai-Meche, 23, of Southeast Portland, were stabbed to death. Micah David-Cole Fletcher, 21, also stabbed, was released from the hospital Monday.
Background: Community honors stabbing victims
"I want future generations to remember what happened here and why it happened and what they were willing to give to do the right thing," Wheeler said.
He suggested the Hollywood transit station, where the attack happened, as a possible location for a permanent memorial. A makeshift memorial, filled with messages of hope, stands there now.
Photos: Memorial for MAX attack victims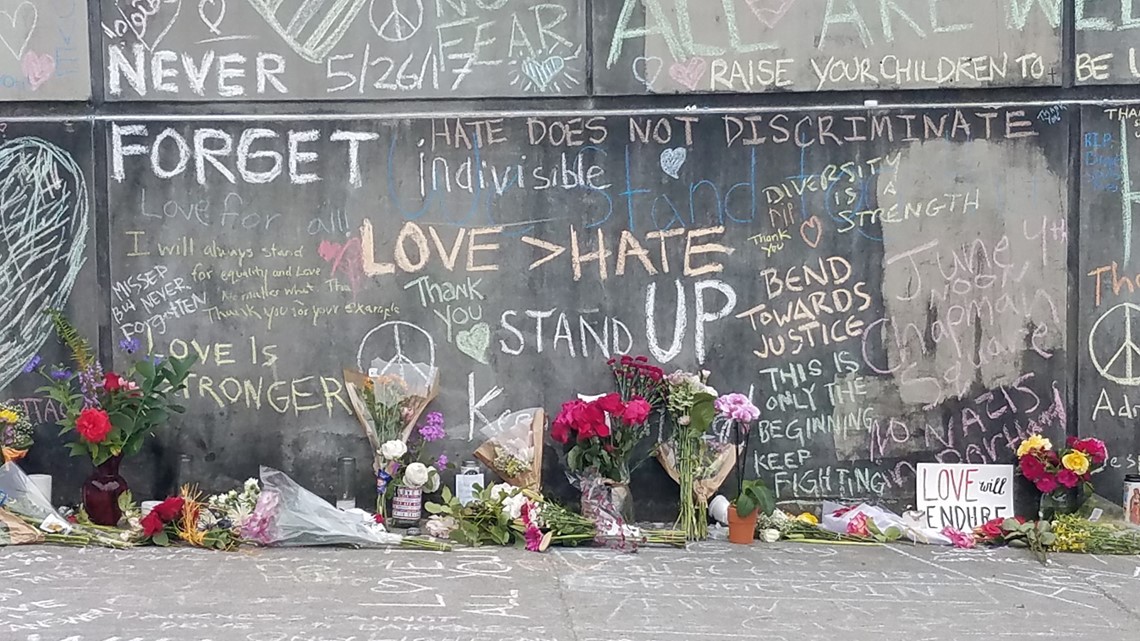 Wheeler thanked President Donald Trump for his tweeted message condemning the attack, but said the president -- and leaders everywhere -- need to do more.
"As appreciative as I am of the president sending his thoughts and prayers to the families this morning, we need more than thoughts and prayers right now. We need action and we need leadership," Wheeler said. "We need the people in Washington, D.C., Oregon and the local level to step up and show through action that they condemn bigotry and xenophobia and violence."
Wheeler said the women verbally attacked on the train were "subjected to terror."
"This guy was just brimming with hate," he said.
Speaking to the victims' families, Wheeler's voice was filled with emotion as he publicly thanked them for raising "incredible people."
"We are so much better in the community for having people like them in it," he said. "I want to thank the families. They will never get over it. They will live with this for the rest of their lives."
The mayor called for an end to divisiveness in the community. To that end, Wheeler announced that the city will not issue permits to alt-right groups for two planned June rallies in Portland.
"I'm reminded constantly that they have a First Amendment right to speak," he said. "My pushback on that is hate speech is not protected under the U.S. Constitution."
More: Rally organizer says revoking permit could make event more dangerous