Portland MAX attack: What we know
A brutal stabbing following a hateful verbal attack in Portland left two dead, one injured and a community in mourning.
Editor's note: This story was published on May 28, 2017
PORTLAND, Ore. – On a Friday afternoon as commuters rode Portland's TriMet light rail home before Memorial Day Weekend, a 35-year-old Portland man hurled hate speech at two young women on a train. Three men intervened and were brutally stabbed. Two died.
The attack by a self-proclaimed white nationalist shocked the nation and sent the Portland community into mourning. As makeshift memorials blossom, local, state and national leaders grapple with how to move forward, while planned alt-right rallies loom and the liberal city's racist pulse continues to beat.
Details surrounding Friday's attack and the motive behind it are still emerging. This is what we know.
Attack on a MAX train
:
At 4:30 p.m. on May 26, Jeremy Christian, a 35-year-old man from North Portland, was riding on the first car of a MAX train when he yelled what a detective described as racial and religious epithets at two young black women on the train, one of whom is Muslim and was wearing a hijab.
Court documents said during the tirade, Christian drank red Sangria wine from a bladder. According to a witness, he talked about "decapitating heads."
When the train stopped at the Hollywood Transit Center in Northeast Portland, three men stepped in to calm Christian down.
"He was saying something about America, 'This a free country, I can do whatever I want,' and other people said, 'Calm down,'" remembered Arsenia Brittell, who was seated behind the driver of the train.
Christian allegedly slashed the throats of all three men. Rick John Best, 53, died at the scene. Taliesin Myrddin Namkai-Meche, 23, was taken to a hospital, where he died. Micah David-Cole Fletcher, 21, was taken to a hospital with injuries that were not life-threatening. Fletcher was released from the hospital three days later.
Christian ran off the train into a nearby neighborhood, where police arrested him on charges of aggravated murder, attempted aggravated murder, assault, intimidation and unlawful use of a weapon. He was held without bail.
Court documents show Christian confessed to the killings in the back of a police car.
In his first court appearance, Christian yelled "death to the enemies of America" and said, "You call it terrorism, I call it patriotism. You hear me? Die."
He was indicted by a grand jury on June 6. The indictment also included additional counts of intimidation, second-degree assault, unlawful use of a weapon and menacing, reportedly related to an altercation on a MAX train the day before the stabbings.
Christian could face the death penalty for the aggravated murder charges.
Heroes step in, two pay ultimate price
:
The attack shocked the Portland community, as leaders were quick to declare all three men heroes.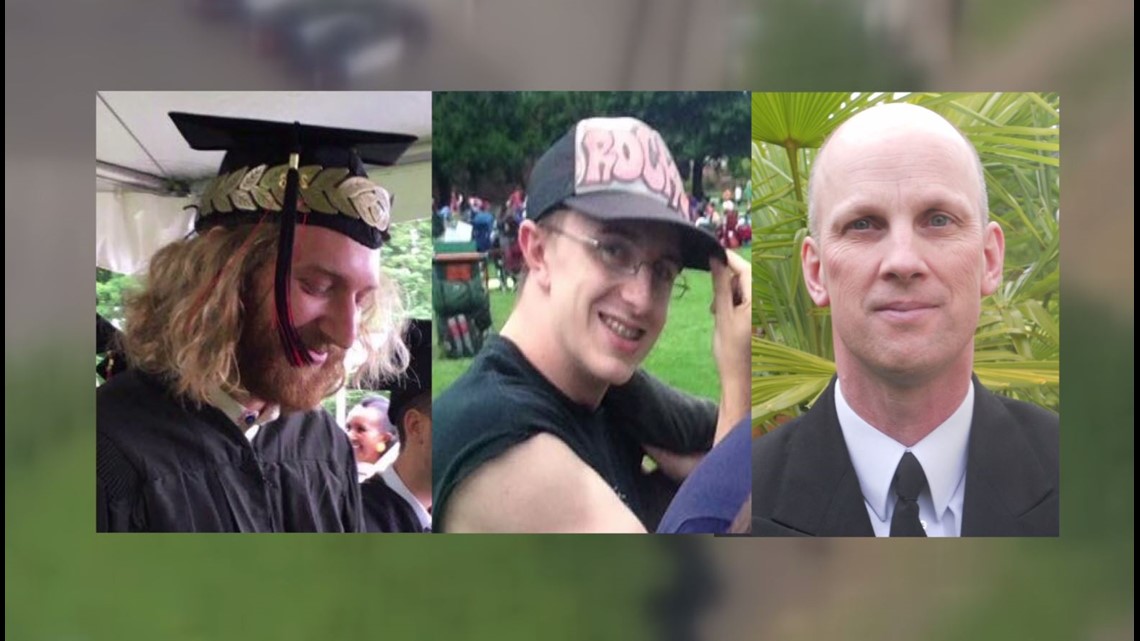 A handful of GoFundMe pages collectively raised more than $1 million for the three men who were stabbed, and the two women who were verbally attacked.
The mother of one of the women targeted by Christian said she is "grateful beyond words" for the men's actions.
"We will never forget you," said Dyjuana Hudson.
All three stabbing victims were described as exemplary Oregonians.
"The names of those three men: Rick, Taliesin and Micah, they will be up there with the greats. Their sacrifice is supreme," said Portland Mayor Ted Wheeler.
Taliesin Myrddin Namkai-Meche, 23
"He was a hero and will remain a hero on the other side of the veil. Shining bright star I love you forever," she said.
Namkai-Meche was a Reed College graduate. In a statement from the college, his economics professor recalled Namkai-Meche's curiosity and desire to learn.
"He was thoughtful, humble, smart, inquisitive, and compassionate. He was a wonderful human being," said Kambiz GhaneaBassiri.
Rick Best was an army veteran and a City of Portland employee with the Bureau of Development Services.
Best's son said he wanted people to hear a phrase his dad said a lot during his life: "I can't stand by and do nothing."
Fellow MAX train rider Michael Kennedy ran into the train car where the men were stabbed. Kennedy performed CPR on Best before he died.
"He was surrounded by people who were soothing him and caring for him," he said. "He did not die alone."
Best was buried June 5 at the Willamette National Cemetery, following a service at Christ the King Catholic Church in Milwaukie. The procession route was lined with people paying their respects.
Fletcher, a Portland State University student, was the only victim to survive Christian's attack. He was a high-school poetry slam champion and has spoken about prejudice faced by Muslims following the September 11, 2001 attacks.
With a scar snaking down the left side of his neck, Fletcher was released from the hospital May 29.
His girlfriend, Miranda Helm, said he was recovering. KGW reporter Katherine Cook tried to shake Fletcher's hand that night. Instead, he gave her a hug.
On May 30, Fletcher told KGW reporter Art Edwards he is "just trying to heal and recover." He also spoke about how Portland is "supposed to be a city where people can be safe."
White supremacist suspect has history of violence
:
The deadly MAX attack was not the first time Christian spewed hateful language. The self-described white nationalist's Facebook page is filled with praise for Hitler and vitriol toward Muslims and Jewish people. He posted support for both Republican President Donald Trump and Democratic presidential candidate Bernie Sanders, while calling for Hillary Clinton's death.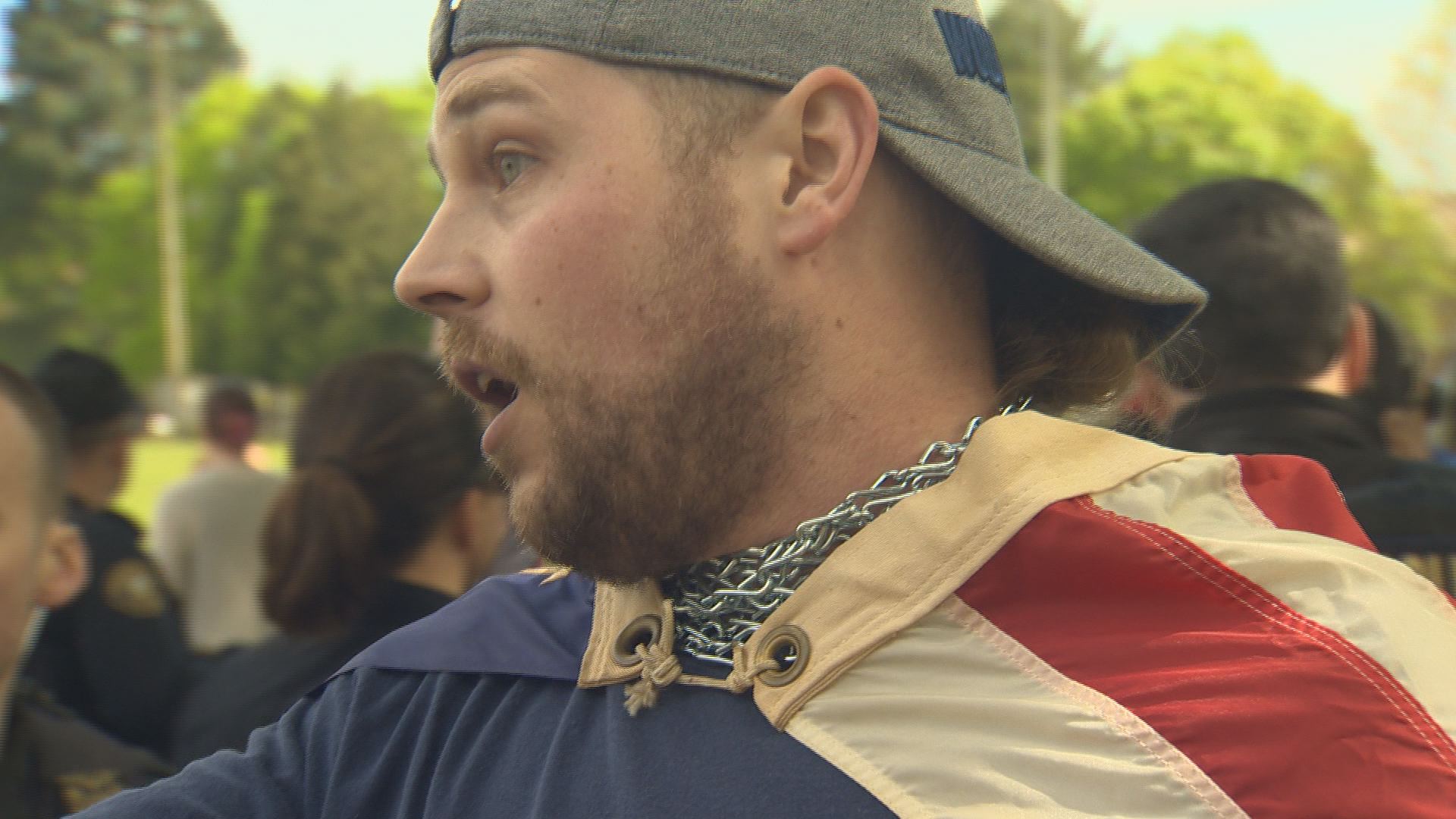 Police said they are investigating Christian's "extremist ideology." Christian was thrown out of an alt-right event in Portland in April, after he reportedly chanted "nigger."
Local, state, national leaders react
:
The FBI has not determined whether the MAX attack was a hate crime, but Portland mayor Ted Wheeler emphatically declared it was during an impassioned press conference on May 29.
He said he considers the attack an act of terrorism.
Gov. Kate Brown said she was "Absolutely heartbroken by the loss of two brave, compassionate lives yesterday evening in Portland."
Wheeler thanked Trump and others for the sentiments, but said local, state and national leaders need to do more.
"We need the people in Washington, D.C., Oregon and the local level to step up and show through action that they condemn bigotry and xenophobia and violence," Wheeler said.
Memorial grows at transit center
:
As the Portland metro area mourned the attack, a makeshift memorial at the Hollywood Transit Center grew. By Memorial Day, the walls surrounding the MAX station were filled with chalk messages of hope and love.
Wheeler called for a permanent memorial.
"I want future generations to remember what happened here and why it happened and what they were willing to give to do the right thing," he said.
A Portland sculptor offered to create three life-size bronze statues of Namkai-Meche, Best and Fletcher.
"Two of them aren't going to be able to see their families, and their families aren't going to get to see them," said sculptor Richard Moore III. "So me, needing to spend a little time, that's nothing."
On May 30, TriMet said a permanent memorial will be installed at the Hollywood Transit Center. The plans for that memorial have not been determined.
Photos: Memorial for MAX attack victims
Debate over free speech and alt-right rallies
:
On May 29, Mayor Wheeler announced Portland will not issue permits to alt-right groups for two planned June rallies in Portland, and asked the federal government to revoke a permit already issued for a June 4 rally at a federally controlled park.
Wheeler said hate speech is not protected under the U.S. Constitution. The ACLU of Oregon disagreed.
"We must defend the Constitution even when it is uncomfortable," said Mat dos Santos, ACLU of Oregon director.
The organizer of the June 4 rally said without a permit, the event could be more dangerous as he would have less authority to remove people who cause problems. The rally and a handful of counter-protests took place Sunday.
Photos: Protests, counter-protests in downtown Portland
Portland's racist past in the spotlight
:
The alt-right rally organizer maintain his event's message was one of love and freedom, and not one of racism or xenophobia. But the MAX attack shed light on Portland's tumultuous history with discrimination. The city, one of the whitest in America, has a troubling record of pushing African-American communities out of neighborhoods – intentionally, through displacement following the Vanport flood and through the practice of redlining, and unintentionally, through the recent gentrification of North and Northeast Portland.
The Atlantic published an overarching article on the topic.
Hate crimes continue to be perpetrated against minority-owned businesses and homes. For all its utopian ideologies, people of color continue to cite Portland as a city where inequality remains.
As Portland begins to heal following the brutal MAX attack, its residents and leaders will move forward in a city where inequality is a part of its history and present. The question is to what extent that will continue into the future.