PORTLAND, Ore. — After the Centers for Disease Control and Prevention announced we should all be wearing masks or a face covering in public, a lot of people might have gone straight to Amazon to try to order one.

Some of those shoppers might have been disappointed because, depending on when you searched for them, there might have been a number of masks available, but many of them wouldn't arrive until late April, late May, or in some cases even June.

But one local business owner, knowing the need for masks right now, has decided to help people while also trying to keep their business afloat.

Grace Yi has owned her dry cleaning business, Sylvan Cleaners, since 1991.

"We have almost 30 years experience in dry cleaning," said her daughter, Ellie Vy.

Before the coronavirus hit, business at Sylvan Cleaners in Southwest Portland wasn't going gangbusters. But it was better than it is now.

"It became from maybe 20-25 customers daily, to completely going down to 0 customers," said Vy.

Without customers the idea of still having to pay rent, even if it's deferred for now, was a source of anxiety.

"It was a very scary thought," Vy said.

But Vy and her mom have come up with a plan.

"I'm just helping her to try to keep her business alive," said Vy.

Their days are now filled with making masks. Each one is hand-sewn. Vy's dad, Joo, is retired but helps out too.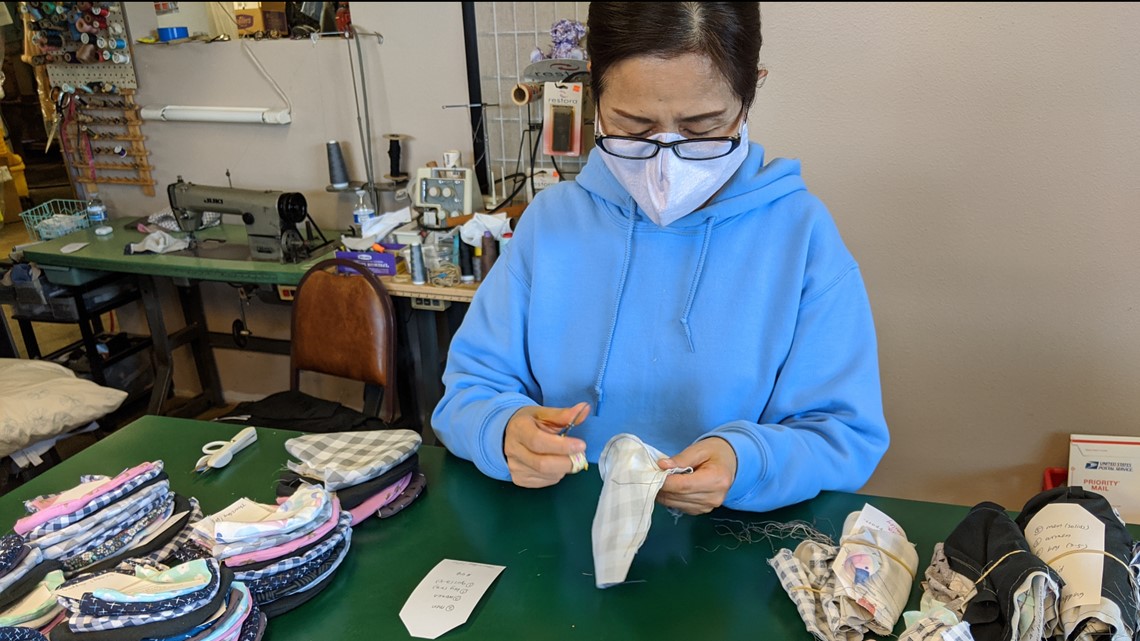 Vy said so far, she and her parents have sold about 800 masks since Thursday last week.

"From no income whatsoever, even a little makes a big difference," said Vy.

Thanks to friends telling their friends, mask orders are coming in.

"For now she is overly happy that so many people are giving her all this support," Vy said of her mother.
Local dry cleaning business now making masks to stay afloat amid COVID-19 pandemic
If you're interested in helping out by purchasing a mask, Vy said the best way is to contact her through filling out this form. Each mask is $8. Vy said she's buying whatever fabric is available and they are trying to make as many masks as possible. So people who decide to order a mask won't be able to choose the design.