PORTLAND, Ore. — As testing increases in Oregon, the percentage of positive cases is decreasing, which is likely an indication that the social distancing measures and the stay-home order are having a positive impact on the curve of the virus.
According to a report from Oregon Health Authority, last week's data (May 2 – May 8) had the lowest percentage of positive COVID-19 cases since the state began testing for the virus, with just 3.1% of tests coming back positive.
At the same time, last week had the highest number of people tested in the past nine weeks.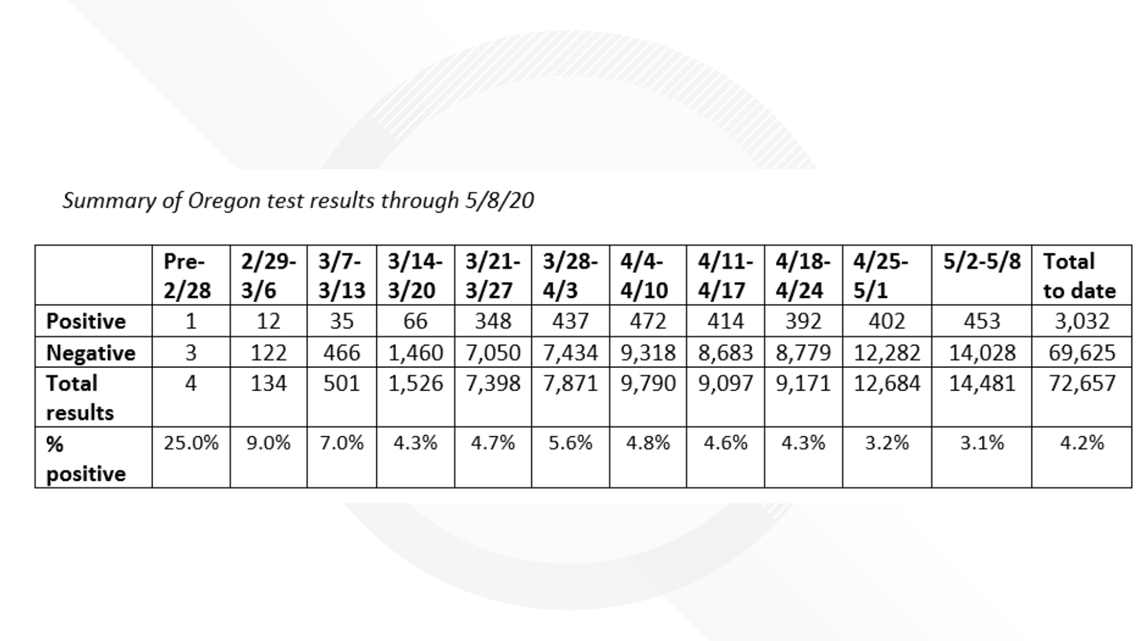 The differences in the percentage of positive tests has not changed greatly over the past few weeks but it is a positive sign that as more people are tested, the overall percentage isn't also increasing.
As of May 8, the cumulative positive test percentage was 4.2% for the state of Oregon. That's less than half the national average, which is 17%.
The state has been working toward meeting a minimum weekly goal of testing 15,000 people a day. On May 1, OHA released its Strategic Testing Plan for the state, which set out guidelines for testing. It also included specific directives for testing and caring for vulnerable populations such as front-line workers and minorities at a higher risk of contracting the virus.
Many counties have applied to begin "Phase 1" of reopening in Oregon. There is a concern if areas reopen too quickly and do not take preventative measures that there will be a second spike in the virus.
According to Gov. Brown's office, individuals should, as Oregon reopens, remain home if they are sick, continue to wear face coverings, practice good hand hygiene and more.