Portland parents upset by American Airlines' treatment of kids with disabilities who were stranded overnight
Their children were stuck waiting for a plane ride home without proper adult supervision, enough bathroom breaks, full meals, or access to medication, parents said.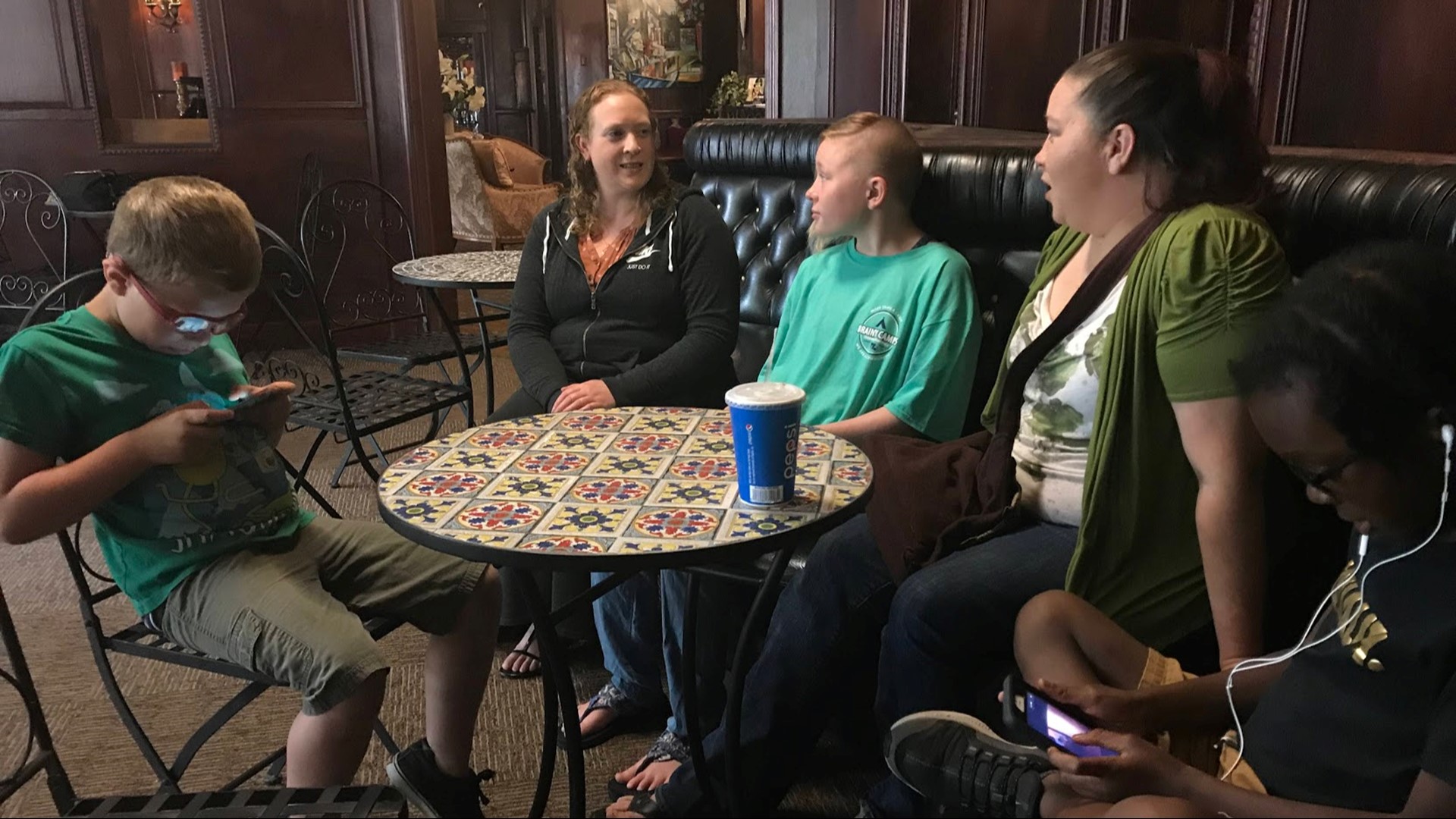 A flight home from a summer camp for kids battling a genetic disorder turned into a nightmare for a group of local families Friday. They say their kids were stuck waiting overnight for a plane ride home without proper adult supervision, enough bathroom breaks, or full meals.
Imagine not knowing if your child is being cared for, getting their medications, or being fed as they wait for a flight thousands of miles away. That was the reality for nine families from Friday night into Sunday morning.
"It is an amazing paradise. It's like heaven, being able to escape all our worries and problems and meet other people who have similar problems to ours," said 14-year-old Kelley Phillips, from Kelso, Washington. "We can do soccer, archery, walk-wall, swing, canoeing, everything."
NF is a set of complex genetic disorders that affects almost every organ system, causing tumors to grow on nerves in the brain and throughout the body. It can be debilitating and in some cases life-threatening.
"She's gone through tons," Kelly's mother, Danielle Phillips, said.
The first time Kelly left for camp she was in so much pain in her feet and legs she had to use a wheelchair. But camp changed everything. She experienced water therapy for the first time with her peers. By the time she got home, she was walking.
"She came home pushing her wheelchair. So camp is huge," Danielle Phillips said.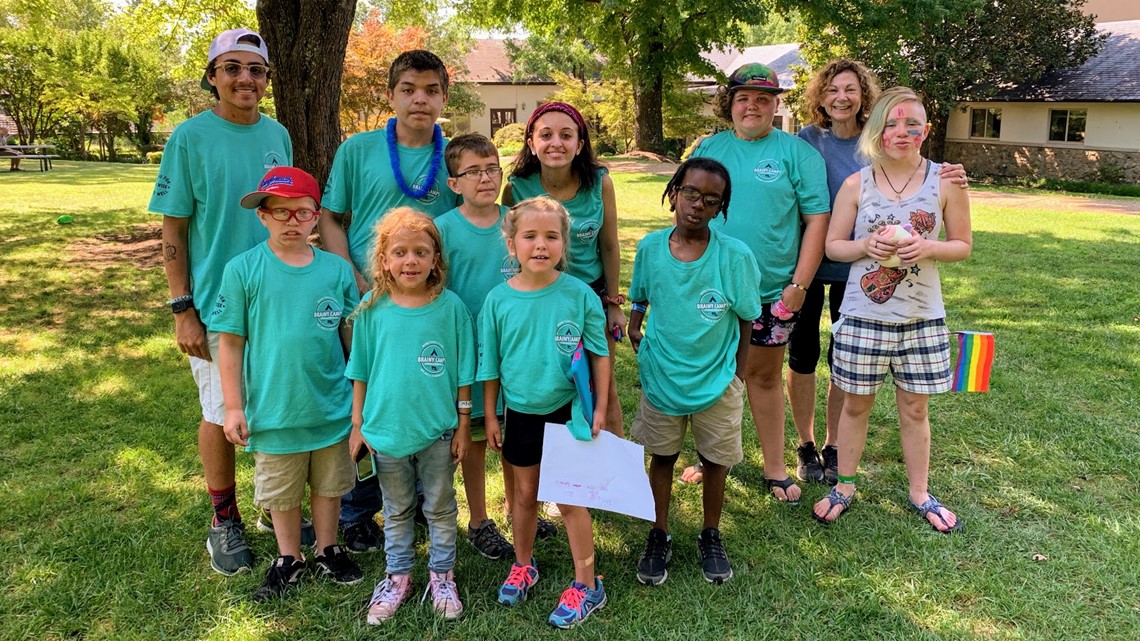 The life-changing experience of the camp is made possible thanks to the Dino Doozer Foundation, a non-profit based in Kelso.
"They can just go and have fun and be kids and be part of a community that understands what it's like when doctors are telling you you've got brain tumors, that you have cancer, that understands the bullying that happens in school," Dino Doozer Communications Director Maggie Kennedy said.
"A panic, full-on panic"
:
Dino Doozer has been flying kids to camp for about 10 years without issue. That is, until Friday, when it was time to fly this most recent group home.
Their American Airlines plane had a mechanical delay which stranded the kids overnight in Charlotte, North Carolina. The result? Parents say nine kids with special needs were stuck on the tarmac for five hours.
"I was stressed out and worried for them, making sure they were safe, fed, cared for," parent Kristi Hoyt said.
After the five-hour wait on the tarmac, parents say the kids were brought to a room to wait overnight.
In the room, there was little supervision, bathroom breaks were scarce, kids couldn't charge their phones, and the children were given airline snacks instead of meals.
"He was in a panic, full-on panic," Hoyt said of her son.
"Begging me to just go there, pick him up, take him off the plane and bring him home. He didn't want to be there anymore. He didn't feel safe," she said.
"Well, they're liars"
:
The children were scheduled to land in Portland on Friday night at 10:08 p.m., but they didn't get home until 11 the next morning. During that time, parents say they were given conflicting information from American Airlines staff.
"She [American Airlines employee] said they were working on getting the meals that they have on the plane warmed up and ready for the kids, which actually never happened," Hoyt said.
Phillips told KGW that a Dino Doozer employee was told that the kids were in a safe room, but she was on the phone with her daughter Kelly, who told her differently.
"She said, 'Well, they're liars, because we are on the plane,'" Phillips said.
Dino Doozer paid an extra $322 per child to be able to have an adult with the kids throughout the airport and during their flight, but once the flight was delayed in Charlottesville, that was not the case, parents said.
Parents told KGW that the American Airlines staff was rude and didn't seem to know the airline's unaccompanied minor policy.
"When talking to us, they were just not kind and they could have just been a little bit more compassionate," parent Ariel Rahier said.
According to 14-year-old Kelly, there wasn't a consistent adult watching over the group through the overnight delay. She said the group of kids were left alone on one of the planes with the cleaning crew while the rest of the passengers got off the plane.
She said she had to step up and lead the group to keep the eight other kids calm.
"The flight attendant just kept trying to make excuses like, 'Oh, I don't know what's going on. It's not really up to me what goes on.' She was one of the people who was supposed to be watching over us and was supposed to know what she was doing," Kelly said.
The parents say they filled out unaccompanied minor paperwork prior to boarding in North Carolina. Their understanding was a person would always be with their kids, but an American Airlines employee in Portland told Phillips that wasn't the case.
"Even though the fee was paid, all we paid for was this piece of paper that said who was going to pick your kid up at the gate and nothing else. They weren't responsible for anything else," Phillips said.
"They wouldn't let us get our medication"
:
Making matters worse, a lot of these kids need medication to keep things like seizures at bay. Kelley said some kids had the medication in their carry-on, but were forced to check their bag before the first flight was delayed.
"Some of the campers had their medication under the plane and they wouldn't give it to us. They wouldn't let us get our medication, which a lot of us needed," Kelley said.
American Airlines released the following statement:
"Unfortunately, after boarding, Flight 1736 from Charlotte to Portland on Friday experienced a mechanical delay that caused it to remain in Charlotte overnight. The children were kept in our dedicated unaccompanied minor room where they were kept safe and comfortable in the care of American Airlines personnel at all times. Our team is in the process of reaching out to the families involved and sincerely apologizes for this travel experience. We will be reviewing with our teams internally to understand how we can do better next time."
However, these parents and Dino Doozer say that's not how it happened, and they want to see a change in policy to ensure this doesn't happen to other children.
"There needs to be a clear defined policy for unaccompanied minors in an emergency situation like this," Kennedy said. "It's not how you treat people, period. It's definitely not how you treat vulnerable children."