PORTLAND, Oregon — A much-loved tiger at the Oregon Zoo is back to good health, thanks to a veterinary partnership between the zoo and Oregon State University.
Bernadette was showing some very concerning signs of illness last summer, including a seizure that temporarily stopped her breathing. She needed an MRI, and although there was one option in Portland, her care team concluded that the best course of action was to take a trip to Corvallis.
"We're colleagues, we're friends, we talk very openly, so we start talking to them and (found that) although the travel time is longer than taking her here in Portland, we could accomplish more," said Dr. Carlos Sanchez, Head Veterinarian at the Oregon Zoo.
But transporting a 270-pound tiger more than 80 miles is no simple feat — nor was it easy to safely perform an MRI and gather spinal fluid to diagnose the big cat's seizure. It took a team effort, Sanchez said, both at the zoo and at OSU's Carlson College of Veterinary Medicine.

"The maintenance team to help us put her on the crate, the OSU team, the veterinary team, the keepers; everybody has to chime in to do safely, everybody has to chime in to have this done properly," said Sanchez.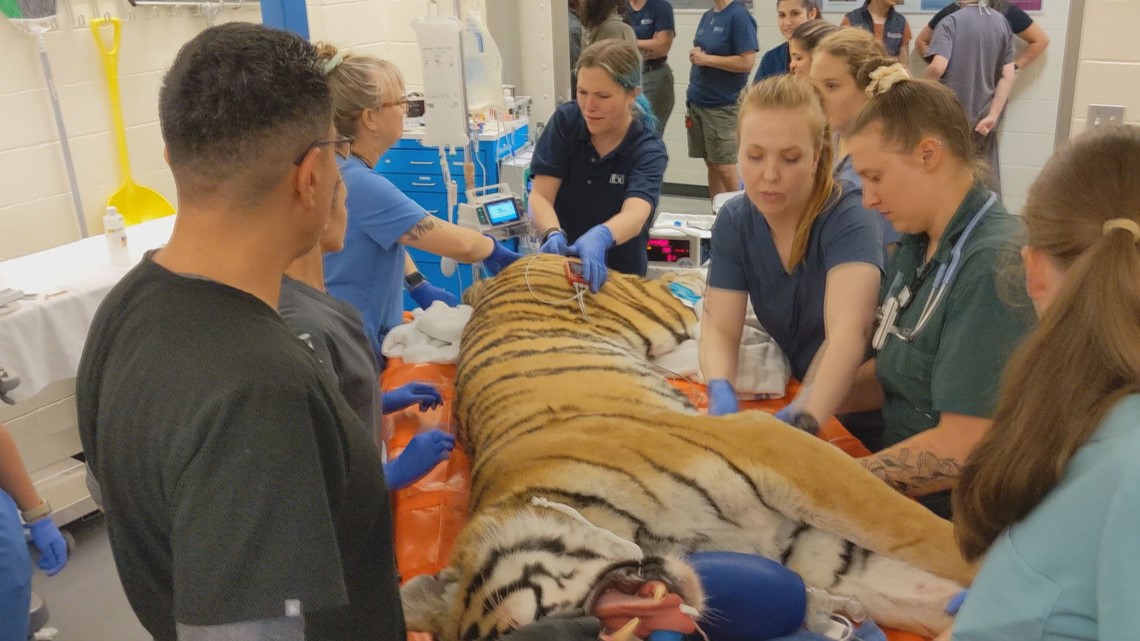 In the end, the vet team found some small lesions on Bernie's brain, but nothing to indicate an ongoing problem. So back to the Oregon Zoo she came, a little grumpy none the worse for wear from the experience.

"She was pretty angry by the time we got back. She just wanted to be alone and eating in her area, but she recovered very well from anesthesia," Sanchez said.
Four months later, zoo staff continue to monitor the big cat closely, but have been able to back off an anti-seizure medication. Despite the scare, all seems to be well for Bernadette.

"It's part of the job we love it, we invite people to come visit Bernie, she's a happy cat," Sanchez said.