PORTLAND, Oregon — A Southwest Portland high school is celebrating 50 years since the activation of Title IX for their sports program. Ida B. Wells High School honored alumna Lucy Bledsoe at a school ceremony on Wednesday.
In 1974, girls like Bledsoe didn't have opportunities to take up space in sports. At the time, Bledsoe was a junior at Ida B. Wells, formerly known as Woodrow Wilson High. Like any active teenager, she simply wanted to play basketball on a school team with her peers.
Bledsoe grew up in an athletic family with two older brothers who grew up playing sports. Growing up, her love for sports only grew as she attended games year-round in support of her brothers. Witnessing the beauty of how sports could powerfully bring communities together turned that love into a growing passion.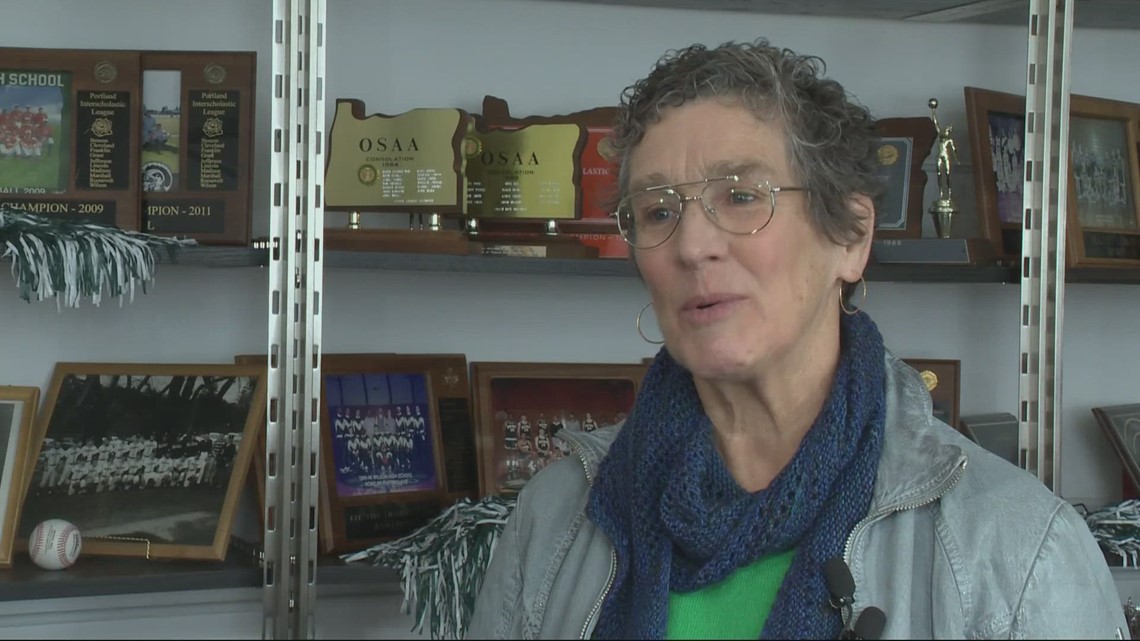 "I wanted a uniform, I wanted a coach. Luckily my brothers were great coaches. A lot of girls who didn't have teams were coached by their fathers or brothers and that was how they were coached later. I just knew from my family the love of playing sports and the community that it brought. I really wanted that," said Bledsoe.
Although her school offered boys the opportunity to play on school sports teams, the same privilege wasn't provided to girls. At the time, Portland Public Schools was not compliant with Title IX, which prohibits discrimination in federally funded school programs on the basis of sex.
Determined to play basketball, Bledsoe spoke to athletic directors, school boards and state lawmakers to create a girls basketball team for her school. A lot of eyes were on Bledsoe, and she faced a great deal of harsh criticism and harassment — especially from school leadership.
"It was really scary. One of the coaches at the high school, once I started speaking out and requesting for shared gym time and a shared budget, literally found me in a hallway, pushed me against a wall and told me if I didn't shut up I'd be sorry. A couple other coaches also said things to me and spoke ill of me to my peers," she said.
Determined to play, Bledsoe persisted. But she continued to face backlash from many she thought would be in support of equal opportunities for all students.
"What happened was very shocking to 17-year-old me. The blowback was fierce. People got really intensely angry, including the coaches at the high school and the athletics director at the time at the school. Letters flew all around the city that were published in The Oregonian at the time calling me a liar, when basically all I had said was there was no teams for girls which was kind of indisputable," said Bledsoe.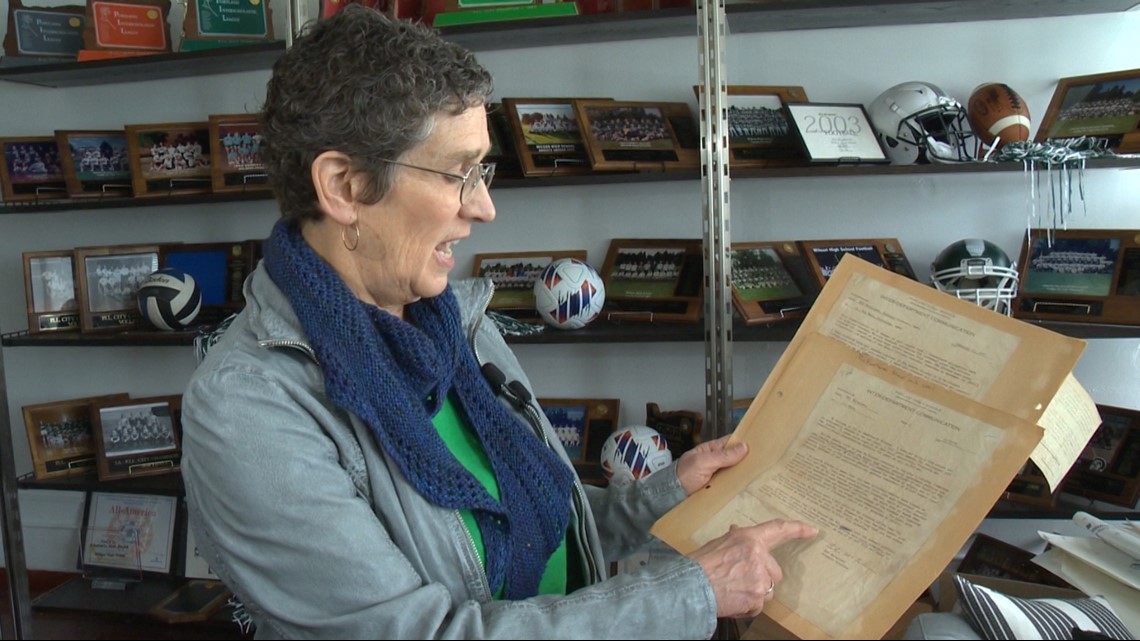 Bledsoe's advocacy eventually paid off. She finally had a chance to play basketball on the new girls team at the school in 1975.
"It was a really intense time for me. Kind of scary, but I learned a lot about speaking truth to power and finding my voice. What's actually fun about this story is we did get a team by my senior year and we took the state championship that year," said Bledsoe.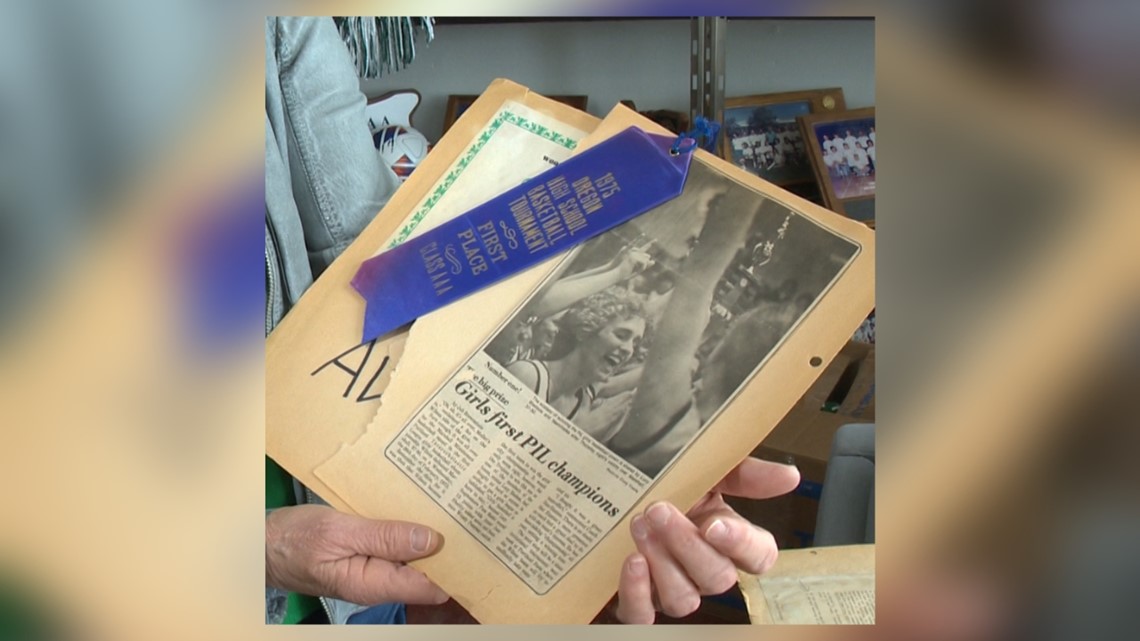 Her focus at the time was on creating equality for all athletes — and of course, playing basketball. 50 years later, Bledsoe is now back at her alma mater, connecting with a new generation of students while celebrating chapters of the past, a past that continues to impact the future.
Dana Savage, current captain of the girl's basketball team at the school, spoke to KGW after attending the presentation honoring Bledsoe.
"I think it's really impressive to see her bravery and her humility to overcome the adversity from her administration, the people who are supposed to be there to support her," Savage said." Just to be able to push through that and create the program for herself and the other women who went to the school is really impressive and inspiring. I'm grateful to have such an amazing role model that went to our school and to kind of lead the girls athletics. It's cool to see that she was doing some of the same things we are right now. Her story inspires me to want to keep playing and going."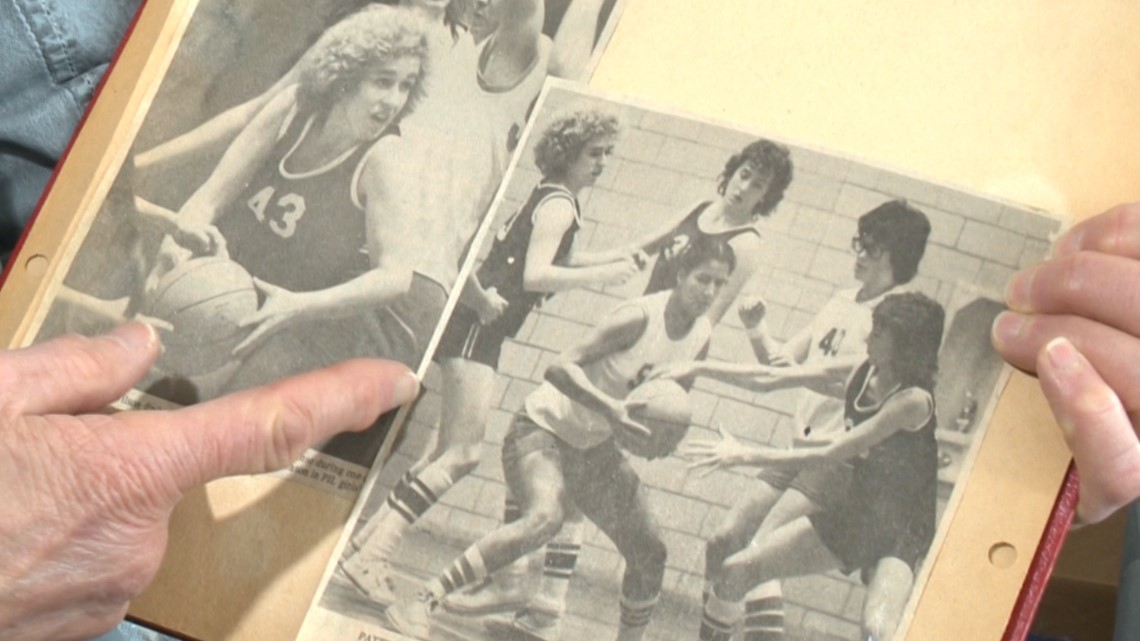 Her determination and persistence through adversity has created a space where many young girls in Oregon now have opportunities to either make a career or simply play sports for leisure. Even years later, in 1996, organizations such as the Women's National Basketball Association were created.
When asked about the progress of sports for women, Bledsoe told KGW, "We still have a long way to go. Things are a lot better, but when you look at, for instance, the WNBA, the professional league for women's basketball, they're paid far, far less than the men. A lot of inequality still between sports with women and men and I'm sure still on the high school level, but we're working on it."
Bledsoe graduated high school and kept on playing sports in college. She went on to be an author writing fiction and non-fiction books for both adults and kids. She wrote a book about her experience titled "No Stopping Us Now." The book focuses on her personal story while presenting themes of friendship, basketball and activism.
"I want young people to know about the Title IX law. It's amazing how many young people aren't aware of its existence and their rights to equal opportunities at a federally funded school," said Bledsoe. "I want them to know about that and how good it feels to speak up for fairness and to support your teammates and one another and other people speaking up for fairness and inclusivity. Working towards making this community better actually gives a lot back to the people doing the speaking out."
"I would really tell kids to not be afraid to speak up, and that you will get blowback. People will get really angry when you speak the truth about what's happening to you, but ultimately it usually works out really well," Bledsoe said. "Whatever happens, even if change doesn't happen immediately, you'll feel so much better yourself when you speak the truth and speak out, finding your voice through physical strength."