PORTLAND, Ore. — A woman's 1999 Subaru was stolen in November 2021, sold to a Portland used car dealership and then sold and shipped to someone in Hawaii. She didn't learn about this until a year later.
"My car fell through the cracks even though I notified everybody I possibly could have to help stop this from happening," said Lauren Murdoch, one of the 9,000 Portlanders that had their car stolen in 2021.
Murdoch's 1999 Subaru was stolen in Clackamas on Nov. 15 with the title to her car inside. She immediately reported her car stolen to her insurance, police and the Oregon DMV.
Her vehicles plates and VIN number were then registered as stolen in the Oregon DMV's database, OLIVR. But that didn't stop whoever stole her car from selling it and pocketing the money.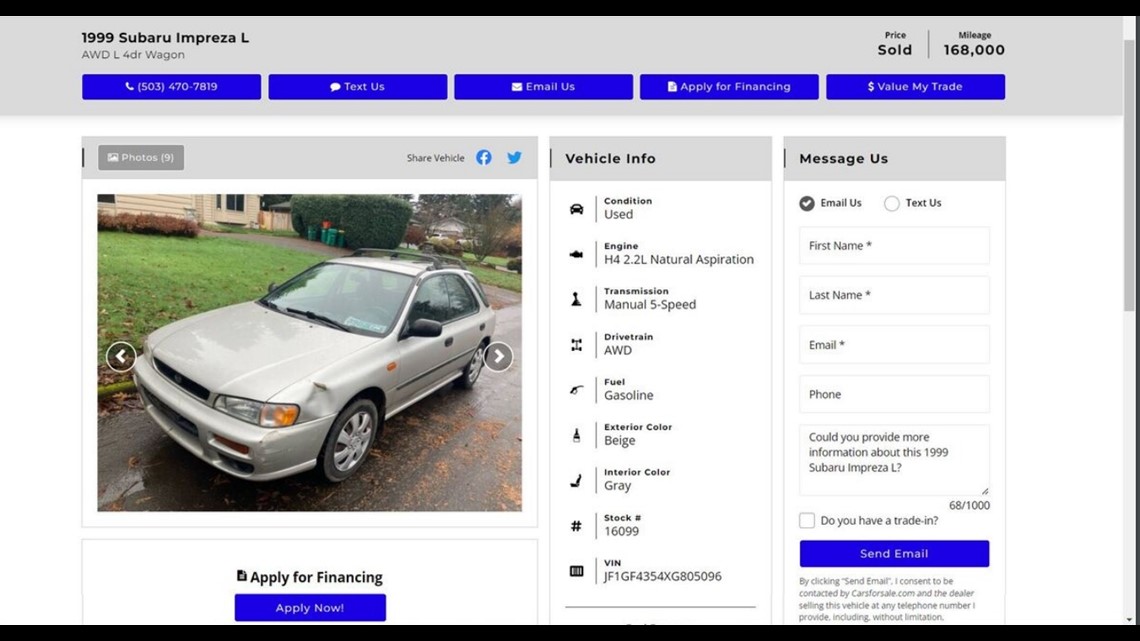 "Once I decided to close my claim about a year later, I called the DMV to see what I would need to recover my title, and the woman at the DMV on the phone said 'oh your car looks like it's in dealership stock at Blue Line Auto," said Murdoch.
According to DMV records, Blue Line Auto Group in East Portland registered Murdoch's car into their dealer stock with the DMV on Nov. 29 — just two weeks after it was reported stolen.
"It's truly unbelievable," said Dustin Van Doozer, owner of Blue Line Auto Group.
Van Doozer has nearly 30 years of car dealership experience. He said he had no idea the Subaru he sold to someone in Hawaii was stolen, as Oregon car dealerships aren't required to run a VIN check when buying a car.
According to Oregon DMV, theft data is not available to dealerships or customers — only the state and law enforcement have access.
"And so for all these years I was assuming that when we enter a VIN number, it would be flagged if there was something up with the car somehow," said Van Doozer.
Oregon DMV said they only run a car's VIN number to check if it's stolen when someone comes to transfer a car title into someone's name.
Murdoch has reached out to at least six Oregon lawmakers to change that in hopes of sparing someone else the experience she has gone through.
"So I reached out to all Oregon legislatures, senators and representatives, to see if we can get some kind of legislation requiring the DMV to do a VIN check when a car enters a dealership stock, at least a used car dealership," said Murdoch.
Murdoch is urging other drivers to not leave their titles in their cars and buy a GPS tracker device for their vehicles if possible. She moved out of Oregon after the theft.