'Just not enough homes': Oregon faces shortage of foster parents
According to a 2018 audit, there are more than 11,000 children in Oregon's foster care system.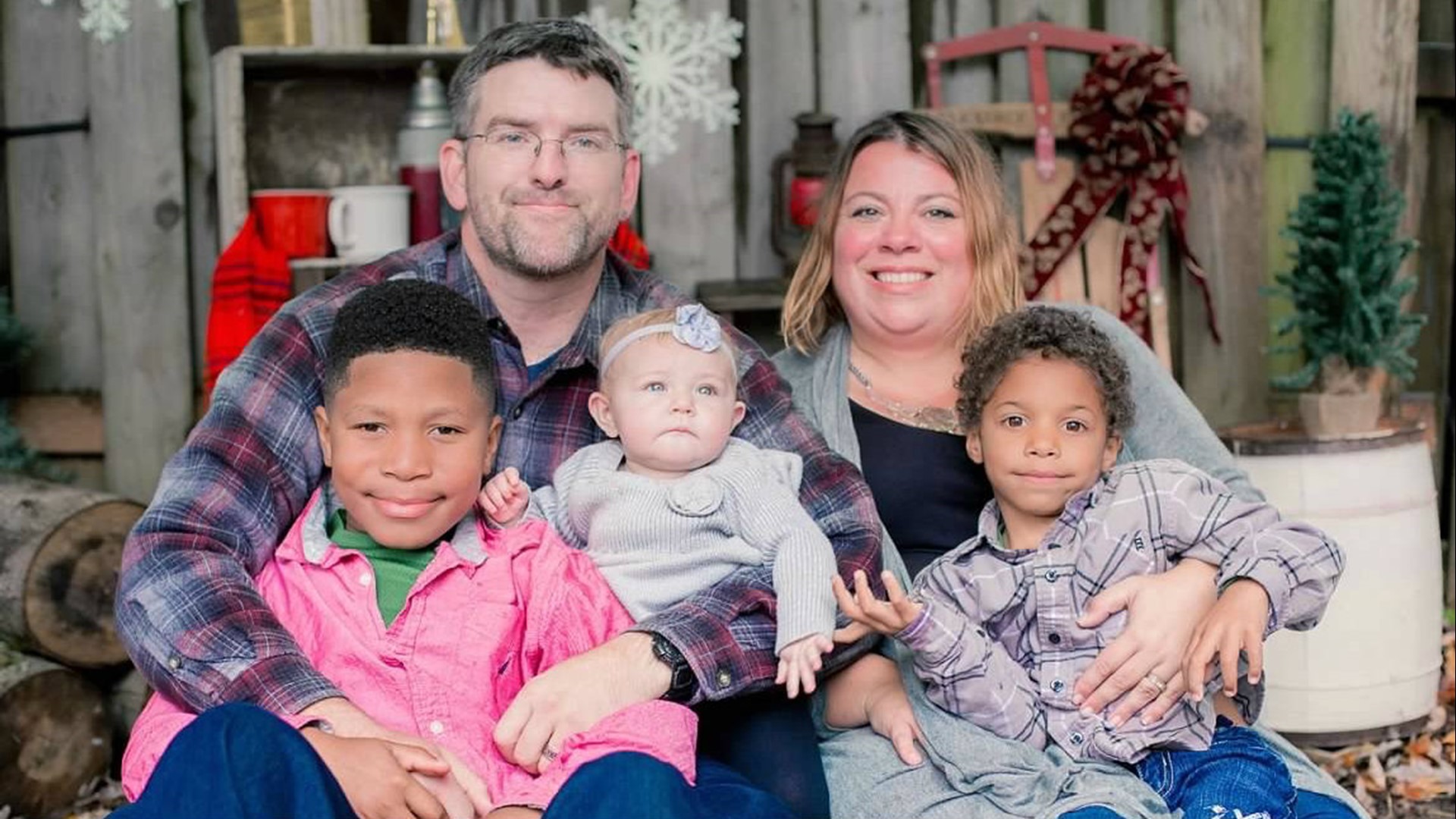 Jeanne and Chris Modderman have a growing family. What started as a Mother's Day wish about five years ago led to adoption.
"He asked me what I wanted for Mother's Day and I said, 'I think we should be a foster family' and it just sort of went from there," Jeanne said.
The Oregon couple and their two sons have opened the doors of their North Portland home to foster children for the past five years.
They fostered sisters, 2-year-old Emaline and 3-year-old Luciana, since the girls were just months old. In September, they took the next step.
They adopted the two toddlers, adding to their family, that already includes two sons, Zyler and JT, both adopted at birth.
"They are amazing, and we are so lucky to have them as part of our lives," Jeanne said.
While the growing family is eager to bring the girls into their forever family, Jeanne says she knows that this adoption takes two more beds away from other kids in the foster care system who need a loving home.
With only so many bedrooms in their home, they will no longer be able to adopt other children in Oregon who need a safe place to land.
More foster families needed
:
At the heart of Oregon's overburdened foster care system, you will find foster families just like the Moddermans.
These are the people giving their lives to kids who didn't choose the situation they're in. But there simply are not enough foster parents out there to care for the more than 11,000 kids in the system, according to a 2018 audit.

Problems in the state's child welfare system are complicated and go back decades, but the shortage of foster parents in Oregon can be attributed to two major factors: the demands of the job and the lack of support from the state.
"There's just not enough homes. There's not enough homes for the kiddos, which means there's so much more work for caseworkers and everything else," Jeanne said. "Everything that comes together in this system starts with there not being enough homes."
The audit, conducted by the Secretary of State Audit Division, took a critical look at the child welfare system. It confirms what Jeanne already knows: The state needs more foster parents.
Of the roughly 870,000 children in Oregon, more than 11,000 are in Oregon's foster care system.
The audit points to high staff turnover at the Department of Human Services, staff shortages, chronic management failures and high caseloads as the main reasons for the lack of foster families.
Those issues trickle down to foster families like the Moddermans. They say an overwhelmed system often leaves them without consistent caseworkers and leaves children without enough homes for placement.
After their first foster child was placed with the family, Chris said they did not hear from a case manager again for three months.
"There's a little bit of a communication breakdown and some of it comes from the fact that the caseworkers are overworked," Chris said.
With the declining number of foster homes, DHS is asking foster parents like the Moddermans to do more and, just like caseworkers, they are burning out.
"Overworked caseworkers have limited time to build relationships with foster parents. Foster parents reported they understood caseworkers were busy, but they still needed more hands-on support from them," the audit stated.
In recent surveys of foster parents highlighted by the audit, only about one third of foster parents felt they were included as a valued member of the team that provides care and planning to foster children.
Just 34 percent reported they were able to receive services they needed to care for foster children around the clock. Just over half (57 percent) felt they received any support in the care of foster children placed in their home.
"Foster families' input needs to be taken more seriously when it comes to cases. I mean these kiddos are with us 24-7, and like I said, the caseworkers do what they can, but they don't know these kids like we do," Jeannie said. "I wish that would be taken more into consideration with kids, especially with kids with complicated stories when it comes to adoption or reunification."
'Frustrating' child welfare system
:
The Moddermans say the most challenging part of being a foster parent can be navigating the state's child welfare system.
"It becomes the most exhausting part because you see that there's balls being dropped and it's so frustrating and then you become that advocate," Jeanne said.
Oregon has nearly twice as many kids in foster care as the nationwide average. But since 2016 the number of available foster homes has declined by 15 percent, according to the 2018 Child Welfare Data Book.
The bottom line: Jeanne says foster families need more support from the state. If that happens, she believes it could encourage more people to become foster parents.
"The burnout, the inconsistency; all the negative things that you hear ... It all comes back to: We need more homes and we need more people to step up and say yes," Jeanne said.
Oregon Gov. Kate Brown started a Child Welfare Policy Agenda in 2018. In September 2019, she signed a $6.7 million bill to create a statewide System of Care Advisory Council. It aims to create teams that will ensure better services and placements for children while working in tandem to reduce the number of children who enter the welfare system.
It also appropriates money from the General Fund to the Oregon Health Authority for biennial expenses for the interdisciplinary assessment teams.
"So, my focus right now, and working with agency leadership, is to make sure that we are reducing caseload for our workers safely, ensuring that every single child in the system is safe, and recruiting/retaining foster parents," Brown said.
However, getting real, measurable results has been slow. What is holding progress back often comes down to funding.
Outside partners filling the gap
:
"You really have several different problems, each of which I think is solvable, but each of which has a resource starvation component to it," lobbyist Dave Hunt said.
"There have to be resources invested in foster families, in DHS caseworkers, in the courts, in the attorneys, in the Court Appointed Special Advocates, to really have a holistic system that is going to serve the foster children effectively and well," Hunt said.
Even with new legislation and funding, the state relies heavily on outside partners such as CASA and Embrace Oregon to support foster families.
Embrace Oregon was created in 2013 as a coordinated effort to provide resources by bringing the businesses, faith and civics communities together to support the foster care system. It has since grown to create a model for other parts of the state.
Executive director Brooke Gray says Embrace focuses on changing the narrative of what foster care is. The group puts kids who are in the system as kids first, "because foster care is something that happened to them, not something that defines them."
In 2017 they launched Every Child, a statewide network of nonprofit organizations, like Embrace Oregon, that are doing community mobilization around the foster care system in their own county.
"I think the paradigm that exists has been do nothing or become a foster parent. And there's a lot of ways people can bring themselves, their business, and their family to the table to help to normalize foster care and to provide some natural supports for foster families that are coming forward and putting their life on the line," Gray said.
Embrace Oregon volunteers do things like create welcome boxes for children entering the foster care system. They are filled with everything from toys to toiletries to help them in the already traumatic transition.
"It's not as isolating of an experience because they have community wrapping around them, but they also have more resources and tangible items that are available to them as they say yes," Gray said.
Perhaps the most important thing the volunteers do is to give parents a much-needed break every now and then – watching the kiddos so Jeanne and Chris can have a date night, or even just a moment alone.
"I don't know how we would do this, without our connection with our village and with our other families who are doing what we do," Jeanne said.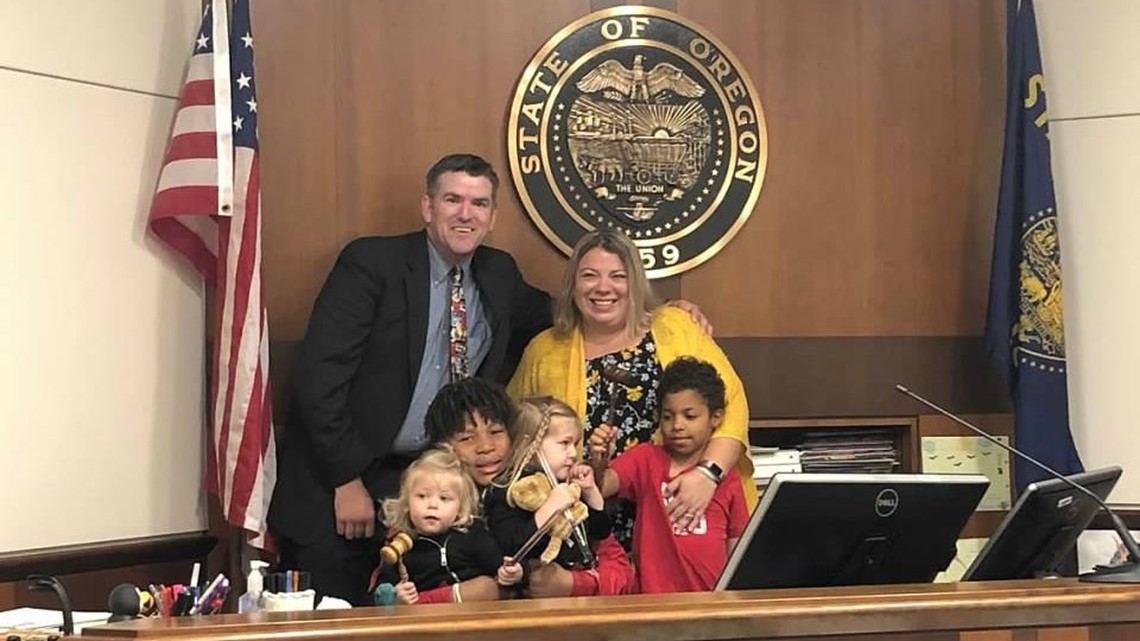 Being a foster parent isn't easy. It comes with stress, a complicated child welfare system, and a whole mess of unexpected hurdles, but the Moddermans would not give it up for anything.
"For us, having the kiddo or kiddos in our home has been the benefit of all of this because of the joy that they bring to our family," Jeanne said.
The state's lack of foster families is a complex issue without any one clear solution, but people are working every day to make it right. At the heart of that work are foster families like the Moddermans who know the work is worth it.
"Because these kids are worth it," Jeanne said. "Because they need somebody to say yes."
The Moddermans just renewed their foster care certification and hope to bring more children into their home for respite, short-term, care in the future.