THE DALLES, Ore. — Firefighters have made significant progress in containing a deadly wildfire southeast of The Dalles.
The Substation Fire was more than 90 percent contained as of July 23 and had burned 78,425 acres.
The fire was declared the top fire priority in the nation on July 19, when it was zero percent contained and several communities were under Level 3 evacuations, meaning residents were advised to leave their homes. By Sunday morning all evacuation notices had been reduced to Level 1, meaning residents should be ready to leave their homes again.
A community meeting took place July 21 in Grass Valley, where officials were optimistic that the worst of the fire was over. They discussed plans of transitioning from fire management to fire recovery.
As of July 23, 65 firefighters were still helping contain the fire. Crews are now focused on suppression, mop-up, and reinforcing containment lines.
The fire saw the most growth on the south end, near the Deschutes River canyon. High temperatures and gusts up to 40 mph swept through the area in the days following the breakout of the fire. But conditions have been more favorable recently.
Photos: Substation Fire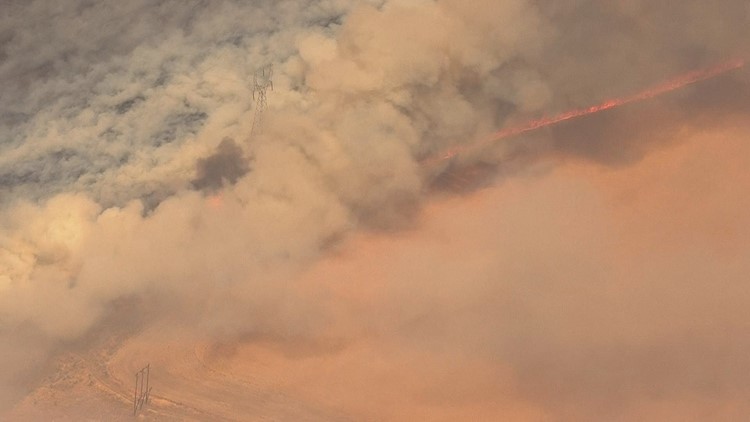 The fire started at around 3 p.m. on July 17 on Highway 197, just south of the Celilo Converter Station, hence the "Substation Fire" designation. Winds immediately blew the fire east, where it moved 18 miles in eight hours that night along the Deschutes River and through Deschutes Canyon.
Fire leads to fatality
One person, 64-year-old John Ruby, died as a result of the fire.
The Wasco County Sheriff's Office said Ruby's body was found July 18 near a burned tractor. It appears he was trying to create a fire line and died from exposure to the fire, deputies said.
Loss of property
The fire burned mostly agricultural land, including grass and heavy, high-desert shrubs, according to Portland Fire & Rescue Lt. Damon Simmons.
"They burn like they're made of oil," he said. "Hot, fast fire."
The fire has been especially detrimental for wheat farmers, whose crop looked particularly bountiful this year.
"I've heard that some people have lost literally everything. ... You've got two years' worth of effort that's coming down to a two-week harvest, and all your time and care and effort for the land is wasted," said Logan Padgett, a fifth-generation wheat farmer.
The Oregon Department of Consumer and Business Services said it is estimated about half of the crop in Wasco County was lost due to the Substation Fire.
The bureau said farmers should call their crop insurance agent as soon as possible, because claims must be filed within 72 hours of loss.
On July 21, officials said four homes, four industrial buildings, 48 outbuildings, and eight commercial vehicles were destroyed. Four homes and five other buildings were also reportedly damaged.
Containing the fire
More than 300 firefighters from more than 70 fire agencies, with help from federal, state and local resources, contributed to getting the fire under control.
Ian Yocum, incident commander with the Oregon State Fire Marshal, said it was a team effort to get the fire under control.
"When we needed resources from the governor, we got them. We appreciated that," he said.
On July 21, Gov. Kate Brown also credited the wheat farmers in the area who assisted with the firefighting effort.
"The wheat farmers of Sherman and Wasco counties were instrumental in fighting this fire," Brown said.
"Without the knowledge and expertise of the wheat farmers, we would not be where we are today," she said.
The fire was zero percent contained and had burned more than 50,000 acres on July 19. But by July 21, the fire was 44 percent contained and officials were optimistic the worst of the fire was over.
All evacuations were reduced to Level 1 on July 22.
Traffic closures
Highway 97 was intermittently closed from the Biggs Junction to the interchange with Highway 197. Travelers were advised to check TripCheck to see the latest traffic closures.
Cause of the fire
During a press conference on July 19, when asked about the cause of the Substation Fire, Gov. Brown told a reporter, "clearly, you're hearing there is a likelihood of arson, and our agencies are going to help in that investigation."
KGW reporter Tim Gordon spoke to Oregon Assistant State Fire Marshal Mariana Ruiz-Temple and Doug Grafe, the Fire Protection Division Chief with the Oregon Department of Forestry, and both confirmed that local law enforcement agencies are investigating the fire as suspected arson.
On July 19, Wasco County Sheriff Lane Magill referred to the investigation as a "criminal investigation." He said Oregon State Police has set up a tip line at 1-800-452-7888.
The Associated Press contributed to this story