Morrissey O'Donnell described herself as a bridge builder and vowed to build community trust.
"Community engagement has been and will continue to be the cornerstone of my approach to public safety," Morrissey O'Donnell said. "I am dedicated to building trust by breaking down barriers through open and honest communication, transparency and accountability."
Morrisey O'Donnell has served for the sheriff's office for the past 26 years. She started as a corrections deputy in 1996 and rose through the ranks. She advanced from deputy to lieutenant to captain to chief deputy and then to undersheriff.
She is also one of only two Multnomah County sheriffs to hold dual certification in both corrections and police certifications.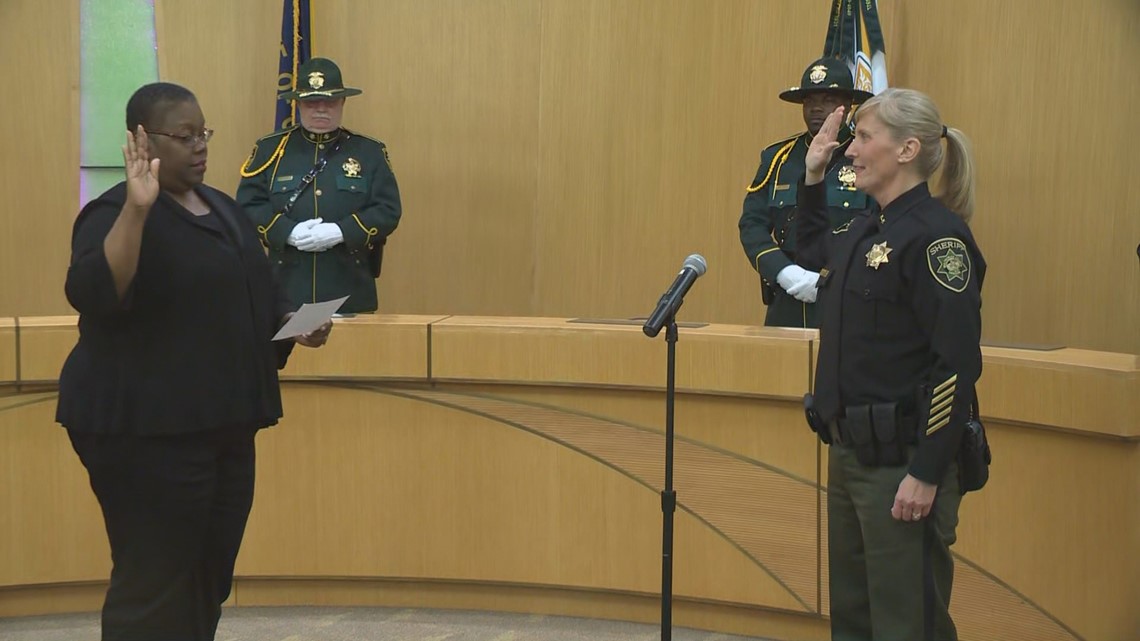 Morrisey O'Donnell addressed a major issue facing Multnomah County: gun violence. She asserted that she is committed to community safety and reducing gun violence, while explaining that she and her family have experienced the impacts of gun violence first hand.
"This stems from an early childhood incident when my father survived a shooting during an armed robbery at his business in our small town," she said.
Morrisey O'Donnell also said she will work with county health partners on an integrative public safety approach to help people in the community experiencing mental health and behavioral challenges.
Musse Olol was one of several speakers at the ceremony. He is the president of the Somali American Council of Oregon.
"While this historic first makes good headlines, what's more important to us is getting a sheriff that's community oriented who also has the depth and experience in law enforcement and the highest character and integrity," Olol said. "Sheriff Morrissey O'Donnell is all about community when it comes to duties related to the Multnomah County Sheriff's Office."
In August 2021, Morrissey O'Donnell was appointed second-in-command of the agency, becoming the first female to hold the title.
She succeeds Sheriff Mike Reese, who could not run for reelection due to term limits.