Charred pieces and heavy dust from the fire were found in nearby yards, on Parkrose School District property and in Luuwit View Park, the agency said, and the debris from the park has already been tested and confirmed to contain asbestos. DEQ said it would conduct an assessment of the area Friday to get a better sense of the spread of the contamination and develop a cleanup plan.
Portland Mayor Ted Wheeler tweeted out a message Thursday evening warning that city activities planned for Friday at the park had been canceled, and DEQ said the school district had been warned to keep all activities indoors. The city has contracted Professional Minority Group to clean up the park, DEQ added, with work set to begin Thursday afternoon.
"Right now the park is closed, and we're asking people not to go into the park so that they can do a complete job of cleaning all the debris and ash out of it," DEQ spokeswoman Susan Mills told KGW Friday morning, adding that DEQ also has people assessing the area, starting out at the Kmart building and moving outward to look for debris.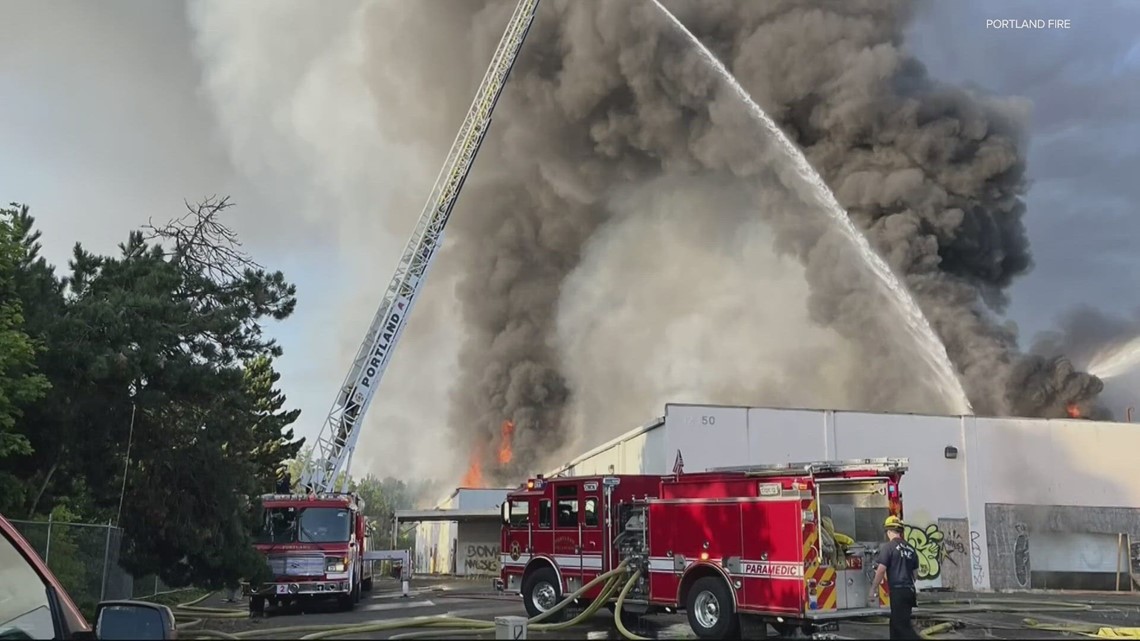 Risks of asbestos
Asbestos is a naturally occurring mineral that was widely used in building materials throughout the last century. Its use was discontinued after it was found that long-term exposure could cause cancer and lung problems, but it remains present in many older structures.
What residents should do
Residents in the area around the Kmart building are urged to avoid places with ash or debris, and especially to avoid contact with any debris that contains asbestos, which will look like ash, paper or chunks. Such debris can easily crumble into hazardous fibers that can be inhaled, and should not be touched, swept, picked up, moved or vacuumed.
"I know your first instinct is to 'get this off my driveway, get this off my yard,'" Mills said, "but really the worst thing you could do would be to sweep it out of your yard, because that's just going to bring up airborne ash and dust that could potentially have asbestos, but at this point that has yet to be determined."
Children and pets should also be kept away from any ash or debris, and residents should avoid mowing grass or working in garden areas that were potentially exposed, DEQ said. Ash and debris can be gently soaked with water to keep it from becoming airborne, but should not be power washed.
"We don't know for sure everything has asbestos, and so we want to be clear about that," Mills said. "But for now, we want people to be cautious and, in case it might be asbestos, you don't want to move it because asbestos is microfibers. Even if they're chunks, when they break, there are microfibers and those microfibers could be inhaled and could cause respiratory problems."
DEQ's website will have a link on the homepage with more information about the incident, she said, which should be in place by the end of the day on Friday.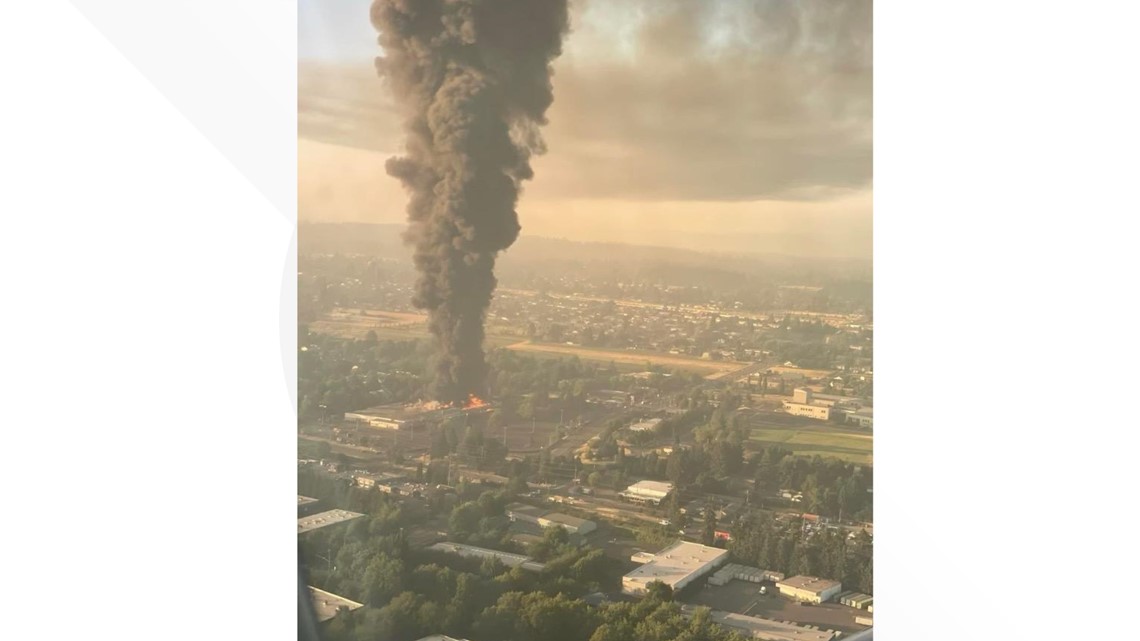 Fire destroyed building
The fire broke out Wednesday morning and drew a quick response from Portland Fire & Rescue after an officer leaving a training yard across the street noticed the blaze. However, Portland Fire & Rescue also said limited hydrants in the area created challenges for crews trying to pump in water, and they were also hampered by fencing that the property owner had installed to discourage use of the parking lot.
The blaze completely consumed the building interior before firefighters got it under control shortly after 8 a.m., and it produced a massive plume of smoke that could be seen from around the neighborhood.
DEQ is part of a joint incident command structure for the fire that also includes the Oregon Health Authority, the Portland Bureau of Emergency Management, the Multnomah County Health Department, the Portland Bureau of Environmental Services and the Parkrose School District, the agency said.