PORTLAND, Ore. — When a massive landslide washed out a bridge along State Route 504 leading up to the Johnston Ridge Observatory on Mount St. Helens this week, it stranded 12 people, one dog and seven cars.
Ryan Crandall from Seattle had traveled to the observatory for the night with hopes of capturing the Milky Way above Mount St. Helens.
"It was already going to be memorable for what it was, for what I was doing," Crandall said. "It just became a whole lot more memorable in that a lot more people know that we were up there. Overall, it was a great experience for what it was, but I do wish I could have my car back."
Tim Uhler from Port Orchard had made the two-and-a-half hour trip for the same reason: to see the Milky Way.
"That was my plan," Uhler said, "brought my pillows and sleeping bag and was going to sleep in the tent."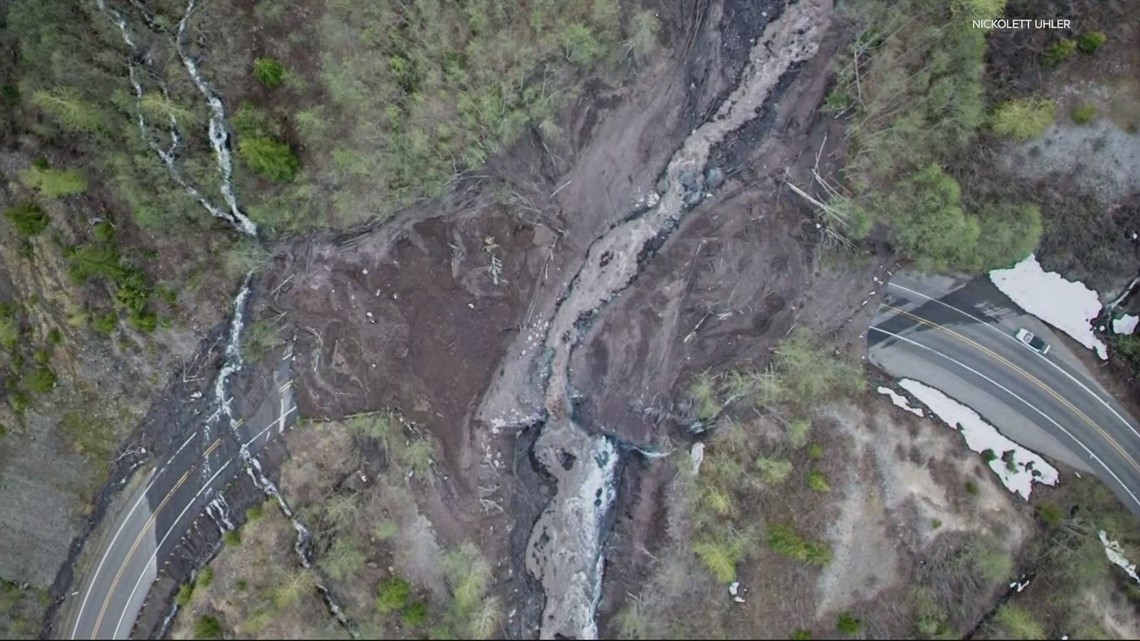 On Sunday, a group of 12 people stuck around after closing to watch the sunset fall on Mount St. Helens. After the sun went down, a majority had left, but didn't get far when they came across the landslide and headed back.
"I was actually not even supposed to go to St. Helens that day. I was supposed to go to a different location, but found out the lake I wanted to do was still frozen. So I pivoted and went to St. Helens," Crandall said.
The group called 911 to make emergency officials aware of the landslide. Since they couldn't go anywhere, the shared photography tips and tried to make the most of a bad situation.
"The biggest disappointment as we were shooting, waiting for the Milky Way to align with the mountain [is that] it got so windy and sandy that I gave up. I only have a few pictures, none of which are all that great," Uhler said.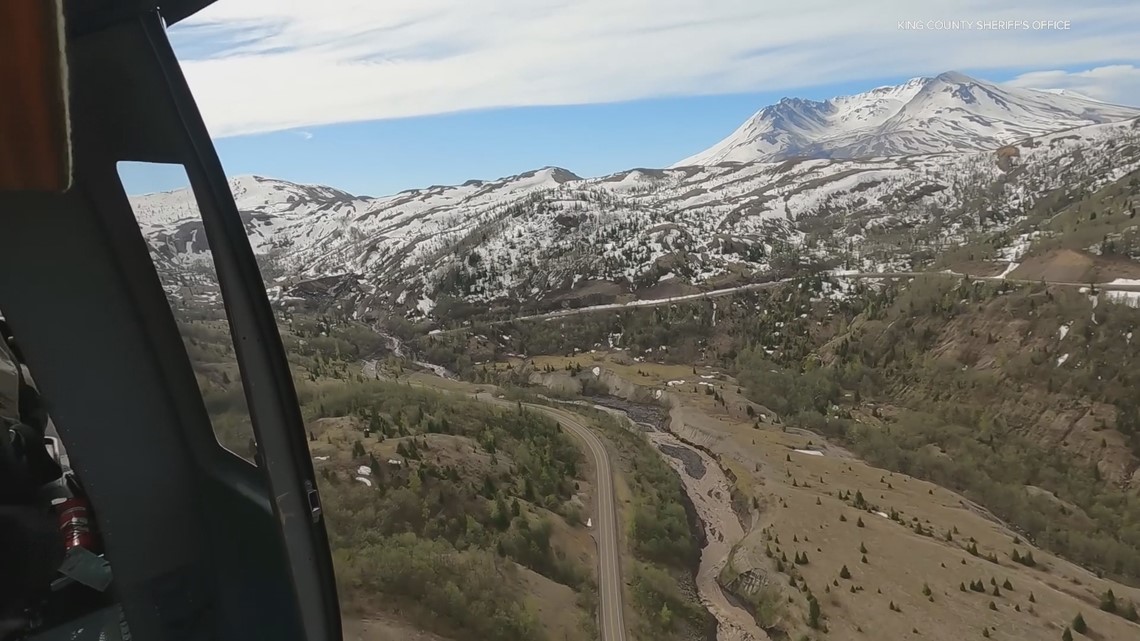 The following morning, a helicopter from the King County Sheriff's Office Air Support Unit landed in the parking lot to retrieve Crandall, his dog Naula, Uhler and the 10 others. It took three trips to transport four people at a time a short distance down the mountain to a parking lot on the other side of the landslide.
With no way down the mountain, the cars that were driven up were left behind.
Uhler left his 2021 Subaru Forester.
"We need the Forester, that's our adventure-mobile. That's the whole point of having it and the rooftop tent. It's to do things like this, minus getting stranded," he said.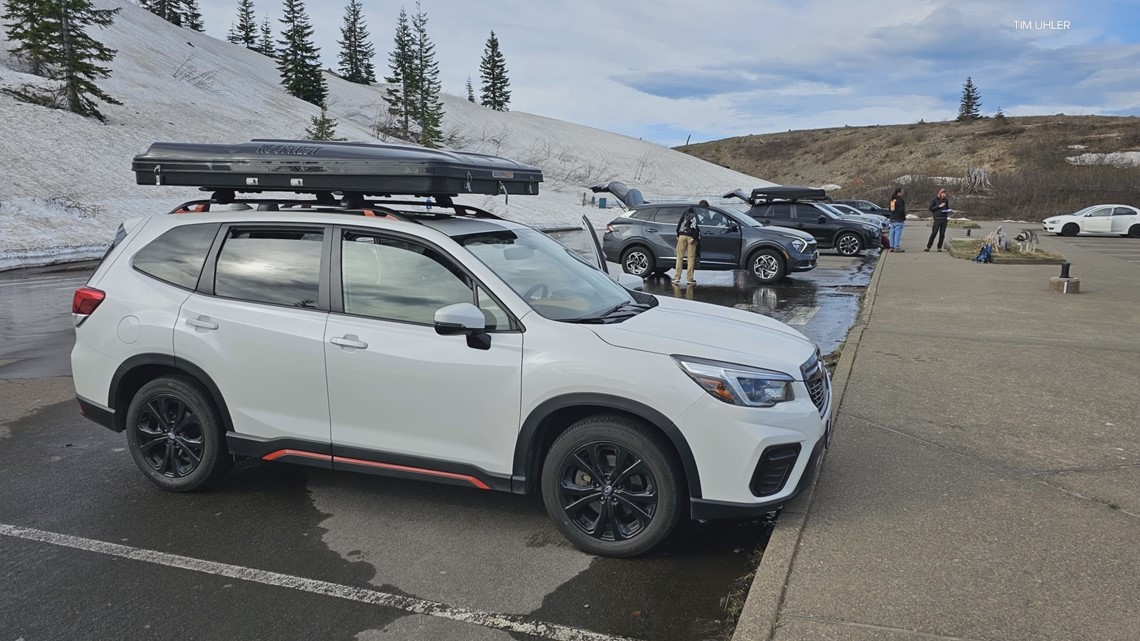 Uhler said he has a work vehicle at home and can use his wife's car as a backup.
Crandall left behind his 2021 Toyota Rav4 Hybrid, a car he was still getting used to driving.
"It was a used car, but brand new to me. I had just gotten it not even maybe 3 weeks prior. I hadn't even made a payment on it," he said.
Crandall's bad luck started two months before getting stranded. His previous car had been stolen in March with all his photography gear inside and he had used the insurance money from that as a down payment to buy the Rav4 that's now stranded on the mountain.
"Now I feel like I'm back to ground zero and having to rebuild it all again," Crandall said.
He was able to evacuate with all his camera gear, but left his camping gear inside the car.
Can insurance claims be filed?
Both Crandall and Uhler said they have called their insurance companies to see if there was a claim that could be filed.
"I've talked to insurance and they said they can't do anything about this because the car's not damaged. I just can't get to it. They were basically like, 'Our hands are clean on this,'" Crandall said.
Uhler heard a similar response.
"When I talked to the insurance company (on Tuesday), she was like, 'We can't really do anything until the car is damaged. Right now it's just parked.'"
The Independent Insurance agency of Policygenius said even though the landslide is considered an 'act of God', the situation wouldn't warrant a claim.
"For those who had to leave their cars behind, they most likely won't be able to make an insurance claim to get them removed and will have to wait for clearance," an insurance agent told KGW. "An 'act of God' typically refers to the damage being caused, and because the landslide didn't damage the vehicle, it likely won't apply."
"The claim that could be made is when I get back to it and there's any kind of damage that's been done because it's been there for a year," Crandall said.
The Washington State Department of Transportation said it doesn't have an official timeframe for when the highway will reopen, but an official with the U.S. Department of Agriculture told KGW it would likely be closed at least a year.
What could happen to idle cars after a year?
With a lengthy closure, that might cause some problems for the cars left behind. A mechanic KGW spoke with said if a car sits for an extended period of time, the fluids should be fine but the car's tires would likely see flat spots as they rest in place with rotating.
With a heavy winter snow, mold could also be an issue after it melts and mice might make their way into the cars to scavenge for materials for their nest.
Crandall, like Uhler, would like to get his car back sooner rather than later. He uses it to deliver food as a Door Dash driver to help fund his photography hobby.
"Right now I'm leaning on my family to help me with things," Crandall said. "I'm leaning on my girlfriend using her car while she's at work, while I can still move around and do some things. I'm trying to use my support system the best that I can."