PORTLAND, Ore. — The owner and executive chef of long-time downtown Portland restaurant Mother's Bistro and Bar was selected as this year's Oregon Small Business Person of the Year.
Portland Mayor Ted Wheeler honored Lisa Schroeder with the award Wednesday morning. Schroeder said she was grateful for the recognition and thanked her employees for their hard work over the years.
"I've been working so hard for the last 23 years and you work every day not expecting an award for what you do, you just do it," Schroeder said. "It's just rewarding to be recognized for all the efforts that I and my staff — because I could not do this without them — but all of the efforts we have put in."
The award is given to a small business owner each year to recognize their resiliency and innovation.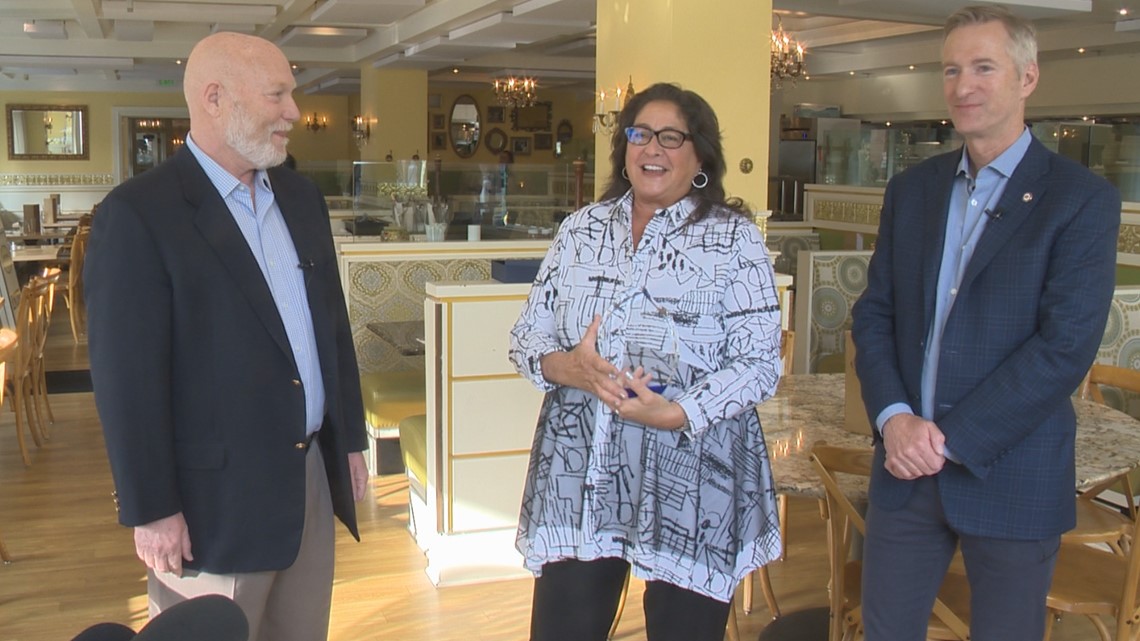 Schroeder received help from a Small Business Administration (SBA) loan to open Mother's Bistro on Southwest 3rd Avenue in 2000. Mother's Bistro started with 90 seats and has grown to a 200-seat restaurant with more than 65 employees.
"Everybody in this city knows Mother's and I think almost everybody in the city knows Lisa. Lisa has been a terrific business leader in this city for a long, long time," Mayor Wheeler said on Wednesday.
Earlier this week, Schroeder was recognized nationally during an event at the White House celebrating Small Business Week. She shared a photo on Twitter showing her shaking hands with President Joe Biden on Monday.
"It was great to meet other business people like myself and learn how much small business really does bring to the party here in America," Schroeder said.
Like other businesses, Mother's Bistro temporarily closed its doors to customers at the start of the pandemic in 2020. Mother's Bistro received help from SBA's COVID relief programs and it reopened in June 2021.
"I think one of the reasons why we are successful is that we really do love and care for the people who work for us," Schroeder said.
Schroeder encourages other people interested in opening a small business to follow their dreams.
"If you follow your passion, you do what you love and you show up every day, you too can be successful," she said.
Correction: An earlier version of this article incorrectly reported the location of Mother's Bistro.