ST PAUL, Ore. — A volunteer firefighter died from injuries he suffered while battling a large barn fire early Thursday morning in St. Paul, fire officials said. Bryan Lee, the fire chief of the St. Paul Fire District (SPFD) identified the firefighter as 30-year-old Austin Smith, a resident of St. Paul.
"Today, I come before you with a heavy heart as we've been dealt a significant loss to our family, our department and the St. Paul community," Lee said during a briefing Thursday afternoon at the St. Paul Rodeo facility. "We in the community are absolutely heartbroken over this loss. Our thoughts and prayers go out to the Smith family and friends as we all begin the grieving process."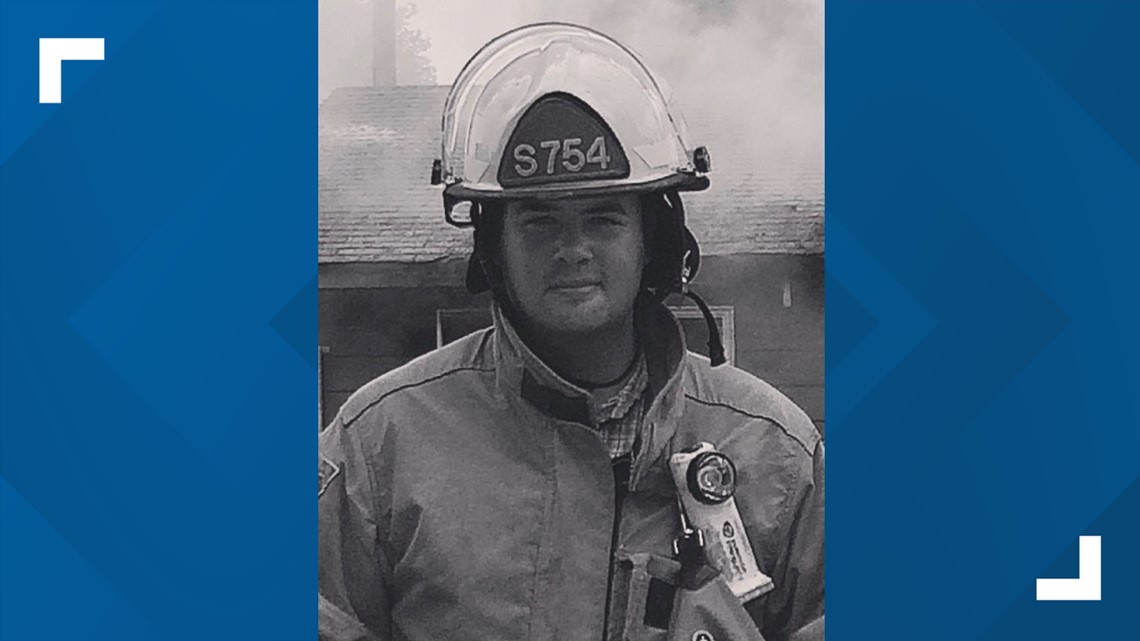 Mark Daniel, an SPFD spokesperson, said Smith started with the department as a volunteer firefighter in early 2015. He said the Smith family goes back generations, to the founding of the St. Paul Rodeo. The Marion County Sheriff's Office (MCSO) said Smith leaves behind a wife and extended family in the St. Paul area.
"[Austin] and his family are entrenched in the very culture of what this community does every day and what it means," Daniel said during the Thursday afternoon briefing. "Our hearts are broken. He will be sorely missed. It's felt very, very deeply in our community."
The St. Paul Fire District is an all-volunteer fire department. Daniel said the department has a significant impact on a community like St. Paul. "The members of this fire department are members of the community," he said. "They truly serve this community because they serve their families."
On Thursday, at 4:08 a.m., SPFD firefighters were sent to a large barn fire on Champoeg Creek Lane NE, near McKay Road NE in St. Paul. The SPFD said Thursday morning that shortly after firefighters arrived, there was an explosion and Smith was severely injured. He was taken by Life Flight helicopter to Oregon Health & Science University (OHSU) hospital, where he died from his injuries.
The fire is being investigated by the Marion County Sheriff's Office (MCSO), Oregon State Police and the Oregon State Fire Marshal's Office. The cause of the fire hasn't been determined.
"We're very early on in the investigation," said MCSO Sgt. Jeremy Landers during Thursday afternoon's briefing. "Due to the scene itself, we've been waiting for it to be safe for investigators to get in there, so we really don't have much information at this point."
Landers said that it could be a few days before investigators are able to determine the cause of the fire.
MCSO said the following fire departments responded to help SPFD battle the blaze: Aurora Fire District, Mt. Angel Fire District, Woodburn Fire District, Tualatin Valley Fire and Rescue, Canby Fire District, Dayton Fire Department and Hubbard Fire District.
The Marion County Board of Commissioners released the following statement Thursday afternoon:
The Marion County Board of Commissioners is saddened by the tragic loss of St. Paul Volunteer Firefighter Austin Smith today, and our prayers and deepest condolences are with his wife, loved ones, and his community. Our firefighters across the county are heroes, serving and protecting us all. We are always humbled by their service, and our hearts are heavy with this loss.
Photos: St. Paul large barn fire
Today's most-read stories on KGW.com