PORTLAND, Ore. — With more people laid off or working from home these days, the amount of drivers on freeways and roads has dropped dramatically. The open roads have become a sort of a race track for some.
"I just got off the phone with my three motor officers, they've already got a 97, 91, 89, 88, 2 86's, an 87 and an 84. That's today. All in 55 mph zones," Sgt. Danny DiPietro with the Washington County Sheriff's Office said. That was by 1 p.m. on Tuesday.
"It's ridiculous. These are just going up and it seems like it just keeps getting worse and worse."
The Washington County Sheriff's Office tweeted out this photo on Monday that shows one deputy stopped a total of 12 drivers going at least 80 miles an hour in a 55 miles an hour zone. One driver was clocked going 111 and given an $1,150 fine.
"It's extremely selfish to be driving this fast and be putting someone else's life in danger," said DiPietro.
WCSO isn't the only agency seeing an increase in speeding drivers.
"For about the last two and half weeks, it's been a speedway out on the highways," Portland Police traffic sergeant Bret Barnum said.
In the last week of March, Portland Police say they stopped four drivers going 100 miles an hour over the speed limit. The Bureau says that those driving between 11-20 miles an hour over have dropped drastically, but at the same time those driving 21-30 miles an hour over have risen.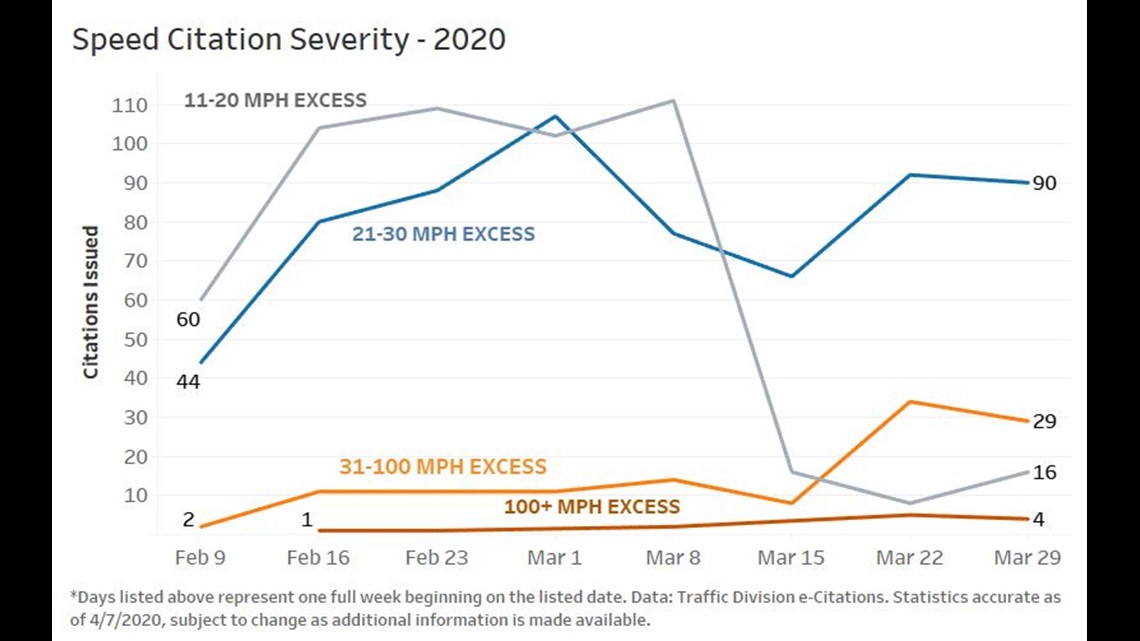 Barnum says they are trying to give warnings to drivers when possible because he says they recognize some might be anxious during this crisis and they also don't want to overload the court system, which is closed down.
"We need that give back, which is follow the speed limit. Stay within that five mph of the speed limit and you'll be fine and those folks around you will be safer."
Both sergeants say they are hearing a similar excuse from drivers when they are pulled over.
"One of the things that keeps baffling law enforcement is we stop several people where they tell us, 'Oh I didn't think you guys were out here. I didn't think you guys were enforcing these. I thought you went home,'" said DiPietro. "That's not what law enforcement is doing, we're still out here, we're still enforcing the law, we're still enforcing the speed limits. Even more now because people's speeds are rising to a very unsafe level."
Drivers face varying amounts for speeding, 21-30 mph over the posted limit will get you a $265 fine. Going 31 mph or more over the posted limit can cost you $440, and 100 mph or over will net a fine of $1,150 and an automatic suspension of your license.