A couple hours later, Gov. Kate Brown had signed them into law, as a midnight deadline established by the Oregon Supreme Court in April loomed.
"For the first time in forty years, Oregon is gaining a congressional seat––another delegation member to advocate for the common good of all Oregonians," Brown said in a statement.
Lawmakers had until midnight to finalize the maps, or it would have gone to the Secretary of State and a committee of five judges to draw up the state legislative and congressional districts. The new map includes four U.S. House seats that either are safe Democratic or lean in the party's favor, one reliably blue seat and one seat that could be a toss-up.
Some Republicans have accused the Democrats of maneuvering to ensure five of the six seats go to the Democrats.
"Senate Bill 881 is a perfect of the supermajority pretending to care while sitting comfortably in the knowledge that they rigged the system to win," said Republican Rep. Bobby Levy. "Power tends to corrupt and absolute power corrupts absolutely."
Democrats hold majorities in the Oregon Statehouse.
"We have focused on accurately reflecting how Oregon's population has grown, starting with utilizing population centers that saw the most growth in the last decade and ensuring that all Oregonians have meaningful representation in Congress no matter our race, faith or ZIP code," said Democratic Rep. Andrea Salina.
The state's redistricting effort is happening after the 2020 census found that for the first time in 40 years, Oregon's population grew by so much, the House required a sixth seat.
In a statement, Kotek said, "My thanks to every Oregonian who took the time to make their voices heard throughout this process, and to the legislators who answered the call to get this job done for our state."
Oregon Secretary of State Shemia Fagan said her office was prepared to complete the redistricting process had the legislature failed to meet the midnight deadline.
"We've been working for months, reaching out to hundreds of community and civic organizations, culturally-based groups and others to lay the groundwork for a transparent public process," Fagan said in a statement.
On Monday, Oregon House Republicans reversed course by returning to the state capitol. Enough GOP members showed up to meet a quorum and the House approved the bill 33-16.
Republicans refused to attend a House floor session over the weekend. Democrats drafted a new congressional map in hopes of getting Republicans on board for Saturday's vote.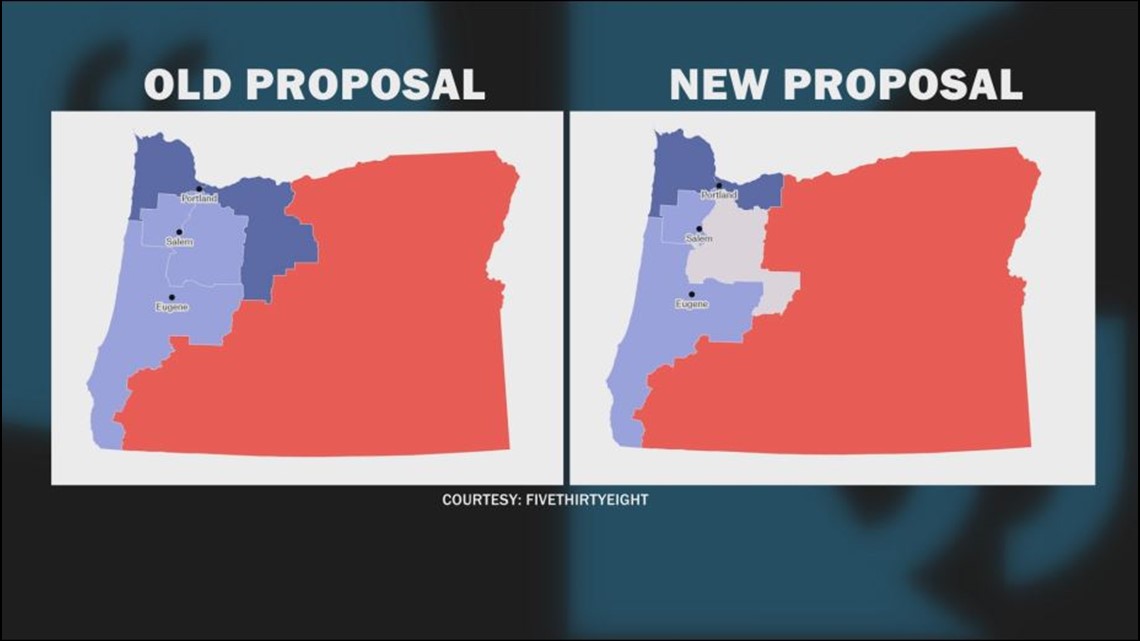 House Speaker Tina Kotek announced both parties were reviewing the plans Saturday morning and pushed the session back to 1 p.m. that afternoon. But when the time came, few Republicans showed up.
Over the weekend, Republican House Rep. Daniel Bonham called the new map "a dressed up version" of the old one that "will have the same results."
Bonham said he was upset with House Speaker Kotek for revoking her promise to let bipartisan committees lead the way in drawing up Oregon's new legislative districts.
"We made an agreement, Speaker Kotek lied and these maps need to die," said Rep. Bonham.
Rep. Pham fired back at Republicans for skipping vote.
"Walking out should be a very hard decision, very rarely used," she said. "It can't be used just when Republicans disagree with something that is happening."
This is a developing story and it will be updated.