PORTLAND, Ore. — Nearly 100 people, as of Monday evening, were signed up to speak to Portland's City Council Wednesday about a proposed list of changes to city codes surrounding where homeless shelters and organized camps can open.
It would essentially wave zoning restrictions and speed up permitting processes, allowing agencies and non-profits to open shelters practically anywhere in Portland. That, in temporary cases, includes parks.
"This is the new normal? This is where we're going?" said Malyn, a Portland woman who spoke at the Lents Neighborhood Association meeting. "This is an outrage."
The Shelter to Housing Continuum proposal, or S2HC, aims to cement procedural shortcuts put in place by the city's housing emergency, which was first enacted in the fall of 2015. It's currently set to expire in April.
"You can't be perpetually in a state of emergency. We have to find a new normal at some point," said Eric Engstrom, a principal planner from the Bureau of Planning and Sustainability.
One big flashpoint is a provision involving parks. The proposed changes, if approved, would allow non-profits and agencies to set up organized camps, similar to the Kenton Women's Village, in parks or "open space zones" for a maximum of 180 days.

It's important people understand that terminology, Engstrom said.
"Not all lands that is zoned 'open space' is a formal, developed park. There is some ODOT and Metro land that's undeveloped that is in open space zoning," he said. "I don't think there's an intent to convert parks to camps."
That's far from the only detail prompting pushback.
"This needs to be shared evenly throughout the entire city," said Bob Earnest, board member of Northeast Portland's Hazelwood Neighborhood Association.
Earnest's big concern can be summed up by a map, produced by the city. It shows the parts of Portland that, under these proposed code changes, have the most potential for future shelter sites.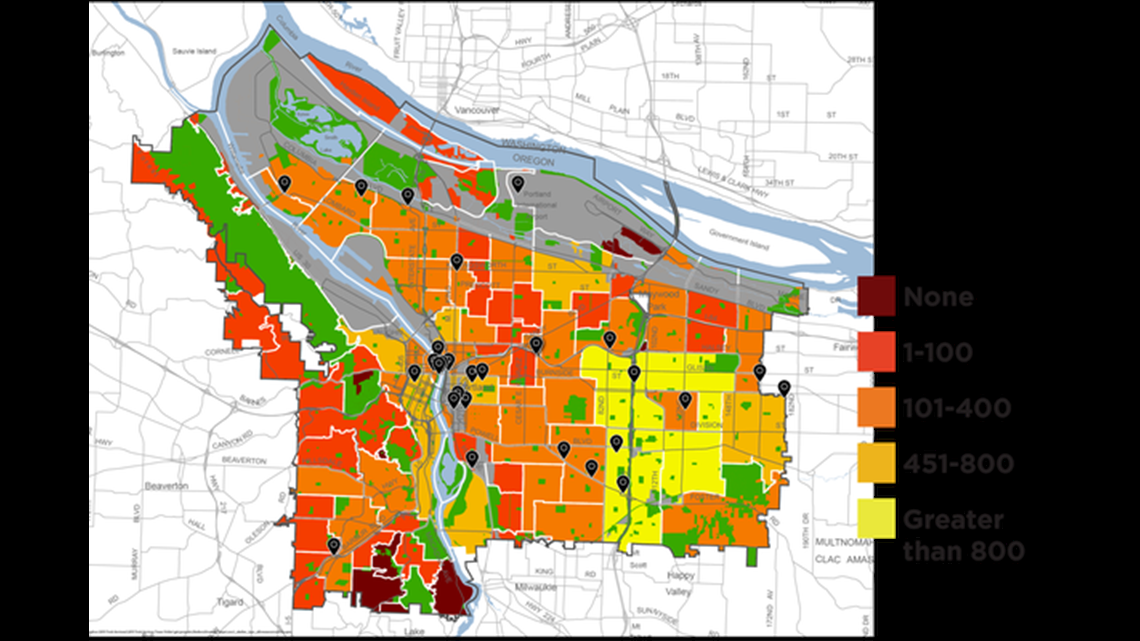 Areas shaded in yellow have a lot of options. Outer East Portland is home to the largest concentration of yellow. Earnest argues it's proof the code changes put too much of the burden on East Portland, which is nothing new. He argues the area lacks supportive services needed to help people in shelters find stability.
"The wraparound service is key and is critical to getting the job done correctly, just placing a site and dumping people there. That's going to just create more chaos in my opinion," Earnest said. "We have no political clout, we're invisible."
City and county officials point out the map in no way means shelters will open at these sites. It means untapped potential is there.
Denis Theriault, spokesman for the Joint Office of Homeless Services, points out, until five years ago, Portland only focused on opening shelters downtown. Efforts like this can help bring services to people who are homeless all over the city.
"There is a presumption among some that shelter is harmful and that's not been the case. We've opened several shelters in the last few years … And they've been nice places where people want to go," he said. "We want to go where there is unmet need in our community, and that's all over the community, and bring these quality services."
The city council is planning to hear public comment on this Wednesday, March 17, and possibly next week as well.
Commissioners are hoping to vote on these code changes at the end of the month.