Homeless woman hit while sleeping in tent battling injuries, nightmares
Lisa Baker, 56, is at OHSU recovering from lower leg injuries after she was hit by a car while sleeping inside a tent next to an I-205 on-ramp on Nov. 2.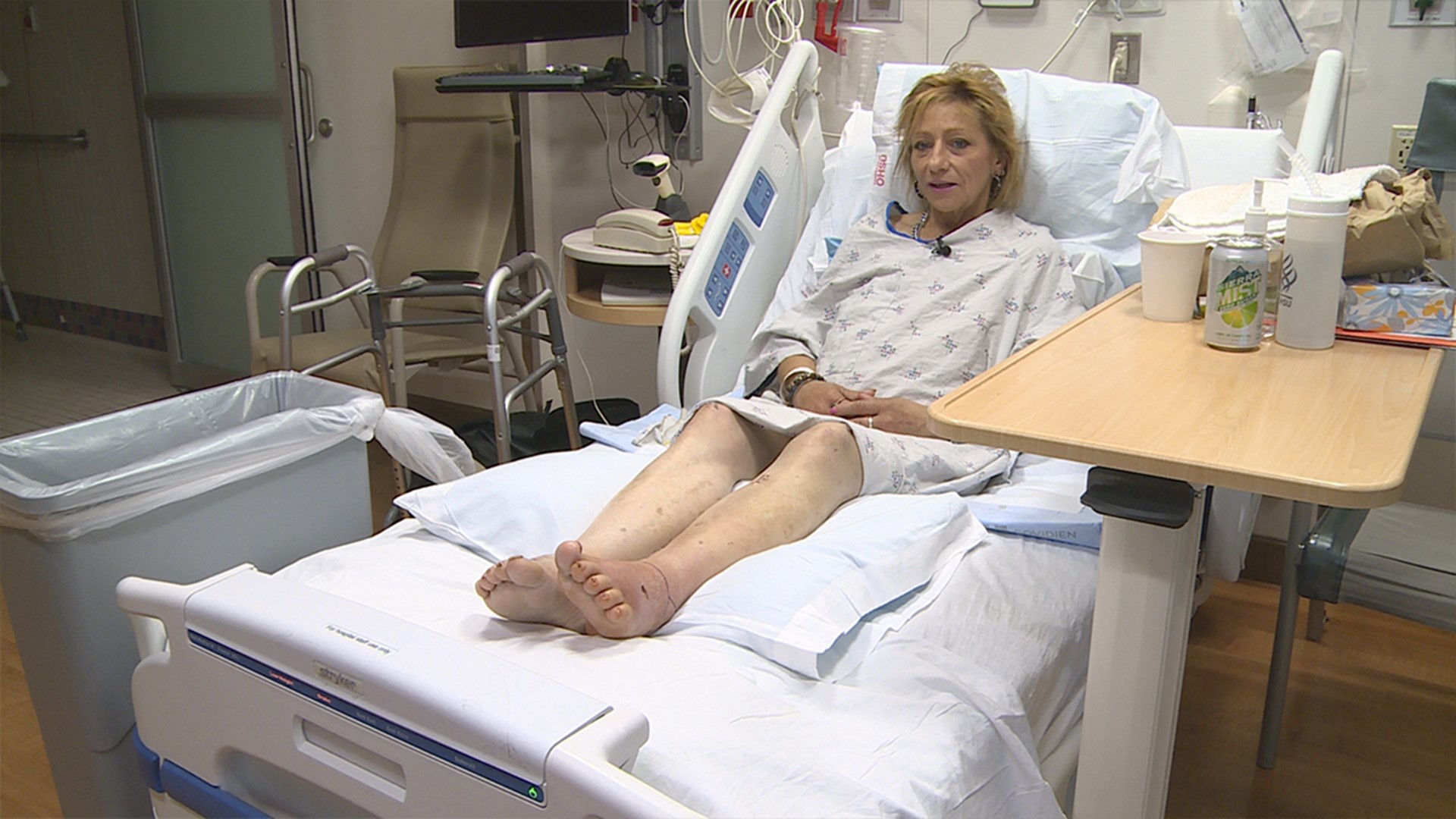 Lying in her hospital bed in a private room at OHSU, painkillers and sleep aids coarse through Lisa Barker's veins.
The latter were prescribed to stop the night terrors.
"Reliving the accident," she said, describing the dreams. "Really bad. When I got hit, I hear the screeching, the gravel and then, 'Boom!' The car is on me. And then I wake up breathless, totally out of breath."
Each time she opens her eyes, she's faced once again with her new, devastating reality.
At 56 years old, the Portland native will spend weeks recovering and rehabilitating.
In short, she's learning how to walk again.
"It was just like 'BAM!' That quick," Barker said. "Like I said, 'The Wizard of Oz' when the house came down on the witch. It was pretty weird."
WARNING: This story contains graphic images.
Chapter one
:
A tent and timing
Barker found herself sleeping in that two-person, now destroyed tent along an interstate on-ramp simply by chance.
The longtime dental assistant and her husband had been homeless for roughly a year, after the landlord raised their rent by $300 a month.
"I think they saw it as, 'We'll rent it to somebody from California, slap some paint on it, and bam.' That's pretty much what happened," she said in an interview from her hospital bed Tuesday. "I was there for 23 years in my apartment. Never had a complaint, never had a problem, never been late on my rent ever before."
The struggle tied to that rent-hike, Barker said, was exacerbated by hospital visits for both her and her husband.
"He was riding his bicycle and hit an SUV head-on and almost broke his back," she said. "I was sick, just run down and I had worked like six days a week, 16 hours a day. I was really burned out."
The ordeals threw the couple's financial routine for a loop.
"I was in the hospital actually when I got slapped with a late charge. I thought my husband had paid the rent. He thought I paid the rent," she said. "And so we got slapped all these late charges, like almost $500 in late charges."
From there, the couple moved into their car, then onto the streets.
Barker was also already on disability, thanks to a lifelong condition that makes her fingers go numb.
"It was really hard for me to manipulate my hands, my instruments. I love dental assisting. It's my trade, and I really want to get back to that," she said.
Early in the morning on Nov. 2, Barker biked to where she knew her husband and a friend were hanging out. It was a small patch of land, next to the I-205 on-ramp at Southeast Division Street.
"They were both in their sleeping bags, fast asleep [in the friend's tent]," she said. "I had just smoked a cigarette and put it out. And I was right between them, going to fall asleep."
Barker estimates she'd been in the tent between 15 and 20 minutes when she heard it.
"I heard this, 'Screech!' and all this gravel and 'Boom!' This car was right on me. I'll never forget," she said. "And all of a sudden there was headlights in my face from the car that landed on me. And the door [of the tent] was tattered, just ripped out. And my friend goes, 'My door!' and I said, 'My legs!'"
Three adults were inside the tent. Barker, the one who'd just entered, was the only one hurt.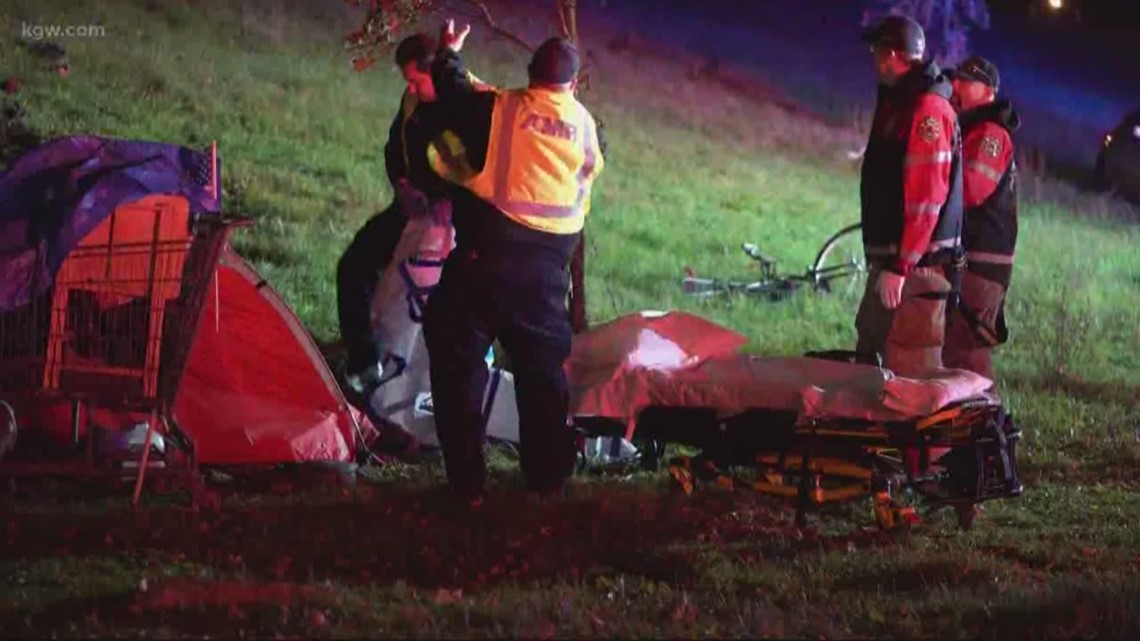 Police said the driver, 20-year-old Shayla Valdez, wasn't impaired. She just misjudged the curve.
"She had her phone in her hand. She was saying, 'Is everybody OK?' And I think my friend or husband yelled, 'Does it sound like it?!' Because I was just screaming because it hurt so bad," Barker said.
The paramedics had to pull Barker out of the tent and strap her to a board.
"I couldn't have walked if I wanted to. My leg was flopping. The bone was sticking out. There's no way I could have walked," she said.
Tuesday, her legs laid bare in the bed, stitches and swelling clearly visible.
"The toes are broken in this foot," she said, pointing to her right foot.
"And then the same with [the right foot] and the titanium rod and screws," she said, gesturing to her right shin. "It was like I was an accordion. I just, that car hit me. It just pushed everything, and I thought, 'Oh my gosh, I'm going to have hip problems and back problems.' I already do have back problems."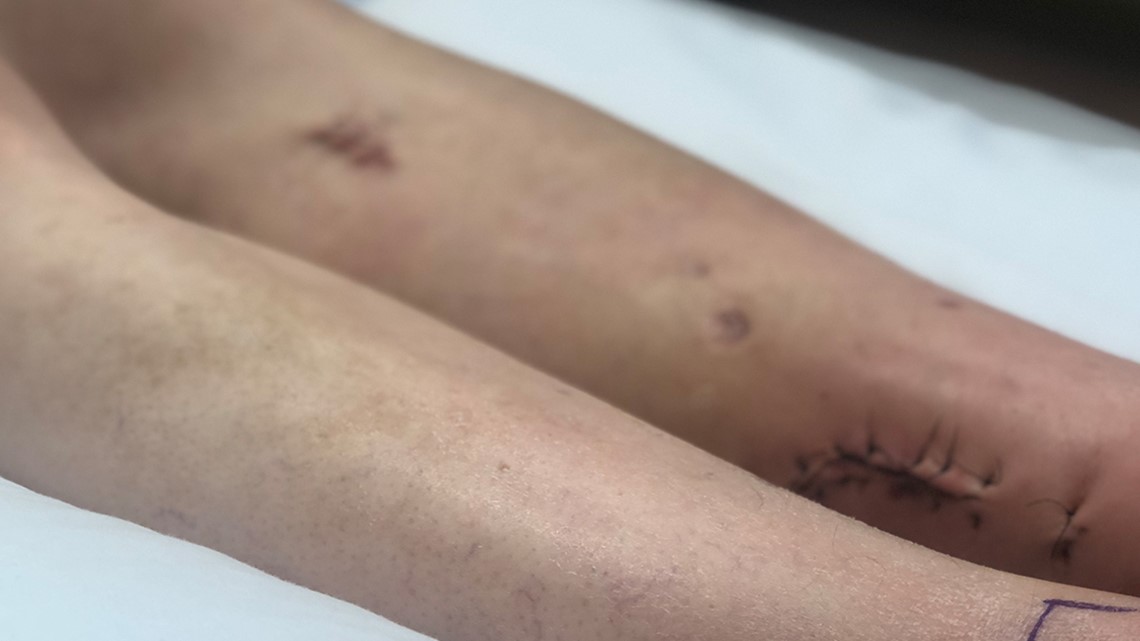 Staff at OHSU confirmed Barker's injuries, adding a full recovery is possible, but nothing is certain.
"Ankle bone injuries never fully heal right," said a staff member, adding Barker will probably have chronic pain for the rest of her life.
In the meantime, it's not clear how much Medicaid will cover.
"She's under the impression that it's going to be a hefty bill," said the staff member, adding the option of a lawsuit doesn't appear to be that lucrative, given the charges, or lack thereof, in her case.
Chapter two
:
"Not a crime"
Barker remembers everything from the crash and the aftermath, including the moments spent wondering if the driver, identified by police as Shayla Valdez, was going to leave.
"She just kind of disappeared. I was still inside the tent," Barker said. "I couldn't move and couldn't walk."
Police confirm Valdez stayed at the scene and cooperated with the investigation.
Video from that morning showed her white car parked nearby on that same grassy lot.
Thinking back, Barker believes Valdez might have been in shock.
"I really didn't think that she cared. The way she acted when she asked if everyone is OK was really unremorseful," Barker said.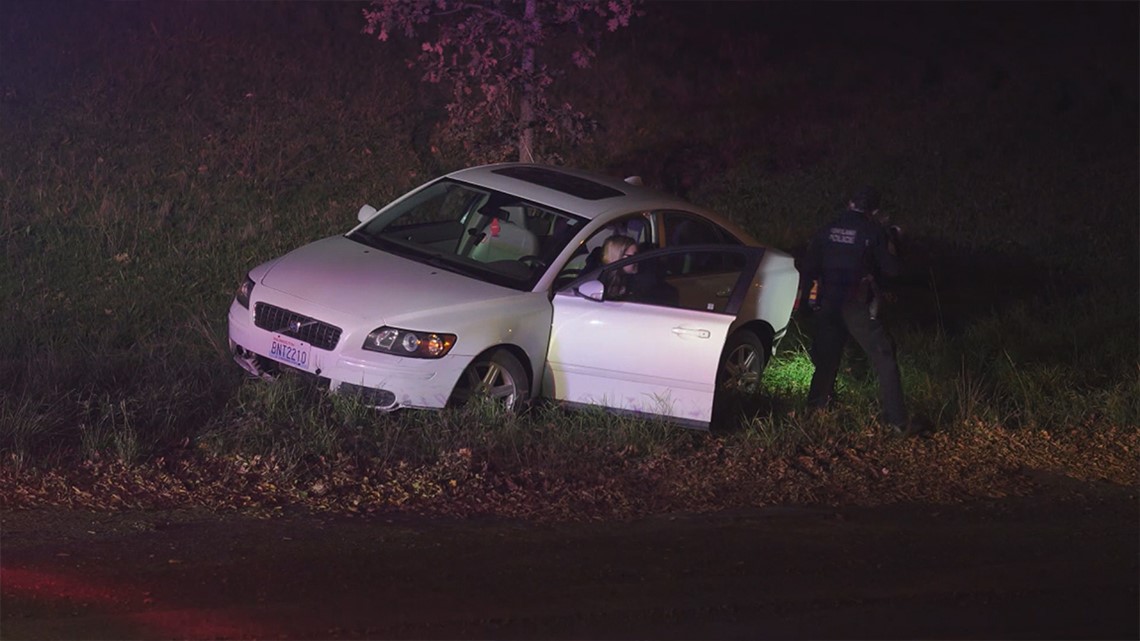 Later, when learning the consequences of the crash, it was Barker's turn to be shocked.
"The charge of careless driving is a violation, not a crime. Officers have to work within ORS statutes and limitations," said Sgt. Brad Yakots, public information officer for the Portland Police Bureau.
Barker said she's had no contact with Valdez since the crash.
"I think she should have been charged with a little bit more, actually. I mean if it was her family or her friend that was hit, I think she would say the same thing," Barker said.
Thursday, KGW went to Valdez's last known address in Portland and knocked.
A woman answered the door and identified herself as Valdez.
She asked how Barker was doing and said she didn't want to answer questions about the crash, adding, "I'm just really trying to move past that."
She also said she tried reaching out to Barker soon after the crash but couldn't get in touch with her.
She gave her phone number to Vespa to give to OHSU staff.
At the hospital Tuesday, Barker, with tears in her eyes at some points, wondered aloud whether the charge would be different if she had been a cyclist or a pedestrian rather than a homeless person sleeping in a tent.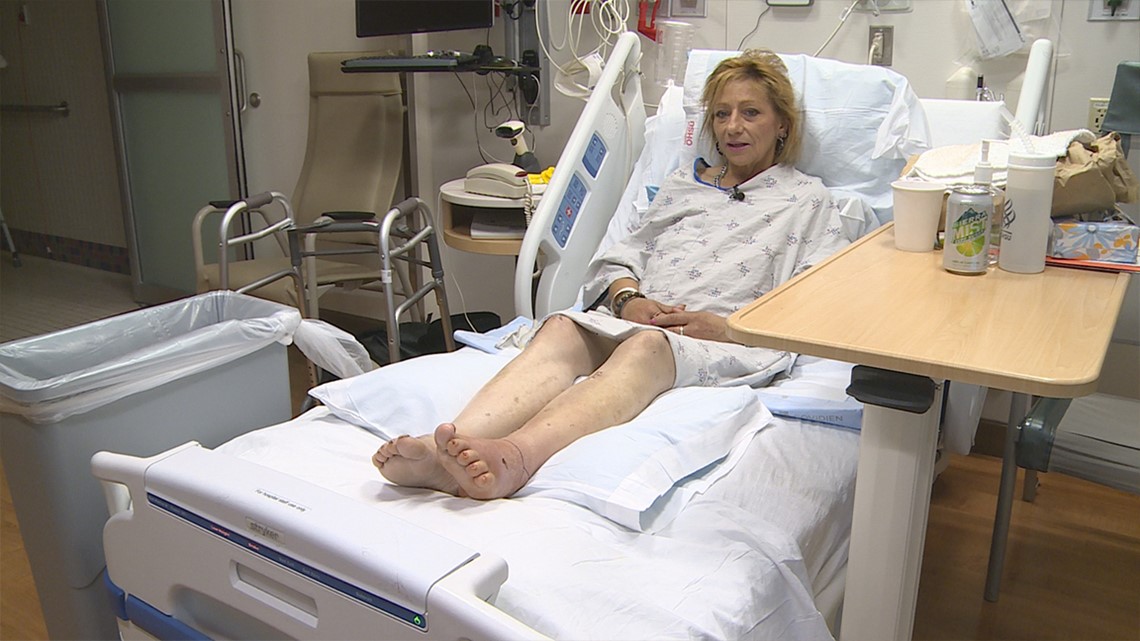 She said it feels like an extension of the discrimination she's faced since moving to the streets.
"I can't use public restrooms. I can't even frequent the front of a store. If I buy something, I have to buy it and, bam, I'm out of there. I can't sit there and drink my coffee real quick. Or I'm loitering," she said.
Regarding investigators' decision in the matter, she added, "I just wish they would have stood back and looked at the whole picture and thought about it. If it was their child? Or their relative? How they would have really made that decision?"
Via email Wednesday, Yakots also addressed those concerns.
"PPB investigates numerous vehicle crashes every day. These crashes unfortunately involve almost every demographic in our community at some point," he wrote. "Officers do not make a determination on who/when/why to cite based off the victim or the violator's housing status. Furthermore the extent of the injury does not always equate to an increase in violations or charges levied onto the violator."
When asked about Valdez's potential punishment, he wrote, "It depends on a variety of factors. ... Ultimately it's up to a judge."
He added he doesn't know if Valdez was speeding when the crash happened.
Chapter three
:
Moving forward
Barker's not sure how much longer she'll be at OHSU.
A nurse told KGW via phone they hope to place her in an in-patient rehabilitation facility by the end of this week.
After that, she's hoping to get a spot in one of the city's shelters with her husband.
The two haven't had contact since the crash because they don't have working cellphones, Barker said.
She doesn't want to end up back on the streets, especially near the interstate, where she says drivers sometimes make a point of scaring campers.
"I've had people be kind of ornery, acting like they're kind of swerving," she said "Like [they've said] a few nasty things to me, out the window, driving by. 'Get out of town!' or 'Take your kind of out of town!' I'm like, 'My kind? Give me a ride!'"
It's an issue that the Oregon Department of Transportation is grappling with long-term, too.
The day after the crash, spokesman Lou Torres reiterated the agency's longtime stance on keeping campers off highway-adjacent land.
"They're extremely vulnerable, and they're really putting themselves in harm's way," he said.
It's why ODOT has spent millions of dollars in recent years clearing camps, a job they turned over to the city this year, and installing boulders on properties with histories of chronic camping.
"That's why we emphasize, 'Please do not do this. Do not camp on our right-of-way. Do not camp next to major highways,'" Torres said. "People are driving fast, and you don't know what they're going to do. They may drive inebriated. They may drive recklessly, and they put you at risk."
Barker said that risk is no secret among campers, but with more than 2,000 people sleeping on the streets of Multnomah County every night, options are slim.
"People really do try to stay out of people's way. It's like, 'Hey, if I could rent a backyard, I would!'" she said with a raspy laugh.
Despite everything she's facing, Barker said she has hope, adding she cried when a Portland police sergeant called last week to ask if she'd be open to an interview with KGW.
She didn't think anyone wanted to hear her story.
"The empathy and love that was shown to me has made me give it a second go. I love Portland. I always have loved Portland. Born and raised," Barker said. "And I have a whole new way of looking at people. I'm not going to be as judgmental as they are to me."