MILWAUKIE, Ore. — A Milwaukie neighborhood is demanding to be part of the decision-making process after receiving a notice that a local church will start offering space in their lot as an overnight shelter for those experiencing homelessness.
The tension was high before service Sunday at King of Kings Lutheran Church. Neighbors confronted the congregation over a pilot program that would give those experiencing homelessness a place to park and sleep in their cars overnight.
"We are all compassionate for the homeless. We absolutely care about them and we're not against the homeless," Tina Canham said. "We just don't see how this is a constructive place for them to be."
Canham lives about 300 feet from the church and helped organize the protest.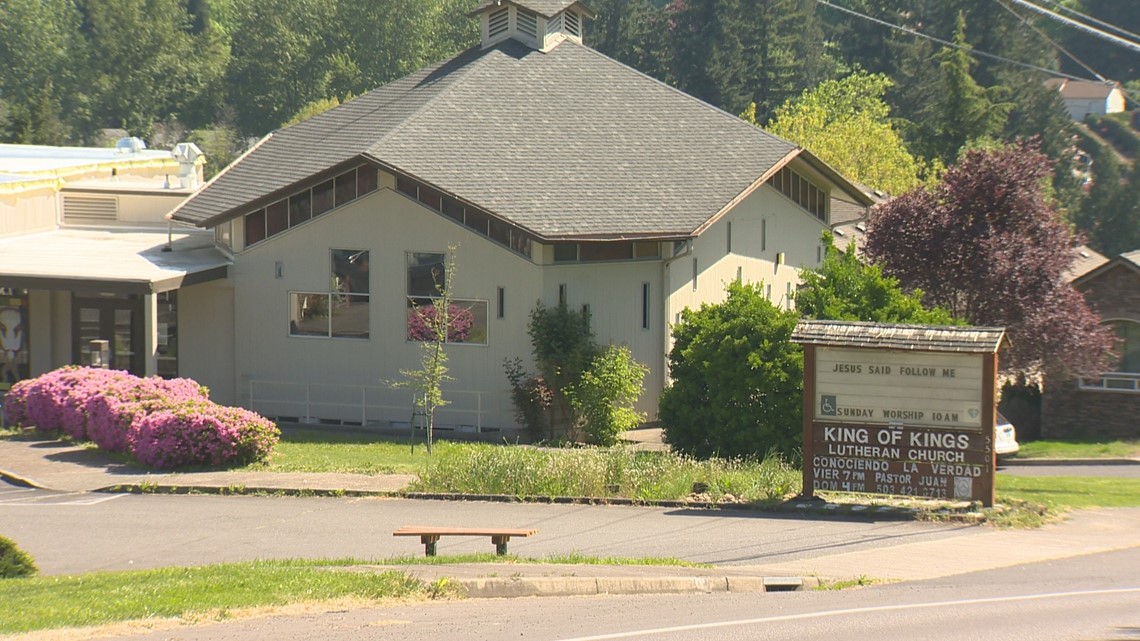 She and dozens of neighbors who live nearby filled the church parking lot Sunday to talk about the best course of action to prevent the proposed site.
"We're concerned about our safety," Gwendolyn Cline who lives nearby said. "I mean so many neighborhoods in Portland have just declined because of the homeless situation."
Darrell Feltman tells KGW he has lived in the area since 1965 and is concerned about this program bringing more homeless persons into the area. He is also worried the program will not be able to provide people with the tools to find permanent housing.
"I don't see how we are helping anybody if you can camp here from six at night until nine in the morning, what do you do all day? That's the kind of help we need. What can they do to help themselves?" Feltman said.
The Safe Overnight Shelter is a pilot program, authorized by Clackamas County, that would provide up to three temporary parking spaces to those without permanent housing to park overnight and sleep in their vehicles.
People currently park in the church parking lot overnight without authorization, communication, or behavior agreements, according to the church's website. This program would give the congregation a say about who parks there.
Though the program people would apply through the county and must meet criteria set up by the church, which includes no drugs or alcohol. They would also be given support services through Providence's Better Outcomes Through Bridges Program.
Mark Cameron grew up in the area and says a property he owns was just recently broken into. He is worried about the crime and increased homeless population might bring to the area.
"Concerns about during the day – where are they going to park after they get out of here? It's going to be the side streets up there on Vista Lane where we live, and the kids get off the bus stop right there," Cameron said.
Neighbors say their neighborhood isn't the right fit for an overnight parking shelter because there are no services or public transit, it is not a transitional neighborhood and there is a lack of security around the church.
Many of the people who spoke to KGW say they just learned about the proposal within the last two weeks, others within the past few days.
"Not only did it shock me that this was happening in our neighborhood, it's kind of the last place I would expect it, but I was shocked at the amount of time we had to address this issue," Canham said.
Canham and her neighbors are concerned the permit for the overnight shelter would go into effect May 12. However, Interim Pastor at King of Kings Lutheran Church Sharon Hughes says this is a pilot program through the county and it's still in the early stages.
"There's still lots of public opinions to be done, to be heard, lots of ways for people to give input," Hughes said.
There was a lot of confusion over what exactly will happen with the lot and how it will be managed. Neighbors say they want to be involved and have a say in that decision-making process.
"So many people don't have details, they just have fear and the fear comes out as anger," Hughes said.
"We just want the opportunity to speak with them because we haven't had that opportunity," Canham said. "All we've gotten was a letter and we really just want to be able to voice our concerns and maybe they have the answers."
This is the second area church to get push back from neighbors in recent months. The congregation at St. John's Christian Church in Portland voted to lease a piece of their land to Multnomah County to house a homeless village.
As in the case at St. John's, nothing is a done deal yet at King of Kings Lutheran Church.
Pastor Hughes tells KGW there will soon be a meeting where the congregation, community, and county can come together to find the best way to move forward.