SEASIDE, Ore. — Editor's note: Clatsop County has been added to Oregon's Homelessness State of Emergency. The county announced on March 2, 2023 that it had been notified by Gov. Kotek's office that it met the criteria for counties that request inclusion.
County officials and homeless residents along the north coast told KGW those areas are facing intense challenges of their own with housing and homelessness, and they need more assistance.
"I'm getting too old for this. I'm 54 years old," said Linda, one of many homeless people who have been struggling to survive in Seaside.
Linda said she spends her time picking up trash at a homeless camp that's tucked away in a hidden lot off of Highway 101, surrounded by wildlife areas. That's where the city has allowed homeless residents to camp.
"Feels like they're wanting to brush us under the carpet, so to speak, hide us so nobody can see us," Linda said.
"They have it so they're all in this one area, it's like a tent city," added Debbie, another homeless resident.
"They don't want to give us any housing. They don't want to help us out. They could care less," added a third resident, John.
The city provides residents with one meal per day, and outreach workers also visit the site.
"If you look around, you can see there's people in need of services that aren't available," said Isaiah O'Neill with Clatsop Behavioral Health.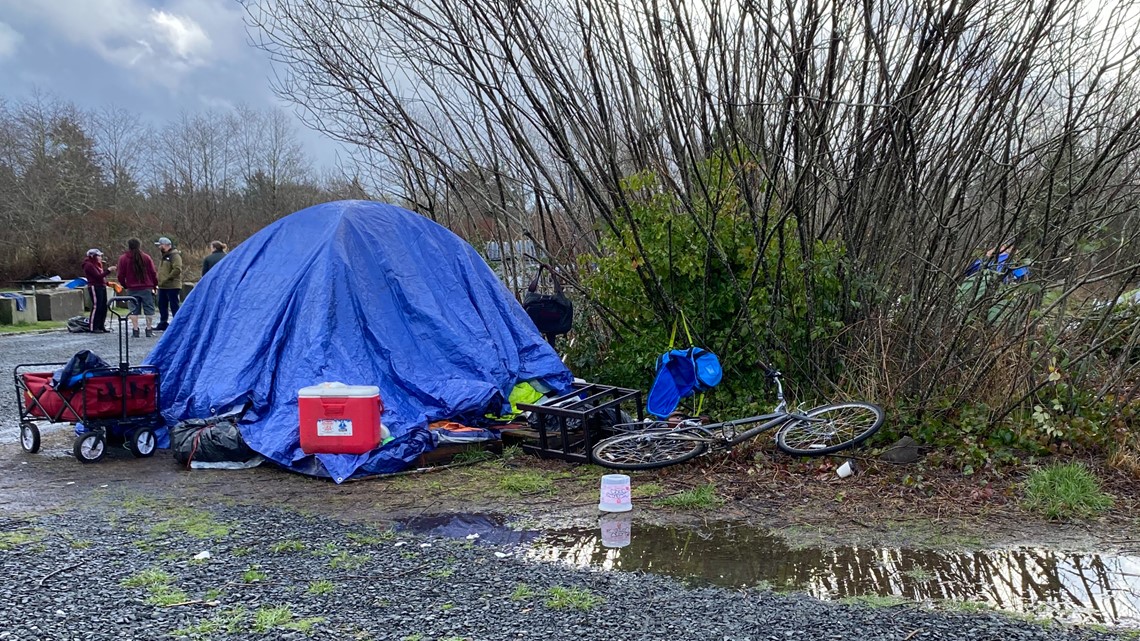 Clatsop County has seen the highest rate of homelessness per capita in the entire state for the past eight years, and has the fourth-highest rate of unsheltered homeless residents in the country. But that's not enough to qualify under Kotek's executive order.
The emergency declaration frees up more resources and allows for the creation of an "incident command structure," Kotek explained when she signed the order, similar to the kind of emergency management structure the state or local leaders use to coordinate interagency responses during natural disasters.
But the state of emergency applies to areas of the state where the unsheltered homelessness has increased by 50% or more from 2017 to 2022. Despite its high per capita homeless rate, Clatsop County falls short of that mark.
County commission chair Mark Kujala said it was disappointing to see Clatsop County "kind of carved out" of the executive order.
"We've really been left to our own devices and we're doing all we can to combat it, but we need some assistance," he said.
Homeless residents at the Seaside camp expressed similar frustration about the omission.
"That's not right, you should declare it for the whole state, for every homeless person in the whole state," John said.
"The coast has the least resources of anybody," added another resident, Miranda, who noted that Seaside lacks overnight shelters or warming centers.
That lack of resources comes down to funding — and there would be more of it available if the region were included in the state of emergency.
"As far as having a set place they can rely on to be open every day, that's not there right now," said O'Neill.
Seaside isn't the only Clatsop County city struggling with homelessness, and Clatsop isn't the only coastal county looking for more help.
"A lot of people are trying to survive on part-time, low-wage seasonal jobs mainly in the hospitality industry, so all of that has created really a perfect storm of homelessness," said Lincoln County Commissioner Claire Hall.
"Things that were happening in Portland ten years ago are happening here now, and I think there's a real focus on action to try to do everything we can to try and alleviate this crisis," she added.
The Lincoln County board of commissioners sent a letter of appeal to Kotek, asking to be included in the homelessness declaration. The response they got read "I want to assure you that I am absolutely committed to addressing homelessness in every corner of our state... No single piece of legislation or executive order will be enough — it will take ongoing, active partnerships with leaders across the state, and you have my commitment to be that partner."
Counties can ask to be included in the state of emergency declaration by submitting a formal request to the Office of Emergency Management. The governor will then review those requests before making any changes.