PORTLAND, Ore. — Heavy rains triggered a Flood Warning in northwestern Oregon and southwest Washington on Tuesday.
"Crazy Tuesday morning with heavy rain at times, metro valley temperatures mostly in the 40s and gusty south winds 15 to 35 mph," KGW meteorologist Rod Hill said.
A Flood Warning is in effect through 2:15 p.m. Tuesday for southeastern Columbia County, northwest Multnomah County, Washington County, west Clark County (Wash.) and south-sentral Cowlitz County (Wash.).
Flooding is likely to worsen during the day Tuesday, the National Weather Service warned.
The Portland metro area is under a Flood Watch until late Tuesday night.
Bookmark this page for weather delays and closures!
Several schools released students early on Tuesday due to flooding roads.
Meanwhile, several schools in the Columbia River Gorge are closed again on Tuesday due to the snowy conditions.
The good news, Hill said, is Portland will hold above freezing Tuesday night and get a dry day Wednesday. The snowstorm will finally end for the gorge and mountains Tuesday night.
RELATED: More than 3 feet of snow could dump on Mount Hood
The Northwest Avalanche Center has issued an Avalanche Warning for Mount Hood that expires Tuesday at 6 p.m. Conditions are dangerous, even below the treeline, the center warns.
"A one-two punch of storm systems will impact the Mount Hood area through the end of the day on Monday, bringing high snow loading rates and tremendous wind transport to form deep slabs and wind drifts," the center reports. "Very dangerous avalanche conditions will develop from late Sunday night and increasing throughout the day on Monday."
Your photos: Snow in Oregon and Washington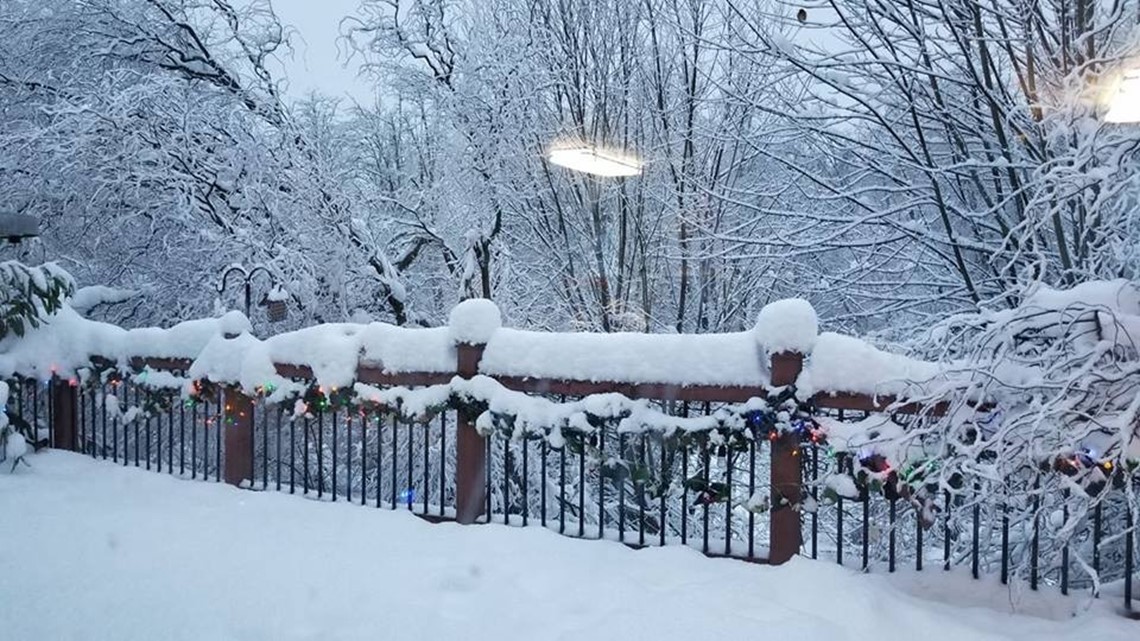 Roads in the gorge were treacherous Monday. On eastbound Interstate 84, a fuel truck overturned shortly before 11 a.m. Monday, spilling diesel fuel on the road. Oregon State Police said the driver was going too fast in the snowy and icy conditions. Another crash on Monday night led to backups about 10 miles east of the Biggs Junction.
Weekend snow
Snow fell in much of southwest Washington and northwest Oregon Friday night and Saturday morning, although snow totals varied widely across the region.
Heavy snow fell in Clark and Cowlitz counties in southwest Washington, where snowfall began late Friday afternoon. The National Weather Service said Longview got 7 inches of snow, Camas got 8 inches, and parts of Vancouver got 4 inches.
Watch: Sky 8 over the winter storm
Although the snow arrived later, east Multnomah County also got several inches. A foot of snow fell at Bonneville Dam and Gresham saw 6 inches, according to the National Weather Service. Four inches fell in Troutdale and parts of east Portland got 2-4 inches.
Photo gallery: February weekend snowstorm
Your pics: Portland area weekend snowstorm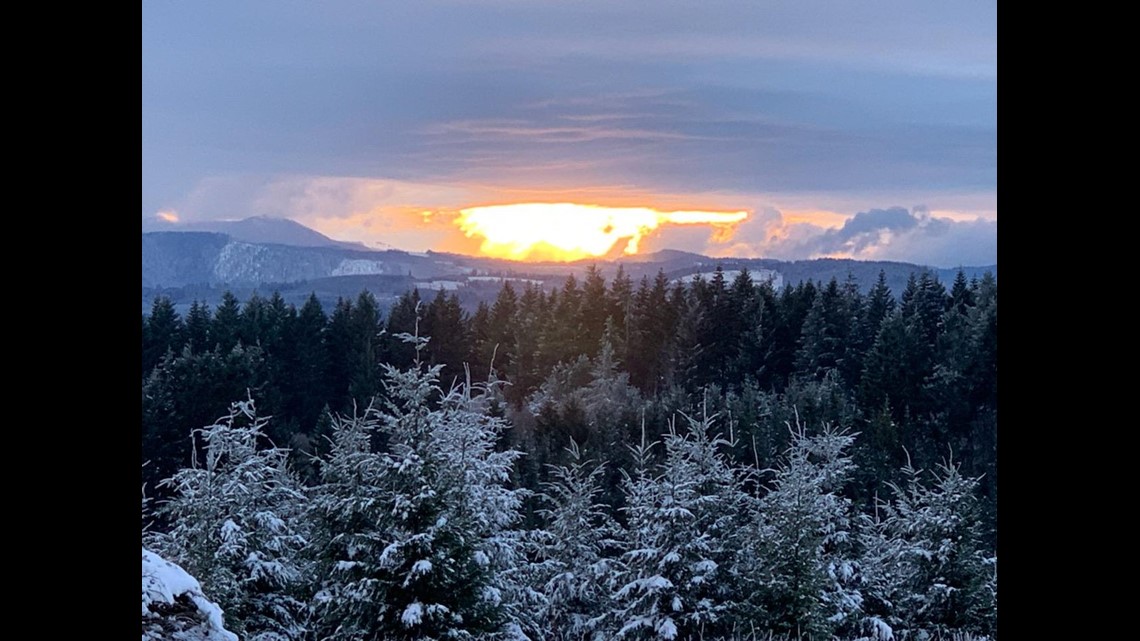 Downtown Portland got a trace to 2 inches of snow, which arrived early Saturday morning.
The metro area west and south of Portland, such as Lake Oswego, Beaverton and Hillsboro, didn't get more than a dusting. Areas west of Hillsboro, such as Forest Grove, got a few inches of snow.
How much did it snow in your neighborhood? Check here!
More: Zaffino explains uncertain Portland forecast
The National Weather Service said areas where warm, southerly winds were stronger got little to no snow, while areas closer to the cold, east winds got more.
Similarly to the disparity in snowfall, there was a significant difference in road conditions. Areas that received several inches of snow had icy roads Saturday morning, which led to numerous crashes. But roads in the metro area west of Portland were in good shape.
RELATED: Icy roads leads to several crashes in Portland area following snow
ODOT
Portland General Electric reported a number of outages Saturday morning, mostly in Clackamas and Washington counties, due to weather conditions, equipment failures and at least one crash.
Clark Public Utilities had several thousand outages, but service was mostly restored by mid-morning Saturday.
Many school districts in the Portland metro area and Clark County rescheduled or canceled events planned for over the weekend.
The weekend snow storm follows one that created problems on the roads Feb. 4 and led to school closures throughout southwest Washington and western Oregon on Feb. 5.
More helpful links:
Traffic links:
Your pics: 62 stunning photos of snow in Portland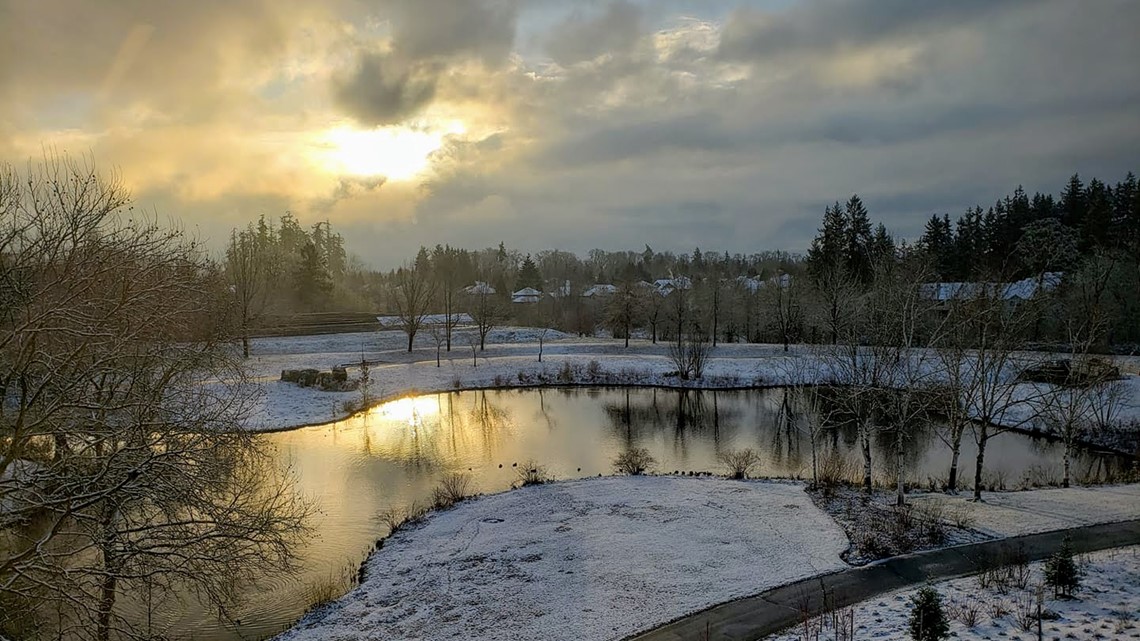 Your Pics: Snow is here!