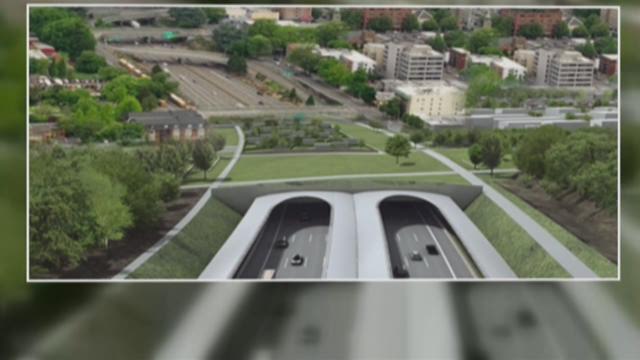 PORTLAND, Ore. -- It was an idea made popular in the 1990s by then-Portland mayor Vera Katz, and it's gaining momentum again: building over some of the open sections of Interstate 405 through downtown.
A concept drawing is written into the city's future urban plans for downtown. But with city councilors still trying to find money for a street fee, a freeway cap would have to be paid for by private developers.
According to Forbes, Portland is the 10th fastest growing city in the nation. And the downtown core is filling up fast. It's where retired psychology professor Daniel Friedman lives.
"405 comes through here, and it cuts off two of the liveliest, most walkable neighborhoods in the city," Friedman said as he walked over the Southwest Morrison Street overpass.
The city agrees, the overpasses are not inviting. In the "West Quadrant Plan" looking toward the year 2035, is a drawing of some ideas to cap the I-405 freeway near Burnside and Morrison streets, Lincoln High School and Portland State University.
Friedman recently did a presentation for Goose Hollow neighbors on his hometown of Columbus, Ohio that successfully capped portions of Interstate 670. City planners there decided to expand an overpass outward enough to put storefronts along the sidewalk.
"They had the idea to create retail on either side of the overpass," Friedman said. "It completely revitalized the areas on either side."
As for Portland, other unofficial sketches of cap ideas from supporters show a large green space. But Friedman said money from private developers would flow faster by starting with retail. "Because it may pay for itself, it may attract investment, it creates taxes where once there was thin air."
Resident and co-founder of the Goose Hollow Business Group, Tina Wyszynski, has been pleading for a freeway cap for years. "I don't think anybody in the city is really against it," she said. "I just think everybody wants to know how we can fund it."
Supporters estimate the first phase would cost $11 million to expand the Southwest Morrison Street overpass so it resembles Florence, Italy's Ponte Vecchio bridge. But they say anything is better than what we have now.
"If we could add green space to what is now completely grey, it'd be an amazing opportunity. It's creating something from nothing," Wyszynski says.
There's a public hearing Thursday, March 5 at Portland City Council to get comments on the West Quadrant Plan.
The city planning department said a lot more political support and private dollars would be needed to make a freeway cap happen.