GRAND RONDE, Ore. — Editor's note: The video in the media player above is a profile from 2012 when Kathryn Harrison was honored as an Oregon History Maker.
Grand Ronde Tribal Leader Kathryn Harrison died at the age of 99 last Sunday.
Harrison was a matriarch of the Confederated Tribes of the Grand Ronde. The news of her death was first reported by Smoke Signals, the newspaper of the Confederated Tribes of Grand Ronde.
She was known for her efforts to restore Native American Tribal status, working for years to overturn the Termination Act of 1954, which took federal recognition from 61 tribes in Oregon.
In 2012, she became the first Native American recipient of the Oregon History Makers honor awarded by the Oregon Historical Society, which recognizes those positively shaping the history, culture and landscape of the state. KGW interviewed her at the time for her award, and she shared her story with us.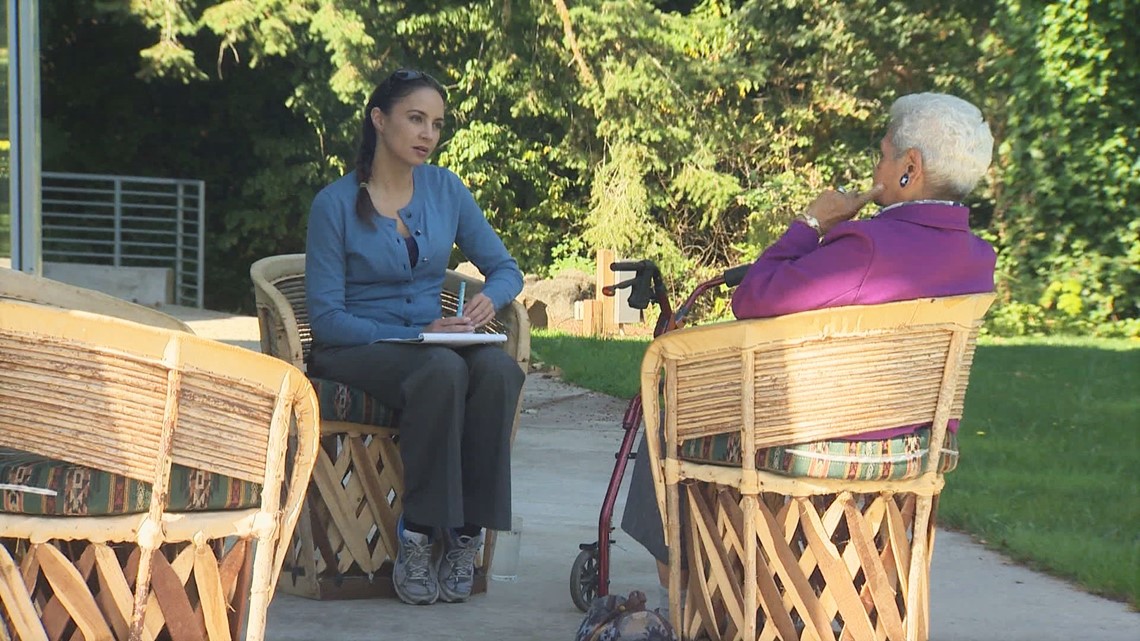 As a child, Harrison's father and mother made sure her Native roots were strong, she said, values that stayed with her event after her parents died when she was just 10 years old.
"I had so much trouble being myself," she said in that 2012 interview. "I knew I was Indian, I knew my parents had instilled pride in us so when somebody tried to change that, I stood up for myself and my sisters and brothers so I was labeled 'unable to handle.'"
She was separated from her siblings and went from one foster home to the next where she was discriminated against, she said. Then came a new school, new life and new friends at Chemawa Indian School in Salem.
"To be sent to Chemawa, where I was among all Indians, why, I thought I'd died and gone to Indian heaven," she said, laughing.
She went on to marry and had 10 children. At age 50, she left her husband, who she said struggled with alcohol, and went to school.
She studied nursing at Lane Community College and became the first Native American to graduate from the school. Settling on the coast, she became active in tribal affairs and was elected secretary.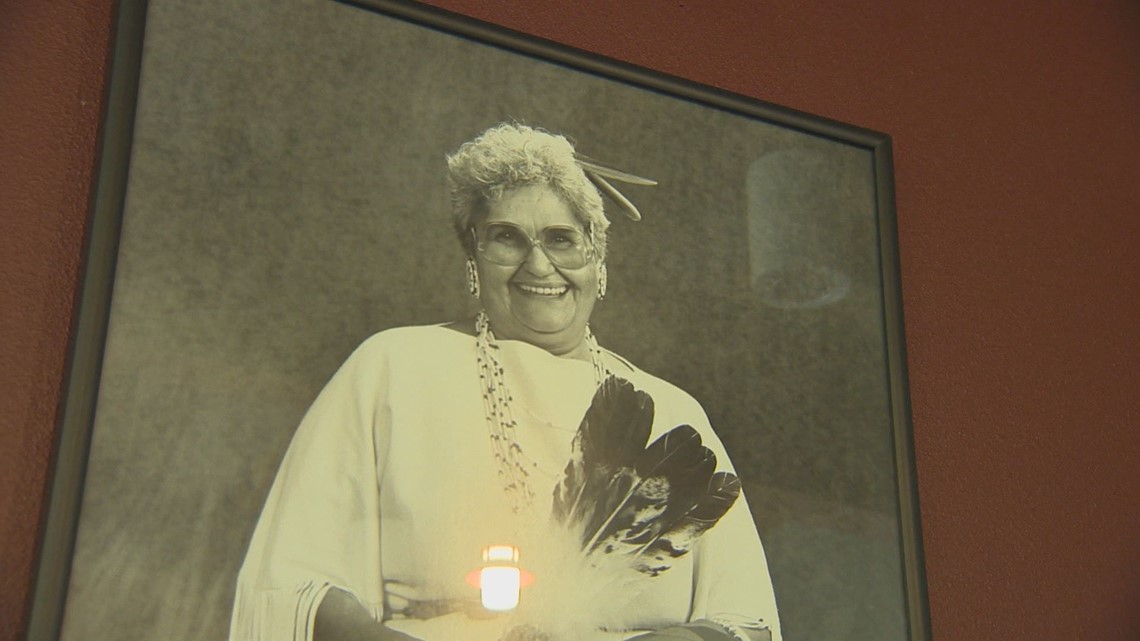 Then came the role she was born to play— her vision quest fulfilled. Harrison joined the effort to restore Native American tribal status. She began each day with a prayer.
"God, help me to do the right thing today to help my family and my people," she told KGW.
She spent years working with tribal leaders and congress to overturn the act that took away tribes' federal recognition. It all paid off in the fall of 1983, when Harrison got a call from Oregon Representative Les AuCoin.
"Kathryn, I'm calling to you to let you know your bill passed," she recalled. "To fight the 11 years to get the restoration, the recognition back. Everybody seemed to walk taller, straighter, more proud because we were again, part of the family of Indian Nations, nationwide."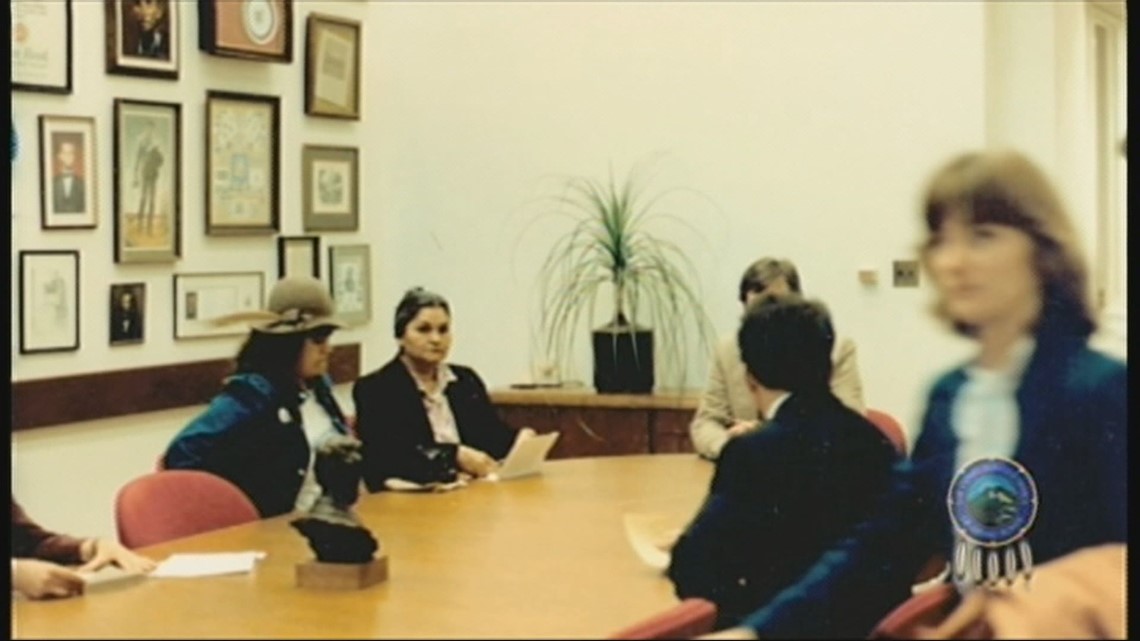 Harrison didn't stop there. She worked with AuCoin and Oregon Senator Mark Hatfield on the Reservation Restoration Act of 1988. She also helped establish the Spirit Mountain Casino in 1998 and the Spirit Mountain Community Fund, which has donated millions of dollars to nonprofits across the region.
When KGW spoke to her in 2012, Harrison had taken a step back, but in her heart, said she would never stop pursuing excellence.
"I'm 88-years old and I'm still trying to make my life pleasing to my parents, my god and my tribe," she said.
Congressman Earl Blumenauer released a statement after Harrison's death, saying it was an honor to have workers and learned from her.
"She was a source of wisdom and dignity whenever she attended one of our tribal roundtables. She imparted a special value, her dignity, insight and great respect. Her words carried special significance because of her history, leadership and accomplishments," the statement said.
There will be a public memorial for Harrison at Spirit Mountain Casino on Sunday, June 4 at 10 a.m.