PORTLAND, Ore. — House Bill 3063 is making its way through the Oregon House of Representatives. It would end all non-medical vaccine exemptions for children in the state. Saturday, families rallied against the bill at Terry Schrunk Federal Plaza in Portland.
"I think that a lot of parents aren't aware that this bill is kind of getting sneaked under, right under, our faces and they don't realize how much it's going to impact them," rally organizer Tiffany Traham said.
The "Portland Educational Rally for Medical Freedom" was one of five rallies planned across the state in opposition to the bill. Rallies were also slated to take place in Bend, Salem, Eugene and Medford.
Traham is a mom who tells KGW that Saturday's event was not necessarily an anti-vaccine rally, but rather a way to educate other families about House Bill 3063.
She said she does not want to be forced to vaccinate her son.
"I really don't think it's safe for the government to make our decisions for each child," Traham said.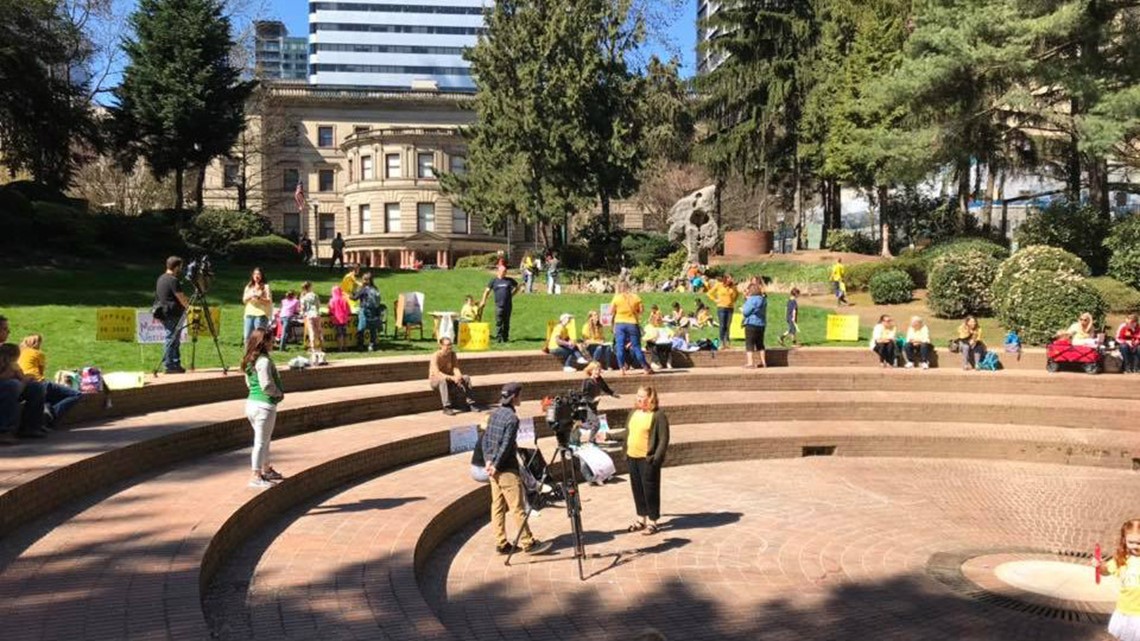 HB 3063 would require children to be vaccinated to attend school and would remove the state's non-medical exemptions. That means parents would no longer be able to claim religious, personal, or philosophical reasons as exemptions to vaccinate their children.

"I'm not an anti-vaxxer," Darin Sanchez told KGW at Saturday's rally. "I just really feel that It should be, it's just a right that Americans have to make medical decisions for their children
The bill allows a child who is not immunized or exempt for medical reasons to get their education online. It also prohibits that child from attending in-person school-related activities.
HB 3063 would define "restrictable diseases" and allow the Oregon Health Authority to recommend additional diseases against which children may be immunized. It directs OHA to establish outreach and an education plan regarding disease control in schools.
Representative Cheri Helt of Bend, Oregon is a chief sponsor of the bill. She said the legislation is a matter of protecting public health.
"The heart of this legislation, for me, has always been about protecting the rights of children who do not have a choice and they cannot protect themselves due to their age or their medical status," Rep. Helt said. "Really, we need to get ahead of the outbreaks that we're currently seeing across our state, our nation and our globe."
The bill comes amid recent outbreaks of measles among children in Portland and Clark County, Washington. Helt says this legislation aims to, "combat public sentiment that medically safe vaccines are more dangerous than the diseases they prevent."
During Saturday's rally organizers handed out contact information for state lawmakers and asked attendees to call on their local legislatures to stop the bill.
Lawmakers have amended the bill to address some concerns like limiting the scope of the bill to contain only currently required vaccines in Oregon, opening attendance for virtual schools and extending time to fully vaccinate students until August 1, 2020.
Helt is also working with Senator Steiner Hayward to address concerns about the accessibility of medical exemptions. The bill is currently in the Joint Committee on Ways and Means awaiting further action.