But the fate of that policy is now very much in question after a signature-gathering campaign, bankrolled by the state's largest natural gas utility, is set to force a city-wide vote on the issue.
Aya Cockram, coalition coordinator for Fossil Free Eugene, which advocated strongly for the electrification policy, was taken aback by the campaign to put it to a vote.
"We were definitely expecting a fight, but we were not expecting this level of a fight," Cockram said.
In Eugene, an ordinance approved by the city council can be put to a city-wide vote if opponents can gather enough signatures. In this case, 6,460 signatures were needed to get the measure on the ballot.
Soon after the policy was approved, a group called Eugene Residents for Energy Choice began collecting signatures and, on March 9, submitted more than 12,000.
But Cockram said it would be a mistake to think of the group as just Eugene residents who want to be able to choose how they heat their homes.
"They are almost solely funded by Northwest Natural. At our last count, I believe Northwest Natural had donated about $1 million to this group," Cockram said, noting that the group's registered address is in Portland.
Records from the Secretary of State's office show that the state's largest natural gas utility contributed more than $950,000 to the group over about six weeks. All other contributions to Eugene Residents for Energy Choice, combined, total just $165.
And some of Northwest Natural's contributions were "in-kind," Cockram pointed out, meaning the utility donated services to the group in addition to cash.
"So if Northwest Natural is funding it, and if they're managing it, and if they're not even located in Eugene, I think that says pretty clearly that this is not a grassroots organization," Cockram said.
Jeff McGillivray, a member of the group and a business agent with the local plumbers and steamfitters union, said the group's membership includes multiple unions, trade groups and representatives of the travel and lodging industry, as well as farmers and farmworkers.
McGillivray said his union likely would have supported the signature-gathering campaign financially, but donations have to be approved by an executive board.
"There wasn't time for us to pitch in initially on this, though we do support it and we were happy that there was somebody there that could get this done," he said.
Northwest Natural hasn't tried to hide its involvement in the issue.
"We believe Eugene voters should have a say on this decision, which is why NW Natural is supporting a signature gathering campaign to get the Council's decision to ban gas in new homes on the ballot," the company said in a statement, adding that "this effort is not paid for by NW Natural customers."
The utility raises two primary points in its opposition to the ordinance. First, they cite a 2022 poll, conducted on their behalf, showing that 70% or Eugene residents polled "oppose a ban on new natural gas hookups in all homes and buildings."
Jennifer Yeh, a city council member who voted in favor of the ordinance, said the poll was misleading, as the city's policy only bans natural gas in new residential construction. She also noted that in talking to her constituents, taking action on climate change has been a priority for many years.
"What we do know is over decades of talking to our community, climate change action is always a priority," Yeh said.
The second point Northwest Natural — and representatives of Eugene Residents for Energy Choice — raise comes from a set of slides displayed at a city work session on the ordinance from July of 2022. In it, a pie chart shows residential natural gas emissions in 2037 as 0.1% of the city's total.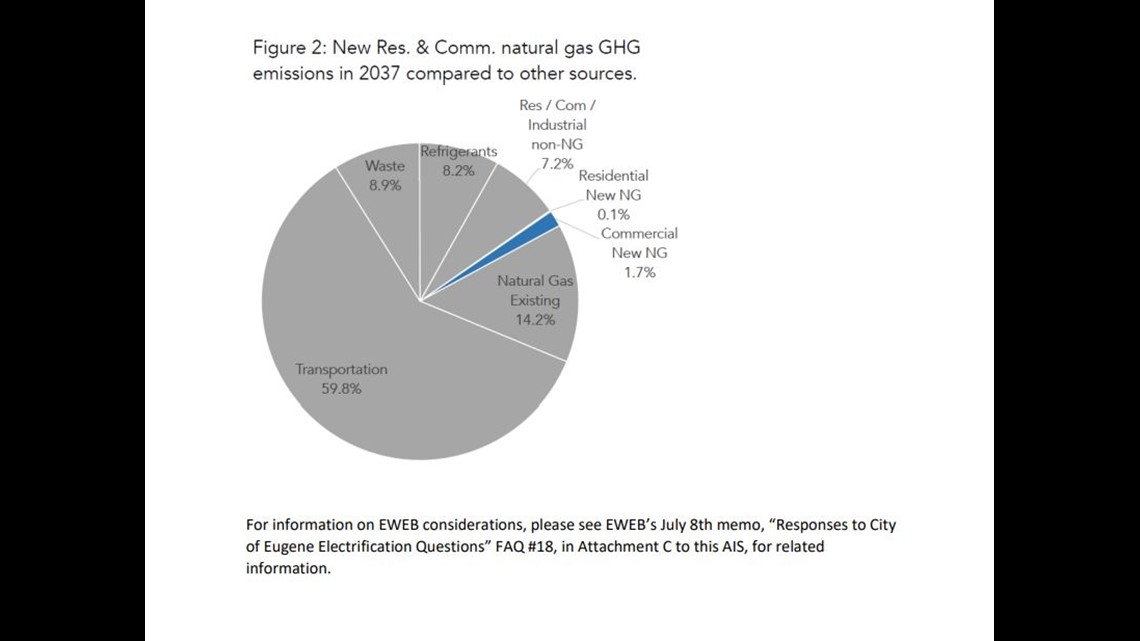 In a recording of the meeting, councilor Mike Clark asks city staff if that figure represents the estimated reduction in emissions if the ordinance were to be put in place and city staff confirm that it does.
"The climate analysis the city published to support this ban is one tenth of one percent of an emissions reduction benefit in 2037," Northwest Natural said in a statement.
But Ian Penn, sustainability manager for the city, wrote in a letter to state lawmakers that "the statement from NW Natural...mischaracterizes both the graphic and the information it represents."
The Rocky Mountain Institute, a nonprofit focused on sustainable energy, performed its own analysis of the ordinance and, when factoring in Oregon's commitment to have 100% renewable energy sources by 2040, it found that "the emissions reduction for an all-electric home was found to be 50%, a reduction of 25 metric tons of CO2, over a 15-year period."
But for Yeh, the greater concern is what she's been hearing from her constituents about how some of the signatures were gathered.
"We've seen folks out trying to gather signatures, trying to imply that this would affect people in their homes that are already built, that this would somehow affect business or industries," Yeh said. "By conflating all these things, it confuses people. It's building off of people's fears that there might be some sudden change to their lifestyles."
Anne Marie Levis, a spokeswoman for Eugene Residents for Energy Choice, flatly denied that the group was spreading misinformation.
Still, Yeh stressed that it was important for voters to know what the policy would and wouldn't do.
"No one is being asked to change what they're doing right now," she said. "Everything will remain the same. If you are using (natural gas) to cook your food or heat your home or if you have a fireplace, however you are trying to use it, this ordinance changes none of that."
Milla Vogelezang-Liu, a junior at South Eugene High School and co-president of the school's climate action club, has been active in efforts to get the electrification ordinance passed. She now worries that her inability to vote will exclude her voice from the process.
"Youth climate activists like myself have been testifying at City Council and working to get the electrification ordinance passed for over two years now and if it goes to the ballot, our voices will be silenced," she said. "They're pretty much eliminating our voices in this issue when it's going to concern us most since it's our futures that are going to be most impacted by the climate crisis."
But McGillivray said he felt unheard when the council passed the measure directly, and wonders why the council didn't put such a consequential measure up for a city-wide vote in the first place.
"I still don't understand the fear of letting the citizens Eugene speak," he said. "That's democracy at it's simplest form and not letting them speak their voices, I think is irresponsible of the council."
Cockram, with Fossil Free Eugene, sees it much differently. Eugene is the first city in the state attempting to eliminate natural gas from new residential construction, she said, which means Northwest Natural is trying to set a precedent.
"If they win here, this could become the norm," Cockram said. "When they are no longer able to buy their way out of progressive policies through campaign contributions alone, they are increasingly turning to these ballot referendum campaigns."
It isn't clear yet when the policy will go on the ballot — the city next has elections in May and November.
Levis said the number of signatures her organization was able to gather shows that the vote is in the city's best interest.
"Our coalition believes that decisions like this need to be made thoughtfully," she said. "When that wasn't done, we worked to make sure it was referred to voters by gathering almost 13,000 signatures. That shows a level of commitment from the community to weigh in on this issue."
Cockram remained confident that the policy would be approved by voters.
"Eugene will not be bullied by a fossil fuel company," she said. "We will just vote this policy back in again."