UPDATE from June 11, 2019:
The employee accused of making a racist comment to a student at a Milwaukie elementary school is no longer with the district, according to a letter sent from the principal to parents:
Dear families of our Linwood Elementary School Community:
I wanted to update you on the situation that occurred last week in our school community. We have concluded our investigation about the inappropriate racialized comments by a staff member to students. The employee involved is no longer employed within the North Clackamas School District.
We know and understand that the impact of words spoken can be hurtful for our students and that was the case in this situation. I deeply regret this impact and will continue to work with our students and school community to make sure they are heard and feel supported.
Our school and the school district are committed to an inclusive environment that honors each student's identity and provides safety, respect, and care in each of our spaces.
Original story from June 3, 2019:
MILWAUKIE, Ore. -- A Milwaukie mother wants an employee at her daughter's school fired for an outburst during lunch on Friday.
"It was just really devastating," said Syreeta Spencer.
Spencer's 11-year-old daughter, Jasmyn, attends Linwood Elementary School in Milwaukie. She said Jasmyn was eating lunch with friends, mostly children of color when a school employee reprimanded them for misbehaving.
"The teacher was like, you're lucky I'm not making you pick cotton and clean my house and stuff like that," said Jasmyn, who is biracial. "It made me feel really sad and targeted."
Jasmyn's mom found out about what happened when her daughter came home from school that day. She immediately went to the school to meet with the principal and discuss the outburst.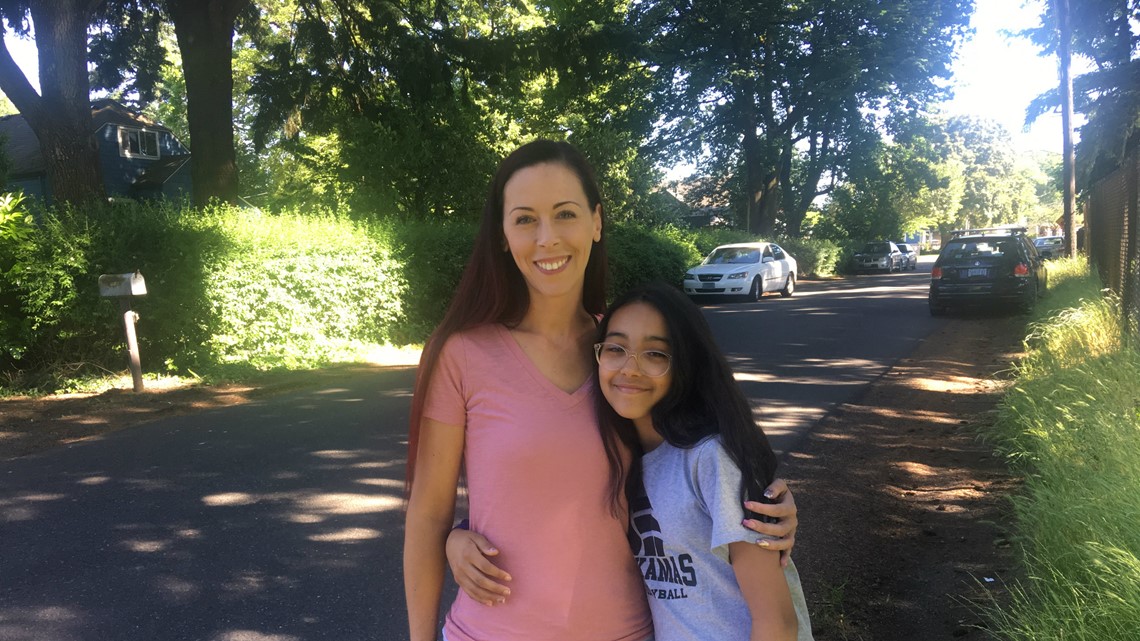 "If she were to curse at the kids or yell at them, that's forgivable and we can work past that," said Spencer. "To say something about picking cotton and cleaning and painting houses, that's deeper than that and it's not something that just slips out."
Spencer wants the employee, tasked with monitoring lunch and recess, fired.
A spokesperson with North Clackamas School District acknowledged that an incident happened Friday.
"This prompted an ongoing personnel investigation involving the school and NCSD's Human Resources Department," said Jonathan Hutchison in a statement to KGW. "For that reason, no other information can be shared at this time."
"I just hope it opens some dialogue" added Spencer. "We can all learn from each other if we keep an open mind."
What happened at school has been a tough lesson for Jasmyn and her classmates.
"They were really upset," she said. "A lot of them ended up getting hurt inside."
Linwood Elementary School sent the following letter to parents, saying the employee was placed on leave while the investigation continues.
This letter is to inform you of an incident that was recently reported by students regarding comments made to them by a staff member. Because we are currently investigating this incident, we cannot share details at this time. However, please know that the staff member involved in the incident has been placed on leave during this investigation and currently has no interaction with students at the school.
While the initial information that has been shared in the media is concerning, please know that we are taking this incident very seriously and are conducting a thorough investigation to make sure that all facts are discovered. More information may be shared at a later time.
We know that the impact has been hurtful and emotional for our students. We deeply regret this impact and will continue to work with our students to make sure that they are heard and feel supported.
Rosina Hardy, Acting Principal
Cindy Detchon (formerly Quintanilla), Executive Director, Community Relations