BURNS, Ore. -- Ammon Bundy and seven other protesters were arrested Tuesday night for their roles in the occupation of the Malheur National Wildlife Refuge. One member of the group was killed during a confrontation with police.
The group was stopped along Highway 395, north of Burns, at around 4:25 p.m., according to the FBI. The man killed was 54-year-old LaVoy Finicum, a rancher from Arizona.
Related: Protesters remain at Oregon refuge after Bundy arrest
Law enforcement officials decided to make the arrests when they learned the protest leaders would be leaving the refuge for a meeting in John Day, NBC News reported.
The arrests were made about 45 miles north of the refuge.
The following people were arrested along the highway, according to the FBI:
Ammon Edward Bundy, 40, of Emmett, Idaho
Ryan C. Bundy, 43, of Bunkerville, Nevada
Brian Cavalier, 44, of Bunkerville, Nevada
Shawna Cox, 59, Kanab, Utah
Ryan Waylen Payne, 32, of Anaconda, Montana
Nine people were in two vehicles. They both stopped, but the lead vehicle sped away, the source told NBC. The vehicle hit a snowbank and Finicum jumped out "brandishing a firearm." He was shot and killed.
Ryan Bundy, Ammon's brother, was shot in the arm and treated at a local hospital, NBC News reported.
In a press conference late Wednesday morning, FBI Special Agent in Charge Greg Bretzing said while he could not discuss specifics on the arrest, the goal was to reach a peaceful resolution which would help the community begin to heal.
"The FBI with our partners took the first steps to bring this occupation to a conclusion... removing the threat of danger to anybody who might be present," he said. "The armed occupiers have been given ample opportunity to leave peacefully. They have been given the opportunity to return to their families and work through the normal legal process to air their grievances."
An emotional Sheriff Dave Ward said he has been dealing with the Bundy crowd since November 5. "These men entered my office with ultimatums I couldn't meet."
Ward said all citizens have issues with some aspect of the government, but they should deal with it in a civil manner.
"We don't arm up," he said.
While the focus outside Eastern Oregon may have been on the refuge, Ward said towns in Harney County suffered as the occupiers came through towns.
"Many tried to stir issues in the community," said Ward.
Watch the Wednesday morning news conference
Mark McConnell, who said he was driving the vehicle with Ammon Bundy and Brian Cavalier as passengers, posted a Facebook video in which he describes the arrests.
Here's the video of what happened.

Posted by Mark McConnell on Wednesday, January 27, 2016
McConnell said after he, Bundy and Cavalier were taken into custody, he overheard police saying to stop the second vehicle, driven by Finicum.
Finicum sped away from police in his pickup truck, which McConnell described as an unwise act of aggression. The pickup got stuck on a snowbank trying to go around a roadblock and Finicum argued passionately with passenger Ryan Payne before getting out of the truck and moving toward police, according to McConnell's account.
"He went after them. He charged them," McConnell said, attributing that version to what he was told by Payne and Shawna Cox, who were Finicum's passengers.
Social media reports that Finicum was on his knees with his hands up are false, McConnell said.
Editor's note: The FBI later released unedited video of the traffic stop showing Finicum's death (Warning: Graphic)
McConnell said he and an 18-year-old female were questioned by police and released.
Three others not involved in the traffic stop were also arrested.
Peter Santilli had taken to YouTube during the siege that began in early January. He reported the police activity near the refuge earlier Tuesday evening. He was arrested without incident, the FBI said.
Jon Eric Ritzheimer was arrested by the FBI in Arizona on probable cause in connection with the Malheur occupation. He turned himself in without incident, the FBI said.
Oregon State Police arrested another protester, Joseph O'Shaughnessy, during a separate incident in Burns.
All eight arrested protesters face a felony charge of conspiracy to impede officers from their official duties by force, intimidation or threats, the FBI said. All but Ritzheimer were transferred to the Multnomah County Jail.
Law enforcement personnel were not injured, according to Oregon State Police.
Bretzing added that there are still protesters who remain on the refuge land. They will be allowed to leave, he said.
"If the people on the refuge want to leave, they are free to do so through the checkpoints, where they will be identified," he said. "If they have questions or concerns, they can contact the negotiator through a phone number that has been provided to them."
Photos: Occupation at Malheur refuge
Photos: Occupation at Malheur refuge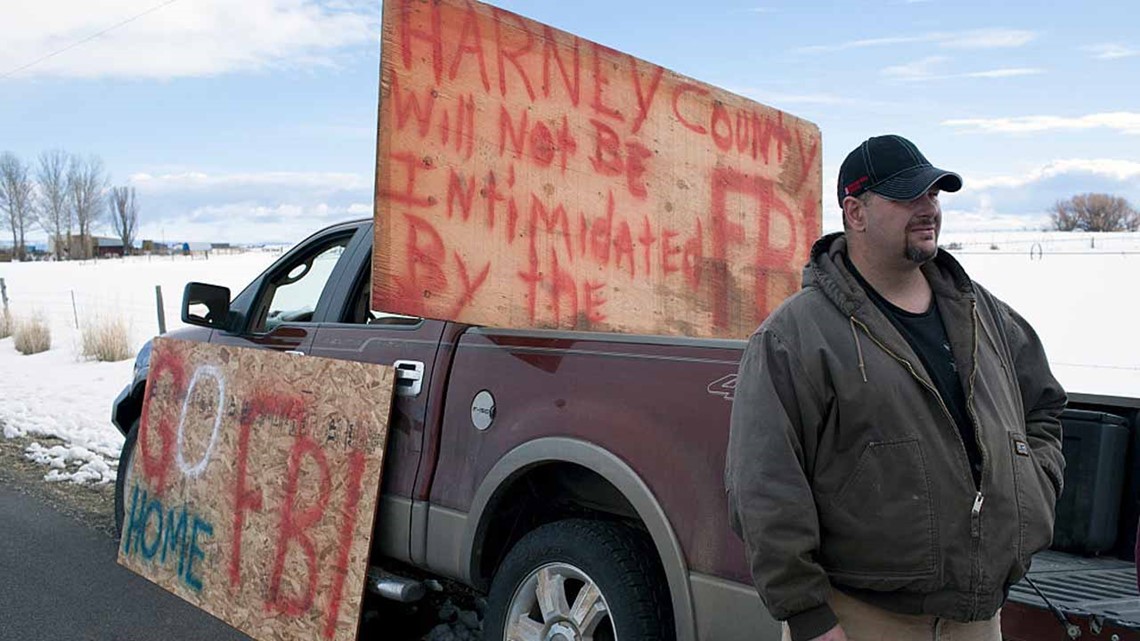 During the police activity, a 56-mile stretch of U.S. 395 between Burns and John Day was closed near the refuge. The Highway was reopened Wednesday afternoon.
The St. Charles Bend Hospital was placed into lockdown and an Airlink helicopter was sent to Harney County on standby, but the hospital did not receive any patients, a hospital spokeswoman said. The hospital stayed in lockdown overnight.
Gov. Kate Brown called for patience as law enforcement seeks "a swift and peaceful resolution."
Harney County Judge Steve Grasty said he was "relieved" the occupation appears to be coming to an end but was "saddened by the loss of life." He also hopes the protesters that remain at the refuge peacefully surrender.
More: Reaction to arrests of refuge occupiers
The armed takeover was in its 24th day when Bundy was arrested. Leaders said they would not leave the refuge until the government released two ranchers from prison and turned federal land over to local authorities.
Bundy is the son of Nevada rancher Cliven Bundy, who was involved in a high-profile 2014 standoff with the government over grazing rights.
The Associated Press contributed to this report.