JOHN DAY, Ore. — Step inside 1188 Brewing in Grant County and you might mistake it for a Portland brew pub. The place serves great food and a wide selection of craft beers.
"So I was in the 3rd grade, it was in the '70s, and that's when we moved here. So this is where I grew up," said Shannon Adair.
Adair and her husband own 1188 Brewing. For 19 years, she coached the dance team at Grant Union High School. And then her husband decided he needed a hobby — brewing craft beer.
"And so we started it," Adair said. "It was something that we didn't have in our community. We wanted to build something that really was a place that people could gather, and create jobs for people. And it was something that we liked to do."
Eleven years later, and their brew pub in John Day is often packed during the summer for special events.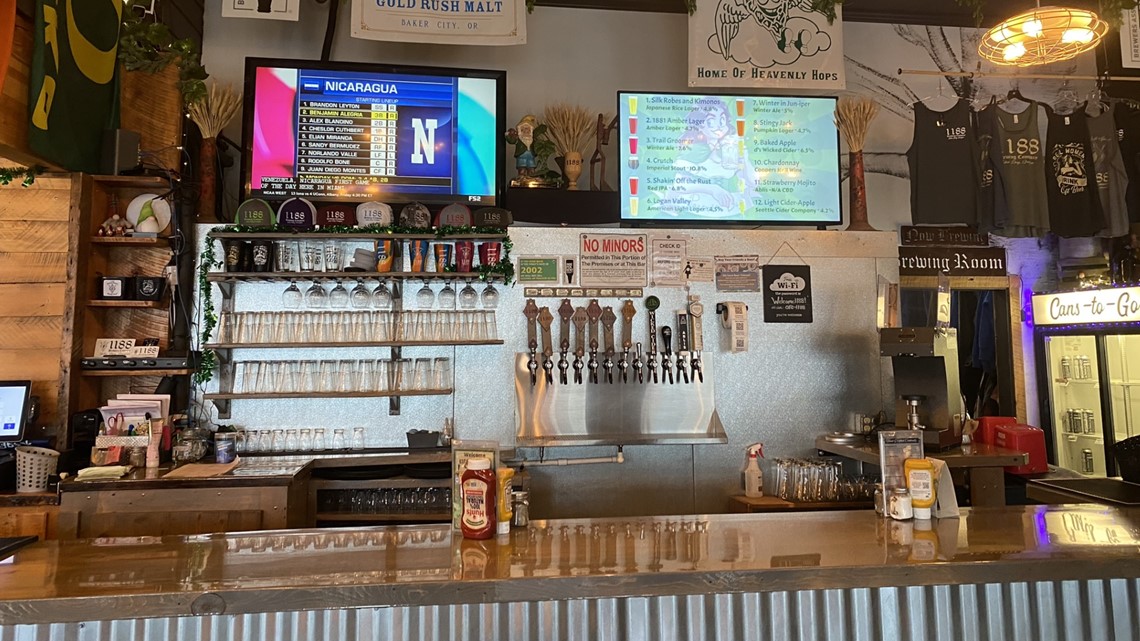 In 2017, concerned about her town's future, Adair ran for city council and won.
"We've been in decline," she said. "Our population has been in decline for decades now, really since the timber industry kind of was annihilated."
A 2017 report from a group called Headwater Economics noted that Grant County lost at least $30 million in timber earnings during the years 2001 to 2014. But the report found complex reasons for Oregon's timber decline — not all of them due to environmental policies. The report also cited automation and other technological advancements at timber mills that resulted in fewer jobs, a decline in the housing market, and increased competition from the U.S. Southeast and international imports.
With mills closing and jobs scarce, people gradually drifted away from some of the Pacific Northwest's historically timber-dependent rural areas. In 1990, Grant County had more than 7,800 residents. The most recent number shows it closer to 7,300 — a net loss of 581 over the last two decades.
The city of John Day lost 156 people over that same time frame. The numbers are profound for a small town, and they certainly don't represent growth and progress.
While Grant County is a relatively rare example of an Oregon county actually decreasing in population since 1990 — Sherman County is another, although the decrease was much smaller — many similarly rural counties have seen only modest gains.
By comparison, Multnomah County added more than 235,000 people over the same time period.
For Adair, it's a painful lesson in how laws and rules from outsiders can have a devastating impact on rural communities like hers.
"They're not seeing it," she said. "They don't see that it — all of a sudden, a thriving community has no way to support their schools, has no way to support the businesses that are here, has no way ... you know, so many of those people, there were programs for people to go back to school, but some of those people were in their 30s, 40s, 50s, you know, where do those people go? What happens to, you know, that group?"
Why no Idaho?
This sort of frustration, at least in part, has been fueling the "Greater Idaho" movement out here in eastern Oregon. Thus far, 11 counties have voted to consider divorcing Oregon by moving state borders and becoming part of Idaho.
Many correctly feel that the west side, with its highly populated urban areas, holds the political power in Oregon. There's a feeling that the state's rural areas have been ignored for years.
"You know we have farming, ranching, we have the Forest Service, (Bureau of Land Management) here," said Cathy Gill, a server in John Day, "and I just don't think that they think of us over here as part of them."
"Most people out here, we just feel like the west side doesn't care," said Mike Slinkard, a bow hunter and business owner.
"Just, we never feel heard out here," echoed Sandie Gilson, a board member for the Greater Idaho movement in Grant County.
With similar grievances and reasoning, it would be understandable to think that Shannon Adair would be on the Greater Idaho bandwagon. She isn't.
"I would say no," Adair said, when asked if she would vote tomorrow for Grant County to become part of Idaho. "I really feel like politics in our country right now are so divided, and I don't think dividing further is the answer. I don't think that having all of the conservatives move to a conservative area and all of the liberals move to a liberal area is the answer. It's not the way our country works."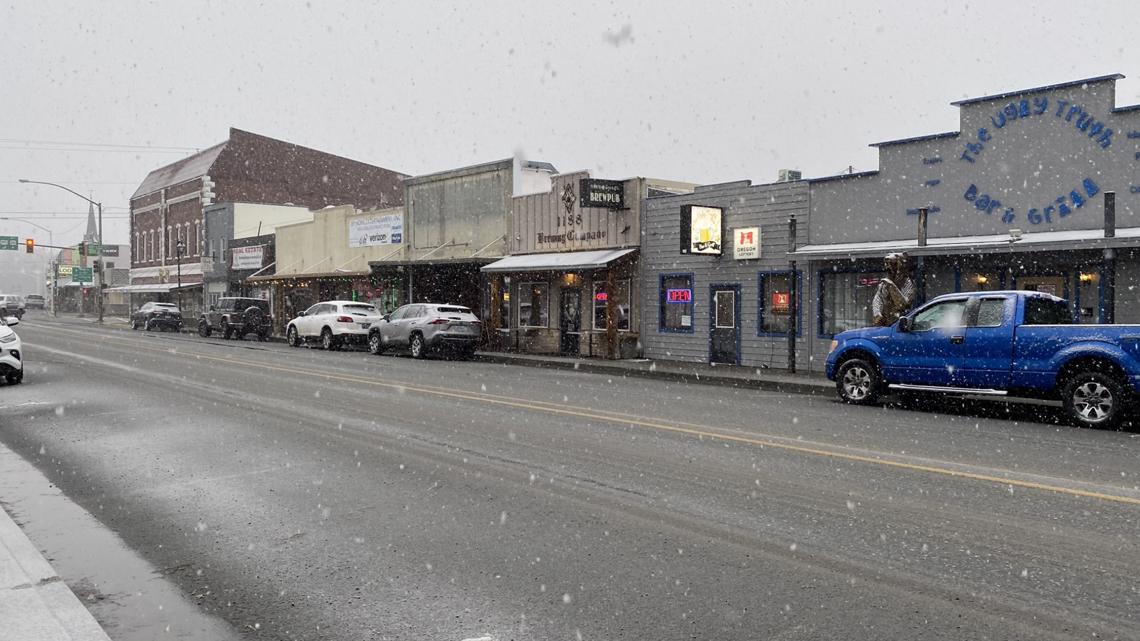 The Greater Idaho movement has perhaps gathered more steam than skeptics ever expected, earning the approval of a non-binding resolution from the Idaho House of Representatives to enter talks with Oregon on the idea. But realistically, it's more than a longshot proposition. Both state legislatures and Congress would need to sign off.
"What I'm hoping is that by becoming this talking point, is that more people will talk about it," Adair said. "I think it's an important issue. And I think that the people that live in our areas have valid concerns, and if our legislators could come together and talk more about some of these laws that are getting passed and have a better understanding of how — maybe some of those are necessary in cities, but maybe they're not necessary out here. So how do we work with each other to accomplish, you know, accomplish that?"
A game of give and take
There are some instances where the state of Oregon has made different rules for rural areas. The minimum wage law is a good example. In July of 2022, the state set the wage at $14.75 an hour for the Portland metro area. But in Oregon's 18 rural counties, the rate is $12.50 an hour. Over in Idaho, the minimum wage is only $7.25 an hour.
And right now, Oregon lawmakers are considering whether to change state laws in order to let Oregonians pump their own gas. In the bill, lawmakers have crafted rules that are less restrictive for rural counties than in the Portland area.
But Adair said there are plenty of statewide laws that are one-size-fits-all — and they infuriate people in rural areas. From gun storage laws passed in 2021, to Measure 114 which would require prospective gun owners get a permit, to Measure 110 which decriminalized user amounts of drugs; these are recent examples, to eastern Oregonians like Adair, of urban western Oregon imposing its values upon the rural side.
"So it's, you know, it's really — they don't like to be told what to do by the government," Adair said. "They've lived a long time being able to do things the way they want to — which, right or wrong or good or bad, it doesn't relate. That's how smaller rural communities are."
Despite the frustration that she sees as justified, Adair thinks Oregon's rural counties should slow down and think deeply about what moving the state line would mean.
"Per our personal experience as a brew pub, we also serve hard alcohol here," Adair said. "Well, in Idaho, it's limited on how many liquor licenses could be available. So in our community, according to Idaho law, there could only be two liquor license licenses for the businesses in our community. And we have eight in our town. So what kind of impact would that be? Would people lose their businesses, their ability to have a business?
"Then you have cannabis, you know, it's legal in Oregon. It's not legal in Idaho. So many businesses would be impacted by that. So many people that use it for medical reasons would be impacted by that. Those are just really small examples of all of the complex line-by-line items that would have to happen for that to be successful."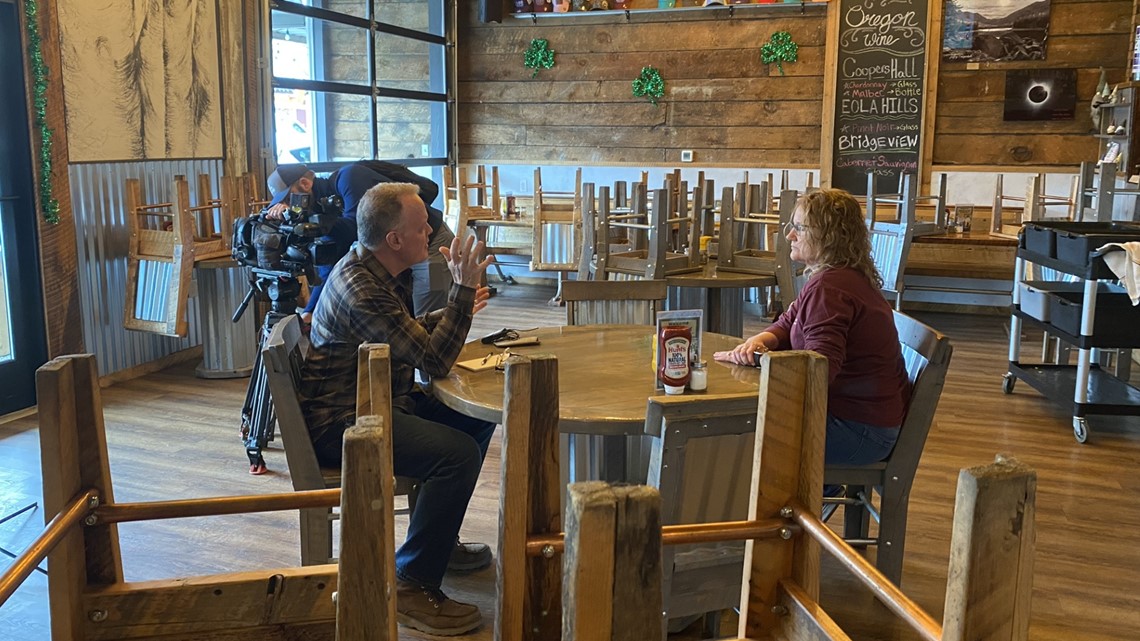 Were Greater Idaho to succeed in spite of all the hurdles, it's possible that even the frictionless future the movement promises could soon slip away.
"The other reason I wouldn't vote for it is because I really believe that there's no guarantee that Idaho will stay conservative," Adair continued. "You know, that is not guaranteed. There are a lot of people moving to Idaho. And not all of them because it's a conservative state — some are going because it's beautiful. Some are going be going because there's lower crime. Homes are less expensive than LA or something.
"And so, you know, it definitely could move in the same direction that we have in Oregon, where Boise is more liberal and is impacting the rural areas in that manner. So to spend that kind of money and time to actually change the border and then have Idaho change to where you just, you know, now you have Oregon and Idaho ... that is a possibility. So I think we need to learn how to work together better and keep the borders where they're at."
This story is part three of a series of stories on eastern Oregon. On Thursday, The Story speaks with the Grant County Sheriff about law enforcement out in a vast, sparsely-populated county.