PORTLAND, Ore. – Multiple protests are planned in downtown Portland on Sunday, almost exactly year to the date after thousands engaged in opposing rallies following a fatal stabbing on a TriMet MAX train.
The Oregonian reports the rallies are expected to draw hundreds, far less than the crowds seen during the fiery Patriot Prayer pro-Trump rally and counter-protest on June 4, 2017.
Photos: Protests, counter-protests in downtown Portland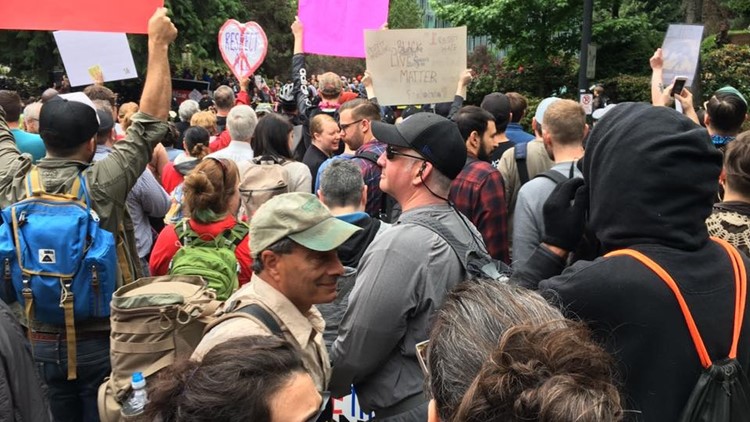 Fourteen people were arrested during last year's rally, which was remembered, in part, for Portland police officers surrounding and detaining hundreds of demonstrators, a technique known as kettling. An independent review by the city auditor's office found Portland police did not have legal justification for the mass detention. The review recommends Portland police changes its policy on crowd control tactics.
The first demonstration on Sunday, organized by Direct Action Alliance and Empower Portland, will address Portland police's actions from last year's rallies. The demonstration begins at 2 p.m. at Chapman Square.
"It's time we take our town back, and stand up to the Portland police and tell them we will no longer allow them to bully, abuse, and murder us with impunity," the groups said in a Facebook event for the protest.
The two groups will then transition their focus on a counter-rally to combat right-wing group Patriot Prayer's "Freedom March," scheduled to begin at 5 p.m. at Terry Schrunk Plaza. Antifa groups will also join Direct Action Alliance and Empower Portland to counter-protest.
Patriot Prayer says its rally is in honor of a dedicated member who is moving away. The group's rallies have been criticized for attracting known white supremacists from around the country.
Portland police told The Oregonian they are prepared for Sunday's rallies, although it may be more of a challenge given that Rose Festival CityFair is happening at nearby Tom McCall Waterfront Park.
"The bureau is going to be spread thin," Sgt. Chris Burley with Portland police told The Oregonian. "It's a real strain on the limited resources we do have."