PORTLAND, Ore. — The second night of protests in Portland began at Jamison Square and ended in the Pearl District where police detained a group and made several arrests.
Portland Police Bureau (PPB) confirmed in a release early Saturday morning, officers did use OC pepper spray and one impact munition on the crowd.
A flyer posted on Twitter, asked for people to meet at 8:30 p.m. Friday for an "autonomous demonstration" against Department of Homeland Security (DHS) officers in Portland as well as calling for police accountability regarding violence against Black Indigenous People of Color (BIPOC).
The group started on Northwest 11th Avenue and Johnson Street. Sometime after 9 p.m. crowds began marching in the streets.
PPB said some in the crowd started breaking windows at 9:15 p.m. and officers made a perimeter around a group between Northwest 13th Avenue and Northwest 14th Avenue.


Portland Police Chief Chuck Lovell issued a statement prior to Friday night's demonstration saying he was aware of it, and that additional patrols would be in the area.
At 9:14 p.m., the Portland police tweeted that a crowd had begun to move and was blocking traffic. Minutes later, police set up a perimeter around a large group in an effort to contain people.
"This is a temporary detention," police tweeted at 9:52 p.m. "We will be removing you one at a time. Please remain calm and wait for directions."
PPB also said in the Saturday morning release It's standard protocol during a criminal investigation to identify and photograph anyone detained.
Suzette Smith, formerly with the Portland Mercury, tweeted a video from inside the detainee's circle.
At 11:58 p.m., a credentialed member of the press Maranie Staab recorded a video showing police forcibly detain her. She can be heard yelling in the video identifying herself as media and not wanting to leave.
Just before 12:30 a.m., freelance journalist, Justin Yau, posted a video on Twitter and said 20-30 people were still being held.
At 12:54 a.m., James Croxton, an alt-weekly correspondent in Portland, shared an emotional photo and accompanying tweet of a young Black man lying on the ground.
More officers arrived with batons at 1:12 a.m., Croxton said on Twitter.
Around 1:30 a.m. a confrontation between law enforcement with people in the streets dwindled down as crowds dispersed and officers made arrests.
There were several items found left behind by people who were detained, PPB said. Hammers, a crowbar, bear spray, a sock with rocks in it called a slugging weapon, slingshot and knives collected were photographed by police.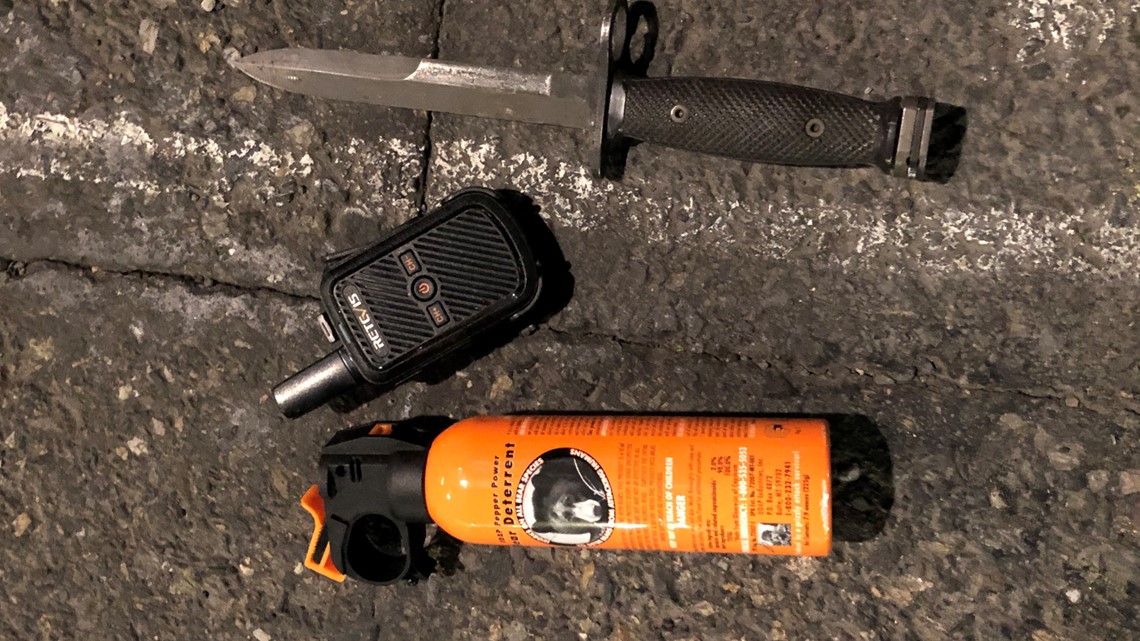 While bystanders were observing the police kettle, PPB said a group approached the outside line of police "physically challenged officers" while people were still detained.
Police said rocks were thrown at them along with full beer cans, it was at this point police said officers used pepper spray and an impact munition to control the crowd.
Two suspects carrying guns and wearing body armor were taken into custody.
PPB said, in total, 13 people were charged with crimes.
Police used tear gas and munitions to control the crowd during that protest as well.
The main focus of tension over the last several months has been between demonstrators and DHS officers being stationed at the Federal Courthouse in downtown Portland. As well as the community calling for police accountability regarding violence against Black Indigenous People of Color (BIPOC).
Crowds gathered shortly after a fence surrounding the courthouse was taken down for the first time since last summer.
This culminated in a clash between groups of people with DHS officers Thursday evening -- ending almost two hours later -- in graffiti, damage to the courthouse and one arrest.
Portland police arrested Darby Howard, 22, on the steps of the federal courthouse for causing destruction during a separate demonstration in protest of a proposed pipeline project.
This is a developing story. Check back for updates.