PORTLAND, Ore. — A climber who fell 700-1,000 feet and was critically injured on Mount Hood was pronounced dead at a hospital on Tuesday, the Clackamas County Sheriff's Office said.
The sheriff's office identified the climber as 35-year-old Miha Sumi of Portland.
Three other climbers were with Sumi in the Hogsback area. Of those climbers, two were able to get down to Timberline Lodge with the help of rescuers.
"Both of them are upset. They appear to be physically and mentally exhausted, which I think is a normal reaction to an event like today," said Sgt. Brian Jensen with the Clackamas County Sheriff's Office.
The other climber in the group suffered a serious injury that authorities do not believe is life-threatening. However, Jensen said the climber was not able to walk and was being taken down by sled. She arrived at Timberline shortly before 8 p.m.
A second group of three climbers also made their way down the mountain with the help of rescuers.
More: Crews face dangerous conditions to rescue 6 climbers
Rescue crews worked quickly to get the two groups to safety as rough weather was expected on the mountain early Wednesday morning.
The rescue effort began after Sumi fell in the Hogsback area at around 10:30 a.m. Tuesday, the sheriff's office said. That's at an elevation of approximately 10,500 feet.
A Black Hawk helicopter crew arrived from Salem and reached the group of climbers around 1 p.m. A paramedic was lowered to the mountain, and loaded Sumi into a secure stretcher. Sumi was lifted into the helicopter at 1:35 p.m. and flown to a Portland hospital where he was pronounced dead.
Photos: Injured, stranded climbers rescued on Mt. Hood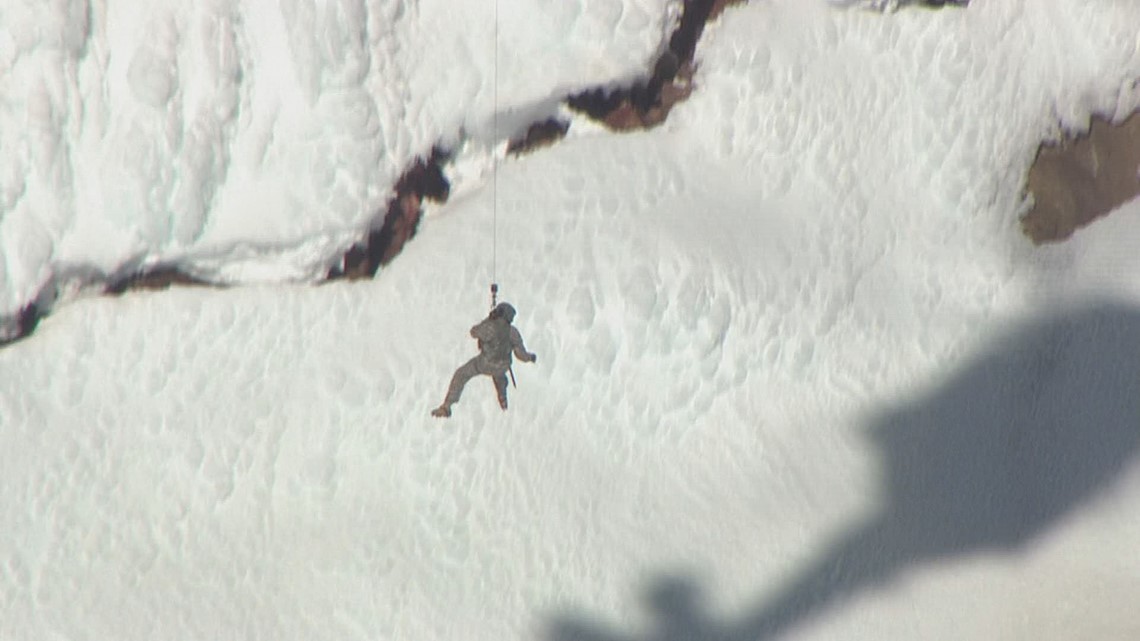 Office of Emergency Management officials confirmed that Sumi was on the way up to the summit, without using ropes, and fell 700-1,000 feet. Three other members of that party performed CPR until the helicopter arrived.
Approximately 40 rescue volunteers were at the scene. Crews from Portland Mountain Rescue, Mountain Wave Search and Rescue and the Air Force Rescue Squad were on the mountain. Another helicopter crew from Naval Air Station Whidbey Island also responded to search for additional climbers.
Steve Rollins of Portland Mountain Rescue says Hogsback is the most popular climbing route on the mountain.
"Hogsback is a steep spine that goes from the crater of the volcano up toward the summit, approximately 800 feet in length," Rollins said.
Rollins said a fallen climber is not an uncommon occurrence this time of year.