CANNON BEACH, Ore. — Thanks to social media, a drone, and lots of caring people, a dog stranded overnight on a cliff on the Oregon coast is back home safe.
The dog, a 2-year-old border collie named Felix, was walking with his owner, Sarah Stremming, on a trail in Ecola State Park on Christmas Day when he disappeared.
Stremming and a group of friends spent the night looking for Felix, but were unable to find him. So Stremming posted on Facebook that they needed help to find him, and the message eventually got back to Hamlet Fire Chief Matt Verley, who just happens to be a drone operator.
On Tuesday, Verley went out with his personal drone to search the cliffside for Felix.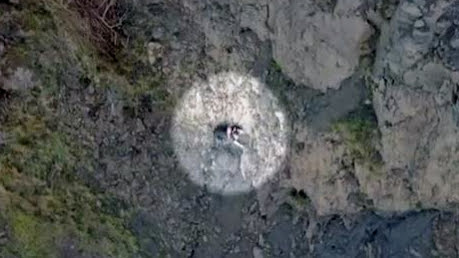 "It's easier to put a flying object out there to put eyes on it before we send someone over a 300-foot embankment hanging from a rope. It's a great tool for us to use before we send people over," said Cannon Beach Fire chief Matt Benedict.
They found Felix within about 10 minutes. Seaside Fire Lieutenant Genesee Dennis then retrieved the dog from a precipice 60 feet from the crest of the Clatsop Loop trail.
It was Dennis' first rescue since he gained his certification a year ago.
The high-angle rescue that was steeper and required more climbing than usual took about three hours.
The most difficult part about the rescue was the fact that Felix was a dog, Dennis said.
"You can't reason with a dog, and they can't really help," he said. "At one point he slipped out of his harness, and I was basically bear hugging him, with no available hand holds."
Felix was able to walk out on his own, where he was reunited with his relieved owner.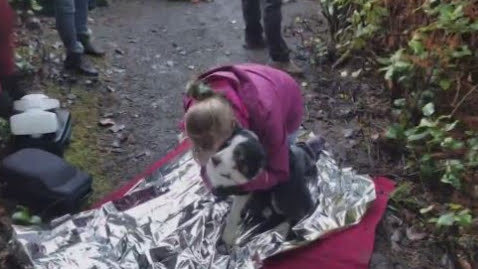 His owner posted on Facebook they will take him to the vet as a precaution. He appeared to be just tired and dehydrated.
The Associated Press contributed to this report.