We tested six vaping products. Here's what was actually in them
KGW News commissioned a Portland lab to test three THC cartridges, a Juul pod, a VQ pod and a CBD cartridge. Here's what we found.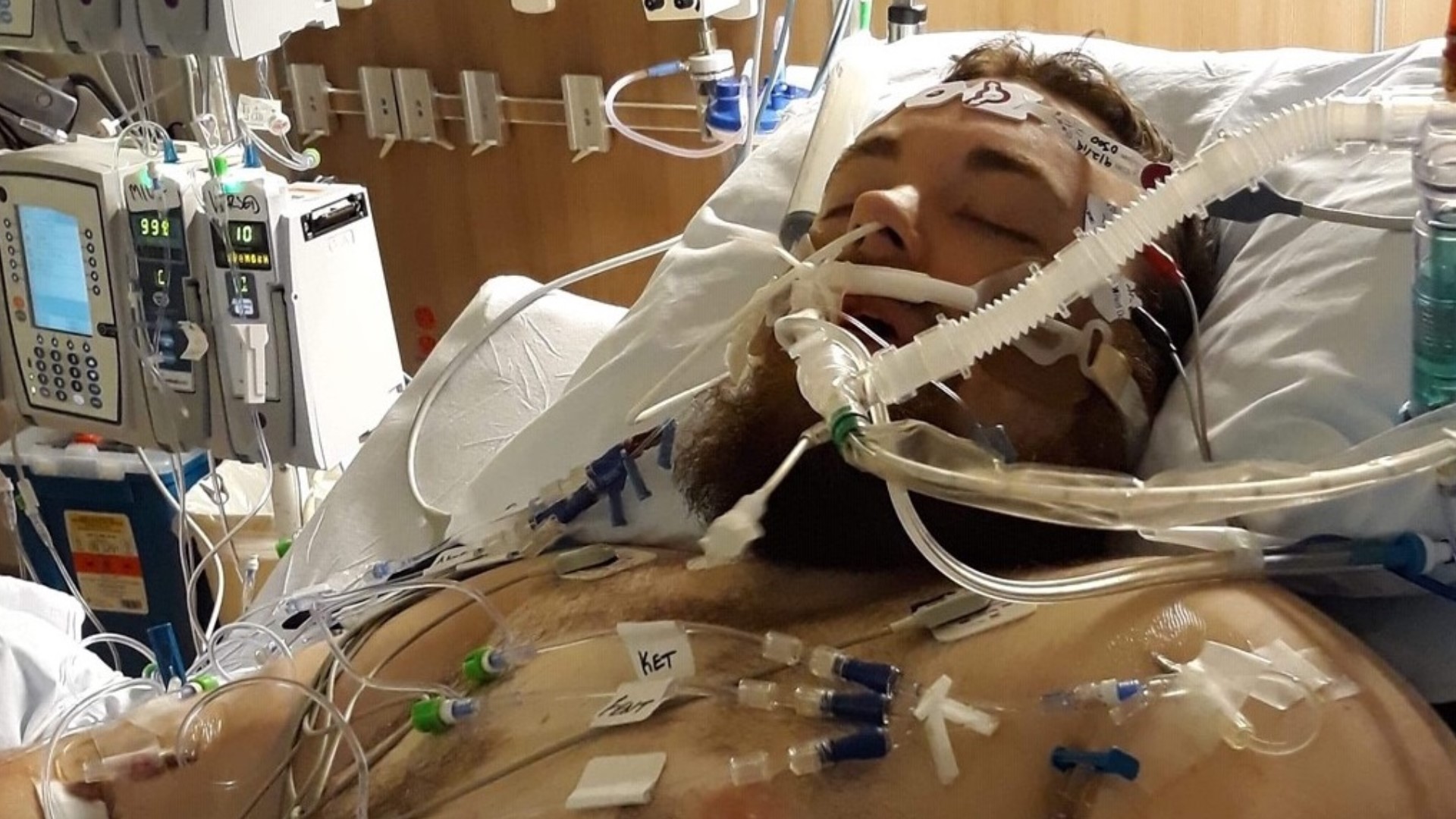 Justin Wilson was hanging out with his friends earlier this year when he suddenly stopped breathing. He splashed water on his face, and quickly realized he was turning blue.
He was hospitalized and doctors placed him into a coma, but they couldn't figure out what was wrong with him.
His health at one point was so dire, his dad was asked to talk to the hospital's chaplain. After he woke up, he was told he had fatty lipids in his lungs, and he was diagnosed with vaping toxicity, a severe lung disease most likely caused by vaping.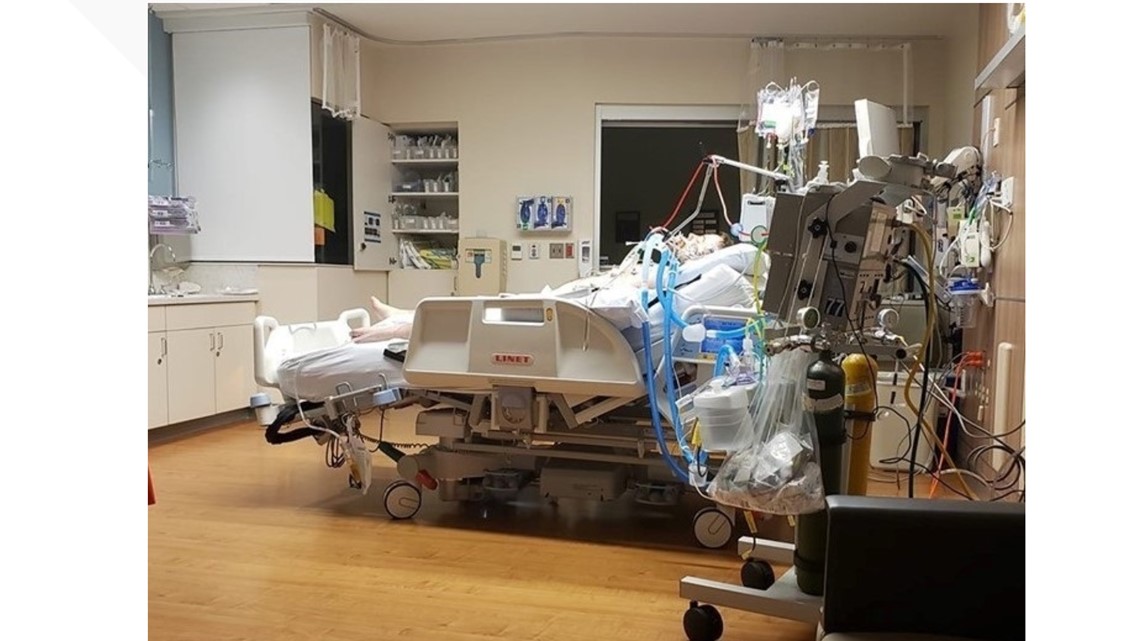 Wilson is one of more than 1,800 people nationwide who have been diagnosed with a mysterious vaping-related illness since August 2019, according to the Centers for Disease Control.

Others weren't so lucky. Thirty-seven people have died from the illness, two of whom are from Oregon.
At this point, doctors still don't know what exactly is to blame for the illnesses and deaths.
"I know that people who are not vaping are not getting this," Jake Wilson, Justin's dad, said.
We spoke to several experts and conducted our own lab tests on vaping products in hopes of getting a better understanding of what's causing this epidemic.
Vaping industry surges
:
Justin Wilson is just one of millions of Americans who uses e-cigarettes or vaping pens to help them quit smoking.
He started vaping with a Juul pen about a year ago, and occasionally used THC cartridges as well.
"[Vaping] was a safer alternative and I thought I could avoid the terribleness that cigarettes gave you by switching to a Juul," he said.
According to the Food and Drug Administration, the promise of e-cigarettes as a "safe" alternative to smoking cigarettes has been heavily marketed by some vaping companies, and the multi-billion dollar industry has ballooned in size in that time, mostly thanks to lackluster regulations by the feds.
Vaping steadily gained popularity over the years, but it wasn't until 2017 that a brand-new product on store shelves would change the face of the industry – and the face of who vapes.
The popularity of Juul, a trendy product that's as small as a USB thumb-drive and looks like something designed by Apple, soared among teenagers.
Dr. Bowerfind with The Oregon Clinic in Portland said many of these young people weren't addicted to smoking or had even touched a cigarette before they started vaping.
"I think the initial intent [of vaping] was to foster a new nicotine delivery system that would help people quit smoking, but I think what it's actually doing is giving rise to a whole new generation of nicotine addiction," Dr. Bowerfind said.
And in comparison to that industry, cigarettes were around for about 50 years before the Surgeon General revealed just how dangerous they can be.
The vaping industry is still relatively young.
"The key message here is that safer doesn't mean safe," Dr. Bowerfind said of vaping as compared to cigarettes. "We just don't know enough about the long-term effects of vaping."
It's also important to keep in mind the rise of e-cigarettes happened at the same time as marijuana legalization in several states. The sales of cartridges with THC oil (the psychoactive ingredient in cannabis) grew exponentially in states like Oregon and Washington amid a legal market.
Investigators still don't know what product is causing the rash of vaping-related illnesses; those who have gotten sick mostly used cartridges with THC, while a smaller number used only nicotine e-cigarettes.
Some patients used a combination of both.
Putting vaping products to the test
:
KGW commissioned a Portland-based lab, Lightscale, to test 6 different vaping cartridges. We bought three THC cartridges at legal dispensaries, one CBD Mango cartridge at a tobacco shop, one Juul and one flavored VQ brand cartridge that fits into a Juul pen.
While all the products bought at dispensaries in Oregon are required to be tested by the state, labs don't test for additives or flavors.
In New York, investigators found some manufacturers were using Vitamin E acetate to "thicken" up their products, doubling their products and profits. While it's completely safe to swallow or apply to skin, Vitamin E acetate is extremely dangerous to breathe in, and can be toxic to the lungs.
Labs like Lightscale and dozens of others across Oregon were not testing for Vitamin E acetate until recently because they didn't know to look for it. Lightscale developed the test for Vitamin E after several clients reached out and asked them to test their products.
In our tests, Lightscale Labs tested for 130 common and problematic chemicals, including pesticides and carcinogens, as well as Vitamin E acetate. We also had another partner lab test for heavy metals.
The results showed all three THC cartridges and two nicotine cartridges passed state standards.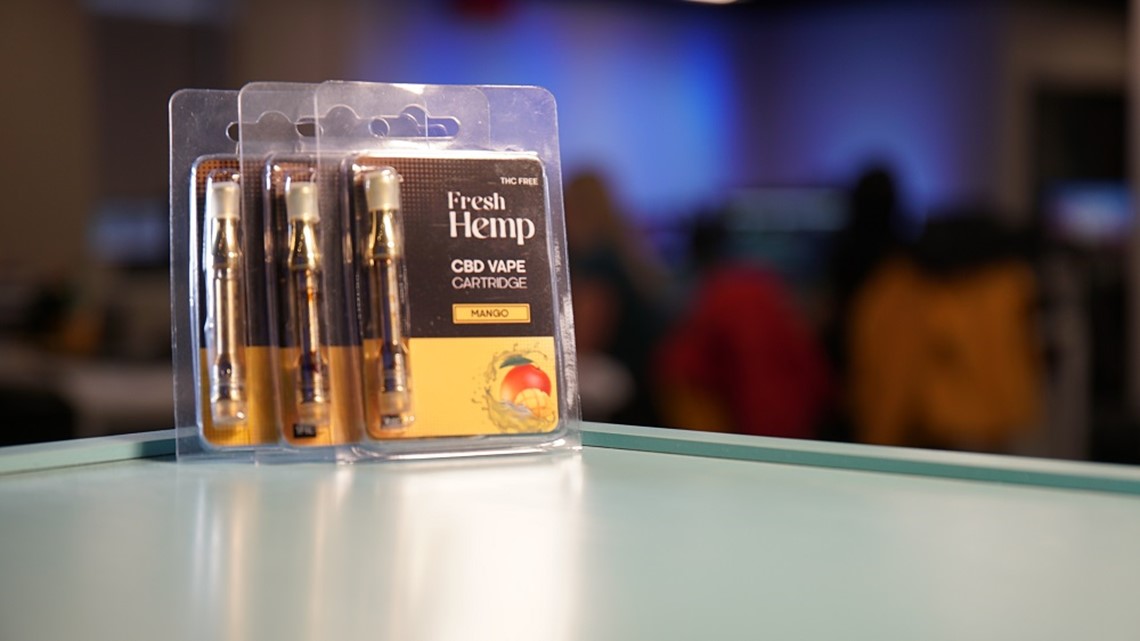 The CBD Mango cartridge didn't contain any CBD in the first place and had an alarming amount of lead in it. There are no federal standards for the amount of lead allowed in vaping products, but California has set limits. Our sample tested 800 times over that limit.
"It's very, very toxic," said Kidd.
The lead finding especially concerned Kidd because the product was bought at a tobacco shop without even using an ID.
"These types of shops exist across the country," Kidd said. "I imagine there are many other products like this not only in Oregon but in a lot of other states which is what we've seen."
The company couldn't be reached for comment, and the store where we bought that product had already pulled it off its shelves because customers complained that it tasted bad.
Kidd said while the raw oil is tested, no one is testing the cartridges once they are filled.
"There is no testing that is conducted once the cartridge has been filled with oil. So we test the raw oil prior to packaging," Kidd said. "[To improve safety, we could] figure out a way to have testing post packaging because these cartridges can sit around for weeks and maybe months. The oils inside of them are chemicals, and depending on the design of the cartridge, the oil could interact with metals and the cartridge and potentially corrode, which would lead to leeching of metals into that oil."
Despite passing the test, Kidd said one of the VQ Strawberry Milk nicotine pods was corroded when it was opened up for testing.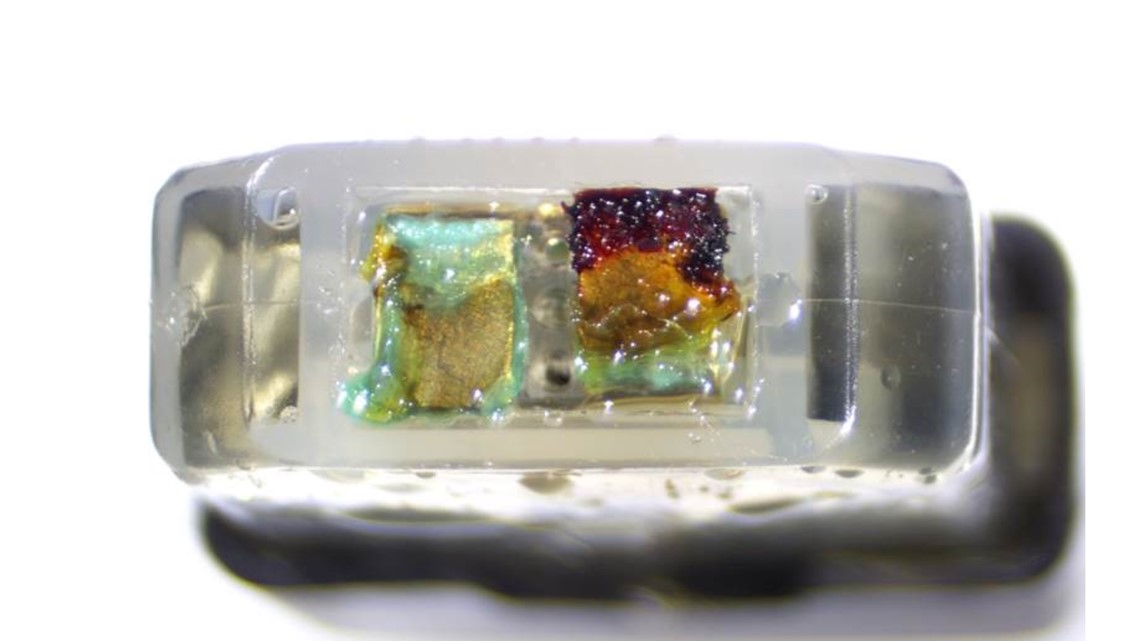 "The corrosion has been caused from the oil seeping through this electronics compartment and onto these electrodes," said Bryce Kidd, the lab director at Lightscale. "There's potential for that corrosion to go back up through the cartridge. It's especially not going to be good to handle and smoke"
KGW News reached out to VQ Pods for comment last week, but we haven't heard back.
"A chemical experiment in the body"
:
There are a lot of unknowns when it comes to the act itself of vaping. We still don't know what happens when all these chemicals are heated inside of a vape pen and breathed into the lungs, Dr. Bowerfind said.
"An analogy to this would be cigarettes. Cigarettes are allowed to have up to 600 different chemicals in the cigarette itself. But when you light this cigarette, you're creating 6,000 to 7,000 different chemicals with that combustion and about 60 to 70 of those chemicals are known carcinogens in human beings," Dr. Bowerfind said. "It can be assumed that similar issues are taking place there with different ingredients in electronic cigarettes."
Researchers at Portland State University have studied what happens to the liquid from a Juul pod when it's heated and vaporized. They found Juul vapors can be damaging to cells.
"There's plenty of preliminary evidence from there and from many other labs around the country that show these products are not nearly as safe as advertised," said PSU professor Robert Strongin.
The bottom line for Dr. Bowerfind is, avoid vaping at all costs, especially if you're not a smoker in the first place.
"With regard to non-smokers or people who don't have any experience with cigarettes, the message is, absolutely do not touch these things," Dr. Bowerfind said. "It's just not worth doing that chemical experiment in the body."
Searching for a cause
:
Though a cause to these vaping-related illnesses remains unknown, doctors across the country seem to agree on one thing: there appears to be no single cause.
"I think that it's likely going to be the effects of taking all of these individual ingredients, heating them up, and creating toxic substances," Dr. Bowerfind said. "I think that we may find that there's a number of different causes because there are a number of different ingredients that are being used and it's likely that it's not going to come down to a single substance, but rather the combination."
And Justin Wilson's dad, who just a couple of months ago thought his son would die of vaping toxicity, thinks everyone should stop vaping until we uncover the cause.
"Until we know what's causing it or if it's a certain product or if it's a certain chemical or a certain additive," Jake Wilson said, "you're rolling the dice every time."