PORTLAND, Ore. —
Life is stressful for everyone right now. Some people are working from home while trying to balance distance learning for their children. Many people have lost their jobs, while others don't have the luxury of jobs they can do from home.
Sandra Luna, the secretary at Woodlawn Elementary School in Northeast Portland, can relate.
"It's been stressful," said Luna. "Cooking, cleaning, and still finding time for them to play, I think has been stressful."
Luna is a mom or stepmom to seven kids.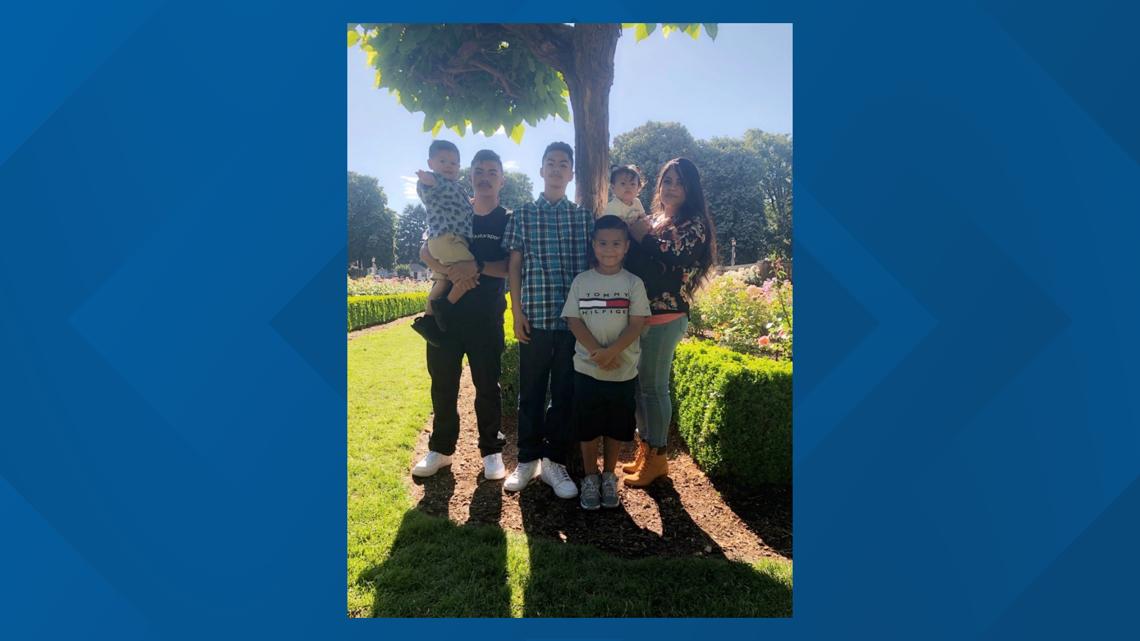 She is working from home and trying to help both the school's students and her own kids, like Woodlawn second-grader Angel, navigate this new world of online school.
"I miss my friends. I miss my teacher. School, I mean school at home, it's kind of hard because all my siblings are just yelling, and I can't do nothing," said Angel.
Luna and her family have another cloud hanging over them during this pandemic – she's an undocumented citizen.
She first shared her story during an episode of "Inside Woodlawn," KGW's year-long series about life inside the elementary school. Luna's mother brought her the U.S. illegally from Mexico as a 1-year-old. She's allowed to live and work here under the Deferred Action for Childhood Arrivals program, also known as DACA.
There are 700,000 people in the United States who were brought here as children, also called "dreamers," who are allowed to stay in the U.S. under DACA.
"I don't feel any different than anybody here in the U.S. I feel just like everybody else. My life runs the same way. I get up to go to work. I pay all my bills, pay rent, they take taxes from my paycheck," Luna said. "I don't feel any different other than what makes me different is that work permit and a Social Security card."
The future of the Obama-era program is up in the air as the Supreme Court is expected to decide if it can continue before it expires in June.
And now, the immigration debate is at the forefront of the coronavirus conversation after President Trump tweeted about plans to temporarily suspend immigration to the United States.
The president later clarified the 60-day pause on immigration would include exemptions like farm-workers.
Luna said these policy changes make undocumented families, already worried about sharing information, even more hesitant to ask for help.
"I have so many families who I want to reach out just for simple WiFi help. They ask questions, well do we need to apply for something? What type of information do they need from us? It's like they rather not get the help and be safe than getting the help and suddenly somebody coming and breaking their door down," said Luna, referring to Immigration and Customs Enforcement officials.
According to the agency, ICE enforcement has also been impacted by COVID- 19. They have implemented the following changes:
T

here are no in-person or at-home checks

currently

.

The agency is still monitoring

individuals

by phone.

ICE

enforcement and removal operations

are

focused on public safety risks and individuals subject to mandatory detention based on criminal grounds.

E

nforcement actions will be delayed for people who do not fall into those categories.

ICE

will not carry out enforcement operations at or near health care facilities, such as hospitals, doctors' offices, or urgent car

e facilities.

700 individuals have been released from ice custody during COVID-19. However, a

federal judge

in California recently

ordered

ICE

to consider releasing all at risk detainees, regardless of their legal status

.
For the Luna family, the uneasiness of living life won't stop when this crisis is over.
"It's just hard being undocumented," she said.