PORTLAND, Ore. – A massive composting facility in Tualatin that has racked up a mountain of odor complaints must shrink the size of its compost pile, although the facility owner doubts that will curb the smell.
Neighbors have complained for years about Grimm's Fuel, which collects yard debris and turns it into compost. Over the years, the size of the compost pile has grown, as has the smell that emanates from it.
Drivers on Highway 99W can now clearly see the towering pile of compost from the road, an approximately 80-foot-high brown, sometimes steaming mound near sleepy neighborhoods in the suburban town.
People say that they can smell the odor miles away.
"It's either a chemical smell, a manure smell, there's a sickly sweet smell, and not in a good way," said Janine Wilson, who lives in a development near Grimm's and belongs to a grassroots group called Clean Air Safe Environment to address the odors.
"Today, our livability is gone," said Wilson's neighbor, Ted Saedi.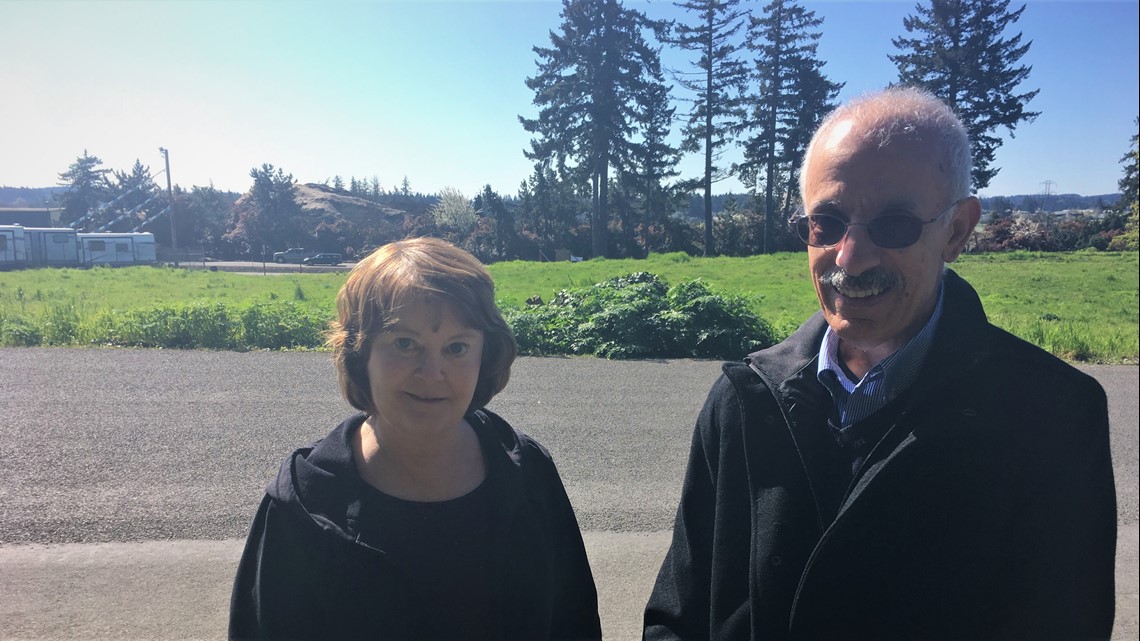 The facility has a solid waste permit from the Department of Environmental Quality and a license to operate through Metro. Both agencies have said the facility complies with their regulations, even though DEQ records show dozens of complaints about odor and air quality related to Grimm's.
But Grimm's violated local and state fire codes, which means it violated its DEQ permit, a spokesperson for the agency said.
"As a condition of its permit from DEQ and license from Metro, Grimm's must comply with all local codes and requirements," said Laura Gleim, spokesperson for DEQ.
In March, DEQ told Grimm's it was out of compliance with its permit, because it didn't report five fires in 2016 and 2017. The facility also polluted stormwater and didn't test the compost enough for oxygen, moisture and temperature, DEQ records show.
On May 2, Tualatin Valley Fire and Rescue told Grimm's that its compost pile was too high and violated Oregon Fire Code.
Steve Forster, the Fire Marshal for Tualatin Valley Fire and Rescue, said the fire department has allowed Grimm's to have such a big pile because it was "grandfathered," as the pile existed before regulations changed. But other cities in Oregon were re-evaluating similar businesses and the DEQ and Metro asked TVF&R to look at Grimm's again.
"Historically because the business had been there for so long we kind of considered it a grandfathered situation," Forster said. "But other fire departments were looking at it differently so DEQ and Metro asked us to take a comprehensive look at Grimm's and reach a formal determination on it which we did. We determined the restrictions can be applied retroactively to existing facilities."
Grimm's now has until May 2019 to reduce the compost pile to 25 feet in height.
Jeff Grimm says DEQ has been trying to get the facility to lower its pile height for at least four years and finally found a way to do that through this code violation.
He said a lower pile height means Grimm's will have to turn the compost more, creating even more odors.
"My main thing is, I don't care – it doesn't matter – it just creates more odors and more problems for the neighbors," he said.
Grimm said the new pile size means he will have to turn the compost a few times a day, instead of only on days when the weather conditions keep smells down.
The company may also change the way it composts waste, but Grimm said a method where he spreads the compost out instead of piling it high would take far more land than the three acres the facility currently sits on. He believes neighboring residents won't allow his facility to expand.
"We're going to need a lot more land to do that now," he said. "We'll need a conditional use permit to expand. [The neighbors] say, 'Oh we don't want to run Grimm's out of business, we just want them to change their methods.' Changing the methods could create more odors than we have now. They really want us to change our methods thinking the government won't allow us to do that, so in effect they're really trying to shut us down."
Grimm's is in the process of adding air filters at the facility. Metro also hired a consultant to recommend changes to the facility to further reduce odors. Those recommendations will be made this summer.