PORTLAND, Ore. — Hidden behind the slats of a chain link fence sits an RV Safe Park village for homeless Portlanders. The parking spaces are paved and painted. It's move-in ready.
So, six months after completion — why isn't it open?
"It's a brand-new model," explained Denis Theriault, spokesperson for Multnomah County, "that's taken a little time to figure out."
The site, located near the Portland International Airport on Sunderland Avenue in Northeast Portland, will be the only one of Portland's six planned Safe Rest Villages for those living in RVs.
In February, the Joint Office of Homeless Services, which combines city and county resources, announced the Salvation Army would operate the site.
"This is probably the most complex program that we've engaged in," said Bob Lloyd of the Salvation Army. "Trying to anticipate all of the issues surrounding bringing in RV units that are generally speaking, pretty dilapidated and in very poor condition."
The Salvation Army is still working with the city and county to finalize an anticipated five-year contract and budget, Lloyd said. Additionally, the shelter operator must figure out rules of conduct, intake policy and logistics for the RVs.
"We trying to anticipate issues surrounding controlling pests and we're trying to anticipate any potential issues with leakage from the RV units," explained Lloyd. "We need to make sure that these units are not hemorrhaging oil, fuel or other chemicals."
The Salvation Army is currently working to hire staff and hopes to have the site open by early June.
"I think they could be moving a lot faster," said David McMurtry, an unhoused Portland resident.
Once open, the RV Safe Park village will help connect people to supportive services and permanent, supportive housing, Lloyd explained.
There's urgent need for an outdoor shelter and safe RV parking. In total, there are 5,228 people experiencing homelessness in Multnomah County, according to a recent count. Of Portland's unsheltered, 20% reported living in their vehicles.
Dozens of RVs, trailers and other vehicles line Northeast 33rd Drive and the streets near the Safe Park site.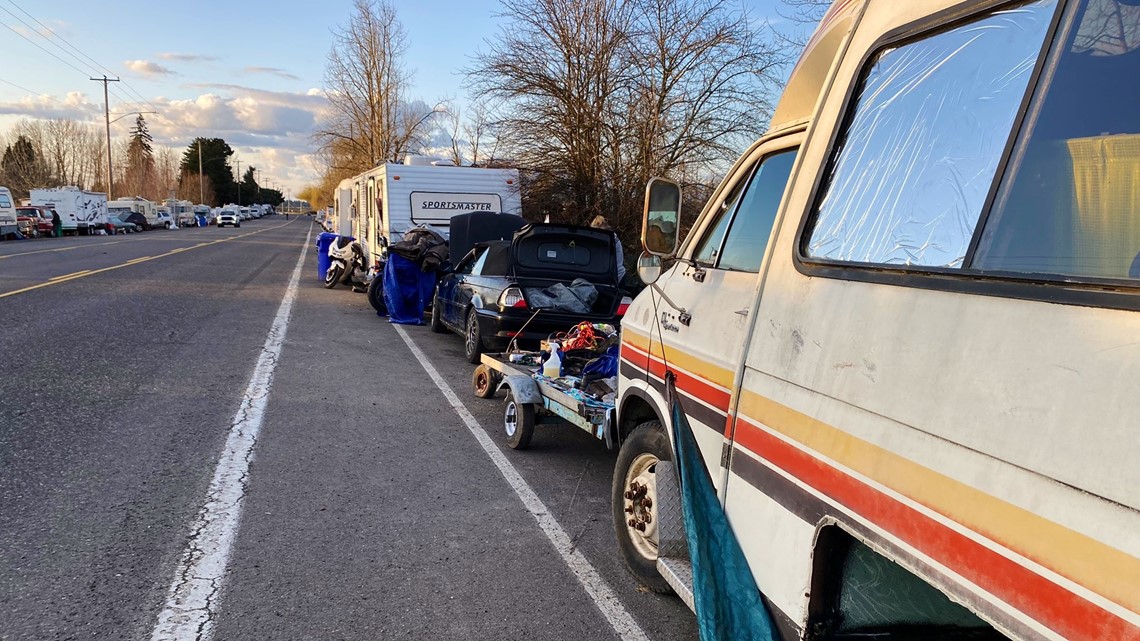 "It's like — when are you guys going to open?" asked Becky Van Zandt, outside of her RV parked on Sunderland Avenue.
Van Zandt believes that moving into the Safe Park village next door would give her stability and a greater sense of security.
"That would be a really big relief, because every two weeks we have to move," explained Van Zandt.
The City of Vancouver operates a similar safe parking site at an old bus transit center. The Vancouver Safe Parking Zone, which began operating at the Evergreen Transit Center in June 2020, has more than 50 spaces for cars and RVs. It took Vancouver less than one month to set up the site, explained city spokesperson Tim Becker.
"We have been ambitious since the start with goals, and have been working with all urgency to get each of our sites open as soon as we can," explained Bryan Aptekar, community liaison for Portland's Safe Rest Villages in an email to KGW.
Theriault of Multnomah County added that the RV Safe Park village is one of many projects underway aimed at addressing homelessness and affordable housing.
"There's a lot of moving parts right now. There's a lot of resources and a lot of attention going in all directions because we have to respond to the crisis at hand," said Theriault.
For those living on the street, what was intended to be an urgent response feels like it's turned into a crawl.
Portland Commissioner Dan Ryan initially said that all six Safe Rest Villages would be up and running by the end of 2021. It took until June 2022 for the first to open.
If the Sunderland RV Safe Park opens in June, it would be the third Safe Rest Village site to host residents.
Theriault argues that it's important to get things done right.
"The worst thing that could happen is that you rush something, get it open and then there are problems, there are challenges, things don't work and you have to close the program," explained Theriault.