PORTLAND, Ore.— Small business owners in 20 different states have filed complaints against an Oregon-based marketing company.
They claim the company, Planning Folders, never produced the advertising they paid for and refused to provide a refund.
Planning Folders says they create glossy folders for event venues, and sell ad space on the inside of the folders to promote other businesses. When the venues distribute the folders to visitors, the ads catch the eye of prospective clients.
"We had great hope and faith in this company to deliver," said Moriah Gould, who owns MAM Photography in Tulsa, Oklahoma. "It is very disappointing."
KGW obtained 37 consumer complaints against Planning Folders from the Federal Trade Commission, filed between March 2017 and April 2018.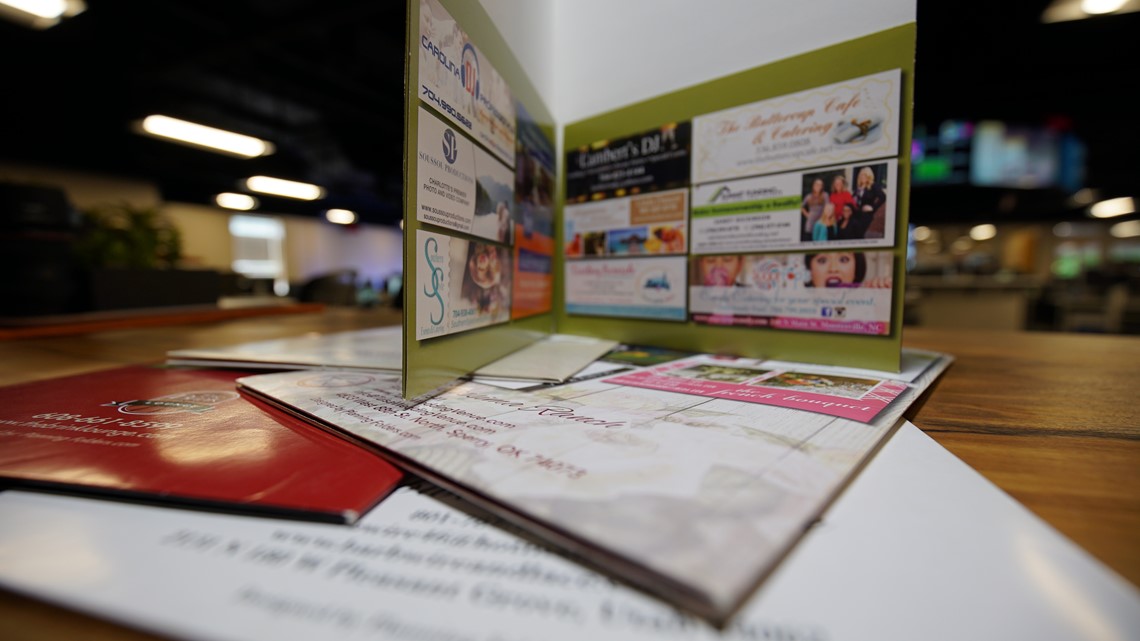 "I cannot believe they are still allowed to be in business," said Gould.
Planning Folders operates out of a nondescript storefront in a Cedar Hills strip mall, tucked between a sports bar and convenience store. There is no sign on the front door and the windows are mostly concealed.
KGW visited the office and found a handful of employees working the phones.
Customers say Planning Folders contacted them unexpectedly through cold-call sales pitches.
"They said they were creating ad space and creating these folders," said Sarah Moore of Memphis, Tennessee. "They were very aggressive. They called me two or three times before I actually said yes."
Moore, who owns Green Bridal Boutique said she paid $1,495 to Planning Folders and received nothing in return.
Gould, who said she's on the national Do Not Call list, received an unsolicited phone call from Planning Folders in July 2017. The salesman suggested he was with a local wedding venue, said Gould. He wanted her to be the venue's wedding photographer and have her advertisement appear in a folder handed out to brides touring the property.
"I thought it was a great venue," said Gould. "I had no idea he was from Planning Folders."
Many customers said they were enticed to buy ad space because they were promised exclusive advertising rights.
"They were very big about -- you are the only photographer, so if you if want it, you need to do it now," said Haley Hill of Dallas, Texas. "They are pushy. They want to get your money fast."
Hill, who owns Haley Katherine Photography, said she never saw her advertisement or the folders.
"I paid $600 to get nothing but a headache," said Hill, who explained she called and emailed Planning Folders repeatedly.
"The communication started out as spotty and then just sort of blanked into nothing. I had to fight to get ahold of anybody," said Hill.
Other customers said they too got the runaround from Planning Folders after inquiring about their order.
"They said, 'Sorry, we're very behind,'" explained Larry Aridas of Windemere, Florida. "Behind? It's been a year already."
The real estate agent said Planning Folders refused to refund his money and too much time had passed for his credit card company to reverse the charges. Records submitted to the Oregon Department of Justice suggest Aridas lost $495 in the deal.
The Better Business Bureau gives Planning Folders the lowest rating possible.
"An F rating is something we don't like to issue unless we absolutely have to," said Stephen Mayer, spokesperson for the BBB in Oregon.
Additionally, the BBB has posted two alerts on its website warning customers about complaints alleging Planning Folders is not fulfilling the services as advertised.
"It's not just that we've gotten complaints. They really haven't made a good faith effort to respond and resolve those complaints," said Mayer of the BBB.
Planning Folders LLC was established in August 2016 by Daniel Huerta, according to records filed with the Oregon Secretary of State's office.
Huerta declined an on-camera interview with KGW, but was willing to discuss his business operations off-camera.
Huerta said Planning Folders ran into financial trouble in early 2017 due to a change in processing fees associated with credit card companies. As a result, orders were delayed.
Huerta estimates 75 accounts with Planning Folders are behind schedule, with some orders delayed nine to 10 months.
"I want to deliver on what we can deliver on," said Huerta.
Several customers provided a conflicting account, telling KGW they haven't seen any advertising or folders after waiting more than a year.
The owner of Planning Folders said he can't afford to refund all of his customers, but would like to eventually make things right.
"The money is just not there," said Huerta.
Because of the backlog, Huerta said Planning Folders is no longer taking orders on folders. Instead, employees are focused on selling and creating graphic artwork.
The Planning Folders website has been taken down but Huerta confirms his company is advertising on a similar looking website with a new name, WeddingFolders.com.