PORTLAND, Ore. — At a gun range in Canby, EAGL Technology contractors swapped between handguns and rifles— firing shots down range to see what the gunshot detection sensor picks up.
"Oh yeah, we got it," said Chuck Freiberg, EAGL Technology national sales director and the man watching the computer for gunshot detection data. "It alerted, ridiculously fast."
EAGL Technology is one of the companies vying for Portland's business, applying for a pilot program that would implement gunshot detection technology in the city.
Portland, like many cities, is reckoning with an increase in gun violence, trying to find new ways to address a swell of shootings.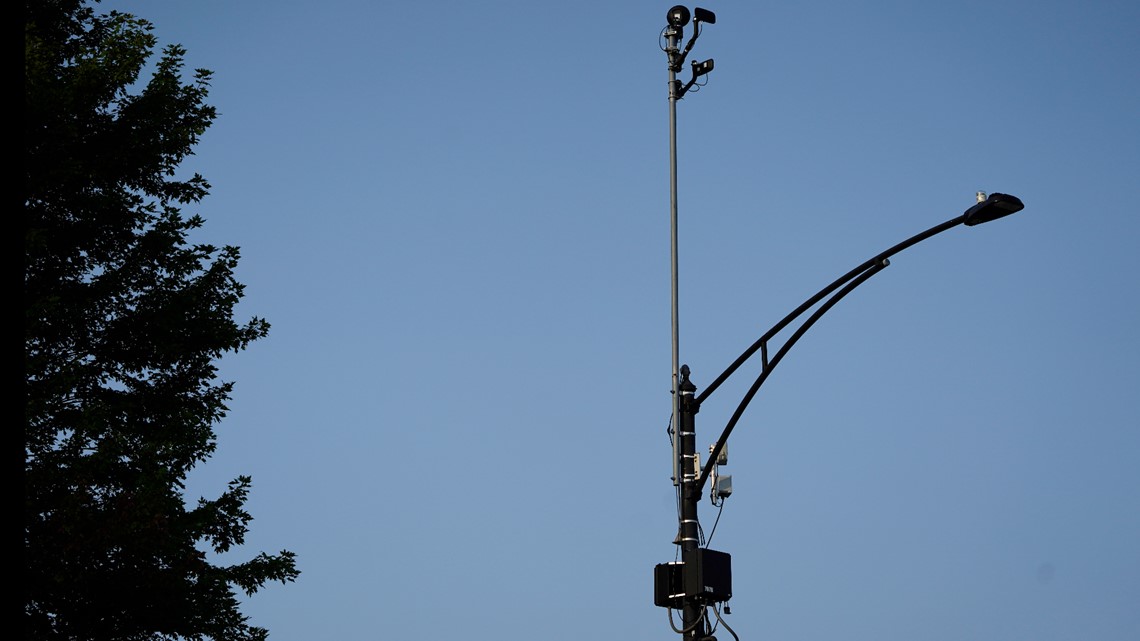 ShotSpotter is frequently praised by police leaders and is used by more than 135 cities across the United States, according to the company.
"That doesn't mean gunfire didn't occur, it just means an officer didn't find spent shell casings, didn't take the time to look, didn't have the time to knock on doors and talk to folks in the neighborhood to confirm it was gunfire, they have calls backed up so they go to the next call," said Ron Teachman, a ShotSpotter representative and former police chief, in a presentation to FITCOG on July 14.
After an extension, that process closed on Monday.
ShotSpotter representative Jerome Filip confirmed the company responded to Portland's RFP, saying "we are excited about the possibility of working with the Portland community."
An EAGL Technology confirmed it submitted a proposal by Monday's deadline, as well.
KGW reached out to the city of Portland asking for information about the proposals submitted but the city said it does not share proposal details, even through a public records request, until after a final decision is made.
On Tuesday afternoon, a Portland procurement manager responded to KGW's request for the list of companies or organizations who applied for the city contract.
In addition to ShotSpotter and EAGL, Flock Safety and Twenty20 submitted proposals for the city's consideration.
It's somewhat of a surprise that EAGL Technology is now in the running for the Portland contract.
EAGL representatives said they presented to representatives in the mayor's office in March and followed up throughout the summer, but were told Portland would be moving forward with ShotSpotter.
Through a public records request, KGW received email showing EAGL Technology representatives pitching the company's technology to Portland leaders in 2022.
"Apparently somebody in the Mayor's office paid attention to our outreach," said Freiberg at the gun range in Canby.
Freiberg said he viewed the city's decision to pause its plans with ShotSpotter and consider alternatives as a win for EAGL Technology, even if Portland leaders would not say why they made that call.
"We're the emerging technology competitor out in the marketplace that's making a lot of waves and being destructive in a positive way," he said.
EAGL Technology and ShotSpotter have one clear difference. ShotSpotter measures sound, while EAGL measures energy waveforms that are created when a bullet flies through the air.
"They're using acoustics in the area whereas we use time and space," Freiberg said. "That energy dissipates as it goes along, we calculate based upon how much energy is received at each of those sensors and we triangulate."
Freiberg said energy technology has a big advantage over acoustic technology, in that the public knows EAGL sensors aren't listening.
"One of the big drivers of sensor technology over microphone technology is privacy and the 4th amendment," he said.
In response to privacy concerns, ShotSpotter representatives have said its sensors don't record sounds that aren't gunshots, such as conversations
Both companies claim their technology filters out loud noises that aren't guns being fired.
ShotSpotter has experience providing gunshot detection technology to large cities around the country.
To cover gun violence in Portland, EAGL Technology would need to scale up.
Currently, its sensors are mostly used inside hospitals and schools, in addition to some suburbs outside of Chicago, Houston and Oklahoma City, according to Freiberg.
He said a Portland contract would be the largest contract the company has secured to date, but that doesn't worry him.
"We know our current existing outdoor technology can protect the citizenry of Portland just the way it does the parking lot of a large corporation, there's no reason why we can't scale up from the current suburbs we're doing now throughout the country to a major deployment like this," Freiberg said.
In its RFP, Portland is asking for transparency in the gunshot detection data by way of making it available to the public.
The city would also need to work with any company to decide where this technology should go. It's often too expensive to have a company cover an entire city and targeting certain neighborhoods can create concerns of over-policing.
"I think not putting unnecessary pressures on certain neighborhoods needs to be a key as well, the systems tend to go in places that are identifiable in different ways which I think is horrible," Freiberg said.
Portland is reviewing the gunshot detection proposals and plans to announce finalists and public hearings within the next two weeks.