PORTLAND, Ore. — The Nike Community Store in Northeast Portland is filled with neatly folded shirts, racks of athletic apparel and rows of Nike shoes — but no customers. The store quietly closed weeks ago and the company won't say when or if it will re-open. Nike corporate did not respond to three different emails.
"Closed for the next 7 days," Nike posted on its website. The same message has appeared since late October. Despite the notice posted online, customers show up at the store almost every day.
"There's nothing on the door. It doesn't say anything," said Carmelleta Nash-Pronold after finding the Nike store closed on a recent weekday afternoon. "Usually stores let you know what's going on."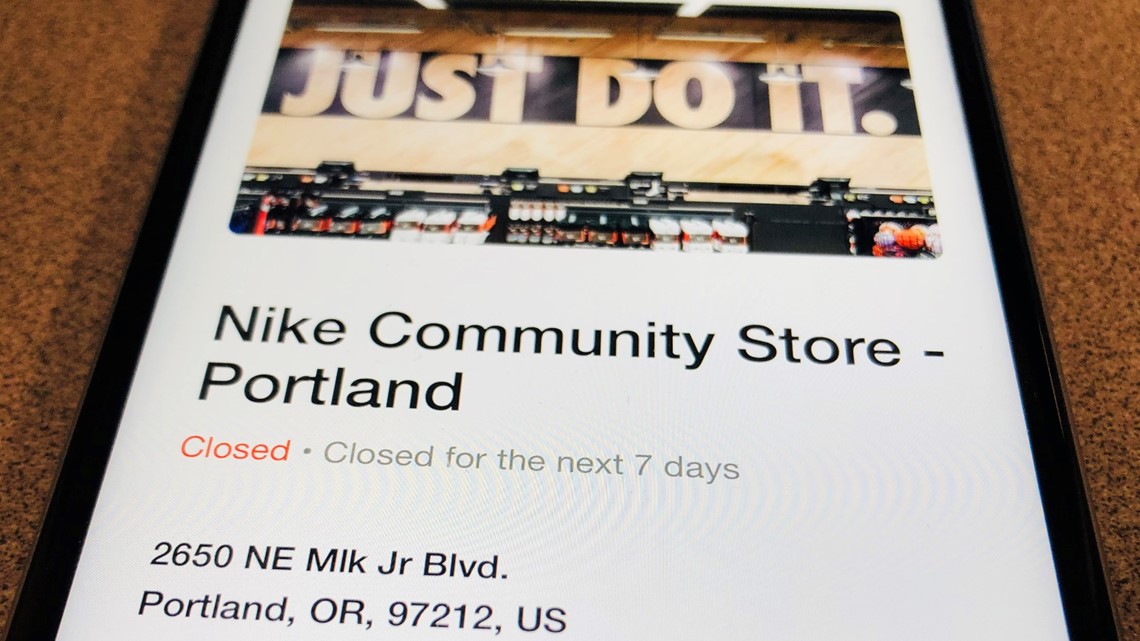 Several people associated with the Nike Community store said theft has always been an issue at the Martin Luther King Jr. Boulevard location, although recently shoplifting has risen to new levels.
Criminals have become more brazen — stealing armloads of Nike merchandise and walking out the front door with no fear of being stopped.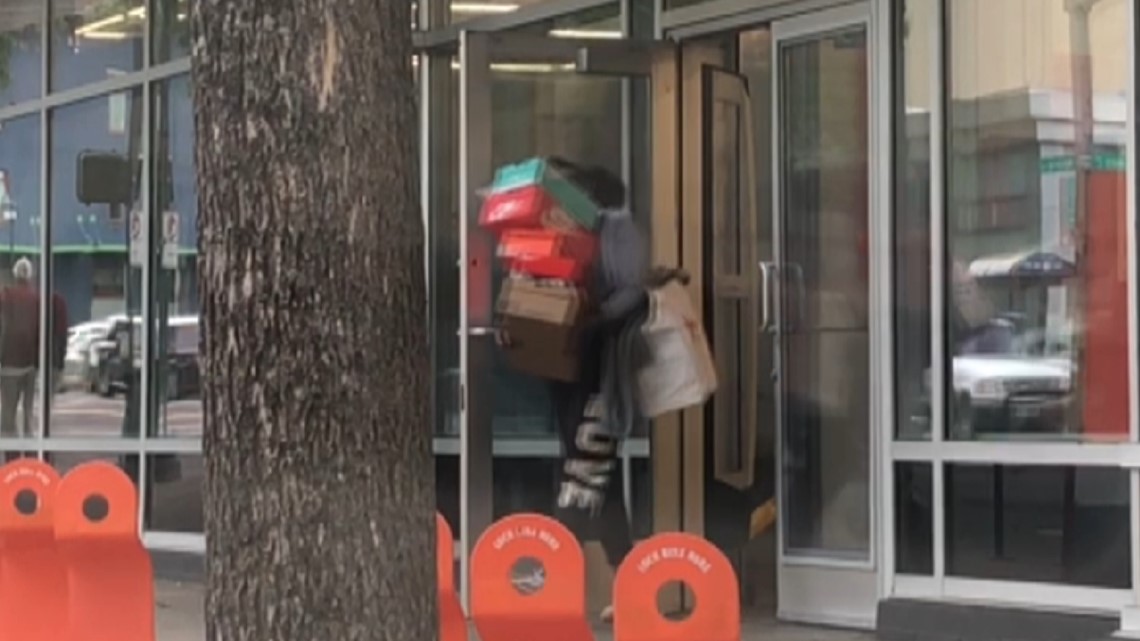 Security guards contracted by Nike admitted they are forbidden from physically stopping shoplifters. The strict policy, adopted by most major retailers, is intended to help protect employees and shoppers from harm. There's also a risk of lawsuit if someone gets hurt.
Surveillance video from the exterior of New Song Community Church, which sits kitty corner from the Nike Community Store, showed people fleeing the store this summer with stolen shoes and clothing.
"It's obvious that they've stolen something and they're looking to unload it somewhere," said Pastor Paul Greenidge of New Song Community Church.
Police and retailers complain shoplifting or organized retail crime is a citywide epidemic — largely fueled by drug addiction.
A KGW analysis of citywide crime data found that since 2019, the Nike Community store has reported 437 shoplifting cases to police — second only to the Mall 205 Target store, which reported 650 shoplifting cases.
Retailers believe Portland's shoplifting statistics are lower than actual figures because most stores don't bother filing police reports.
Over the past four months, several Portland businesses have closed their doors because of crime and security concerns, including a Cracker Barrel at Jantzen Beach and the nearby Stanford's Restaurant & Bar, plus a couple of Starbucks locations.
The Nike Community Store is especially noteworthy because of its history.
Portland community leader Ron Herndon and the Black United Front approached Nike 38 years ago and urged the company to build its first ever factory store on Martin Luther King Jr. Boulevard, then called Union Avenue. It was an area plagued by crime and violence.
"Many credit the development that began to occur on MLK to Nike's commitment," explained Herndon.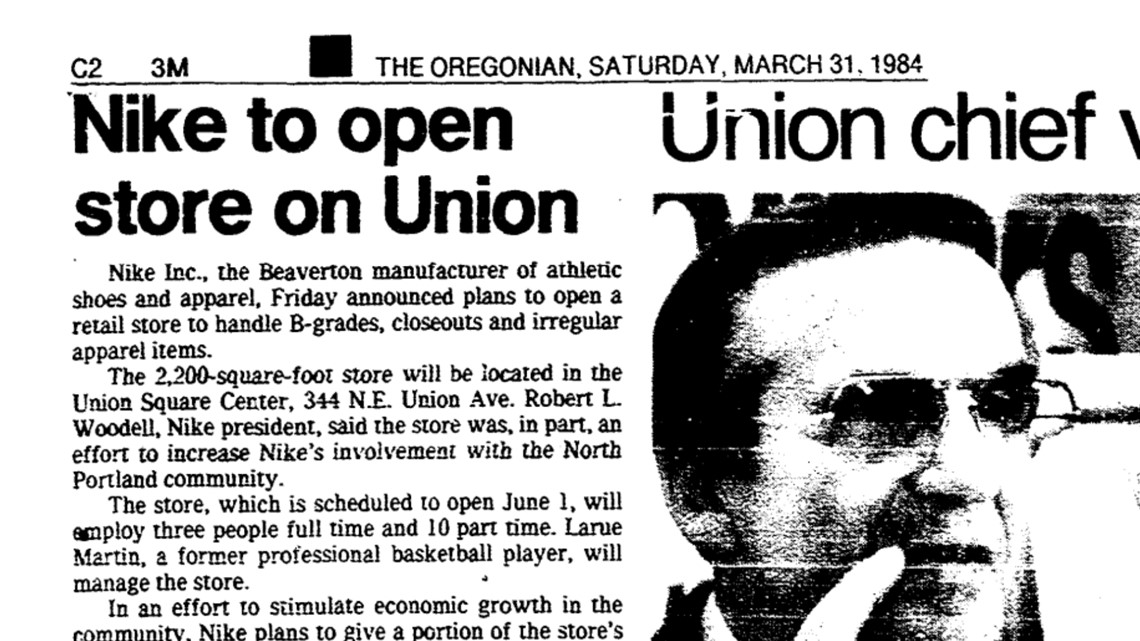 When the Nike Portland Factory Store opened in June 1984, it pledged to donate a portion of the store's profits to community-based nonprofits.
"Those who shop here and buy here, spend money here will have part of that profit returned back to the community," said a Nike executive in KGW archive footage of the store's grand opening.
The Nike Factory store was managed by former Portland Trail Blazer Larue Martin and sold "B-grades, closeouts and irregular apparel items," according to a March 1984 article in The Oregonian newspaper.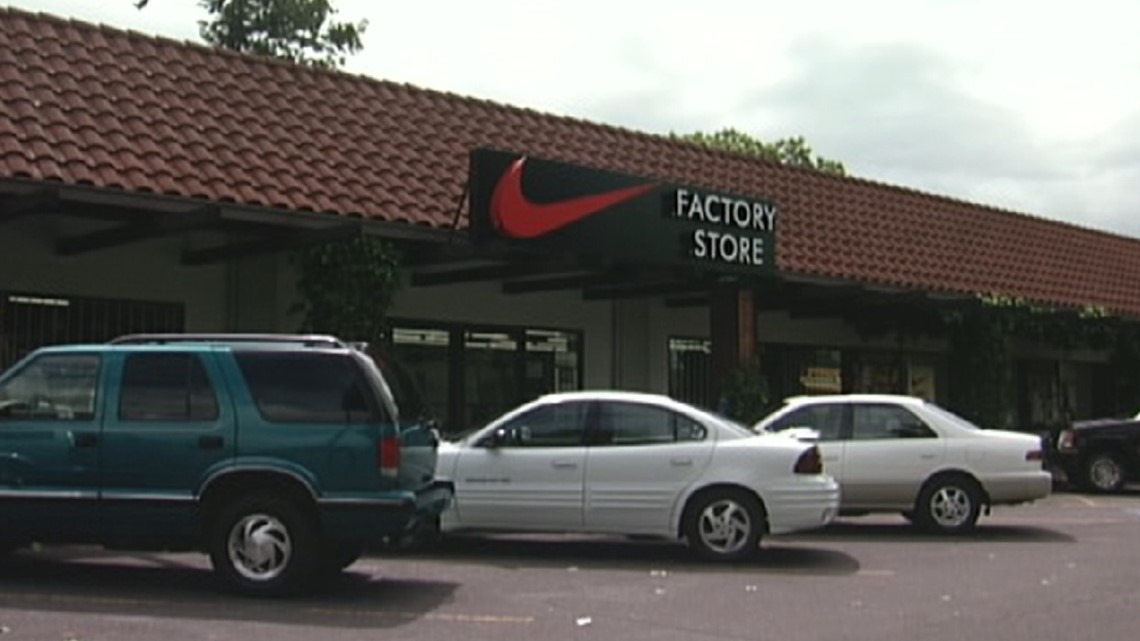 In 2000, the Nike Factory Store moved to its current location after outgrowing the store's original location just two blocks north.
By 2006, Nike had invested $1.2 million into the North and Northeast Portland community, according to a company press release.
"It's not just me. So many people in the community are proud of it," said Herndon, director of Portland's Albina Head Start.
Herndon said he worries the ongoing issues with theft at the Nike Community Store could jeopardize its future.
"Criminals do not care about history," he said.
Herndon said he believes a lack of police resources and prosecution has allowed criminals to tear at the fabric of this community.
"What's occurring with Nike is very symptomatic of what's happening with people, organizations and businesses all over Portland," he said. "Until the city comes up with an answer to this, I don't see it going away."