PORTLAND, Ore. — New data shows Multnomah County District Attorney Mike Schmidt is prosecuting less than half of all misdemeanor theft cases sent to his office by police.
"When there's not prosecution for shoplifting — that's a big problem," said Steven Lien, owner of retail store UnderU4men in downtown Portland.
The numbers come at a time when Portland business owners complain retail theft has risen to new levels. Shoplifting has become more frequent and brazen.
"We have situations where a shoplifter will actually say, 'You're not going to prosecute me. I'm not going to jail," Lien said.
So far in 2022, prosecutors in Multnomah County are prosecuting 46% of theft cases involving less than $1,000 in goods. That's compared to an 84% prosecution rate in Clackamas County, and a 93% prosecution rate in Washington County for the same crimes, according to data provided by all three offices.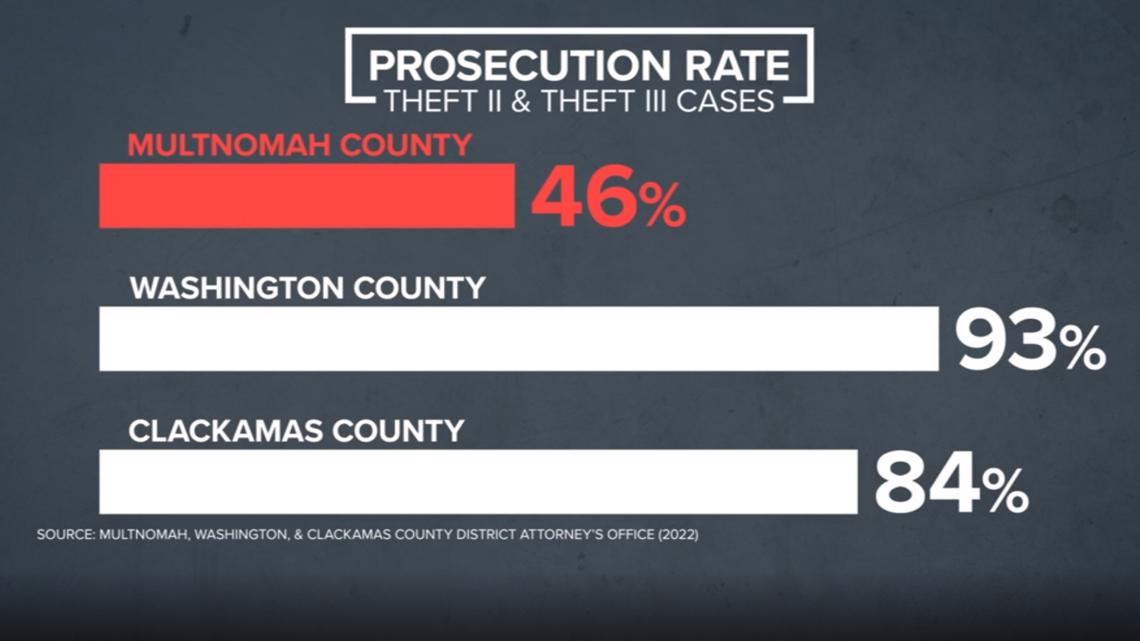 The data shows Multnomah County prosecutors are being asked to tackle fewer theft cases than their counterparts in Washington County. So far in 2022, police have referred a total of 451 felony and misdemeanor theft cases to the Multnomah County district attorney, compared to 1,666 in Washington County.
Additionally, the numbers show Schmidt is prosecuting fewer second- and third-degree theft cases than his predecessor. In the first nine months of 2019, then-district attorney Rod Underhill prosecuted 60% of misdemeanor theft cases, compared to Schmidt's 46%.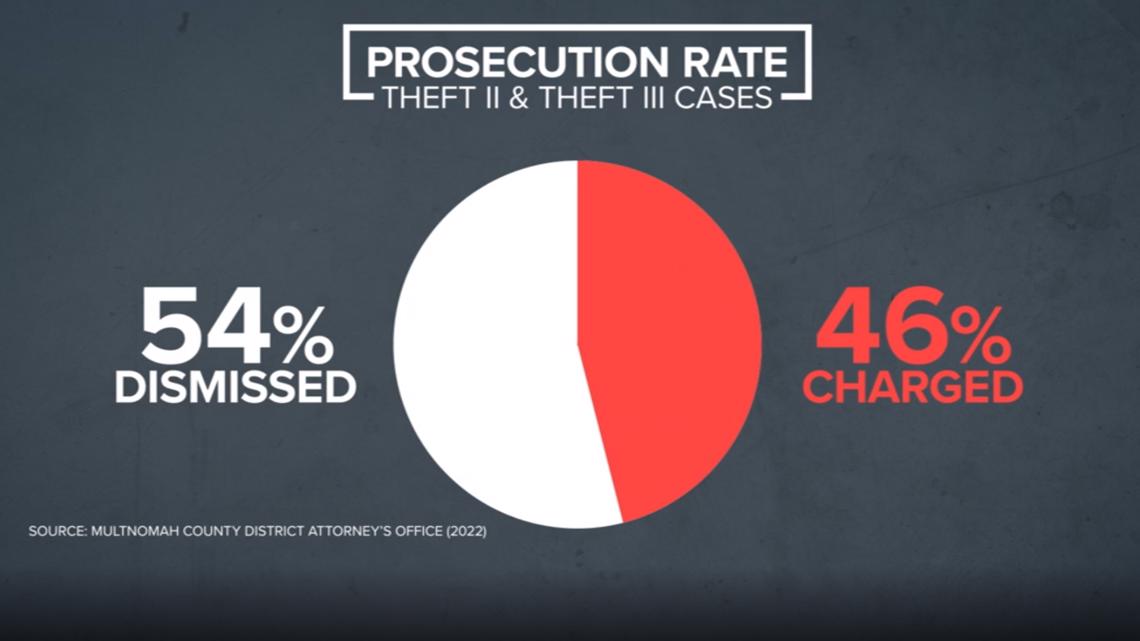 "We issue cases we can prove," Schmidt told KGW. "That's first and foremost and that is our focus."
In addition to prosecution rates, Schmidt argues consideration should also be given to how many cases were referred by police, the strength of the evidence and outcome of those cases.
Schmidt explained that cases his office dismisses are often rejected because prosecutors don't have the evidence they need.
"Frequently that means video. If there is video that exists and any sort of reports from the loss prevention officers — we need all of that information to come to our office so that we can issue those cases," Schmidt said.
Property crimes like shoplifting are rarely solved by police, meaning the district attorney only has the opportunity to charge a fraction of the crimes committed.
The statistics do not identify shoplifting specifically, so it is difficult to parse out retail theft from cases unrelated to thefts from stores.
Critics complain that Schmidt has made Portland an attractive place to commit crimes such as shoplifting without fear of consequences, a notion he flatly rejects.
"There's no policy against prosecuting any of these cases," Schmidt said. "If we have the evidence we need, we're launching these cases."
Retailers admit theft often goes unreported. The shoplifting problem has become so bad, they don't even bother calling the police.
"The current system is broken," Lien said.