Gatekeepers of Portland character
<p>How the Portland Design Commission is shaping the city's future. </p>
PORTLAND, Ore. -- On a frigid day in early December, a hundred people crammed into a conference room in downtown Portland. The front row was occupied by hopeful developers, sitting stiffly at attention. Behind them were dozens of neighbors and city staff, some fumbling through papers, readying statements.
Staring back at the crowd was the stone-faced semi-circle of judges that would decide the building's fate: The Portland Design Commission.
The developers, from the Chicago-based firm Core Spaces, were hoping to build a grocery store and 420-unit residential complex in downtown Portland. Their last hurdle before getting a building permit was sitting right in front of them.
Made up of a handful of volunteer architects, developers and designers, the Portland Design Commission has the final say in the aesthetics of the buildings that define Portland's skyline. The commission follows guidelines crafted more than three decades ago to make sure Portland's new developments fit with its unique past. Perhaps more than any other group, the design commission shapes what the future of Portland will look like.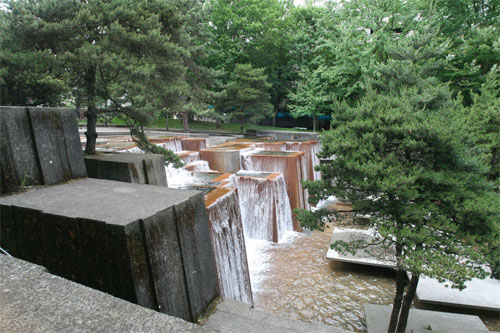 Core Spaces is trying to build the complex at Southwest 4th Avenue and Harrison Street, facing the historic Halprin Open Space Sequence, which includes the Pettygrove and Keller Fountain parks. The firm has followed the rules from the beginning, attending four advising sessions with the commission before its first official design review hearing in December. Team members spent months re-working the proposal before presenting the final plan to the commission.
"This is one of the most detailed design review processes we've ever been through," said Chad Matesi, Senior Vice President of Development at Core Spaces. "It definitely spurs creativity."
At the hearing, neighbors of the proposed building lined up to plead for a less obtrusive structure. One person likened that section of downtown, with its shady maple trees, to "a beautiful country road." Another said she just wants to "keep Portland beautiful."
After hours of testimony, the commission gave Core Spaces two months to rework the design.
"We're looking for a special moment," said commissioner Tad Savinar.
A "special moment" is something that's intangible and difficult to produce. But Portland, with its city parks, public art, bustling storefronts and lush landscapes, is full of special moments. It's the duty of the design commission to keep that tradition going.
The Design Commission's task
Portland is on the cusp of becoming a much larger city. With more than 600,000 residents, its population is starting to rival Seattle's. In 20 years, the city expects to add another 260,000 people.
The constant growth is translating into an explosion of new developments taking root; the concrete towers competing with the forests that surround the city.
But Portland differs from other cities because of its small blocks – just 200 by 200 feet wide – and what's happening at street level. Walking downtown or in the Pearl District is a sensory experience, where pedestrians can see, smell and hear the shops and restaurants operating.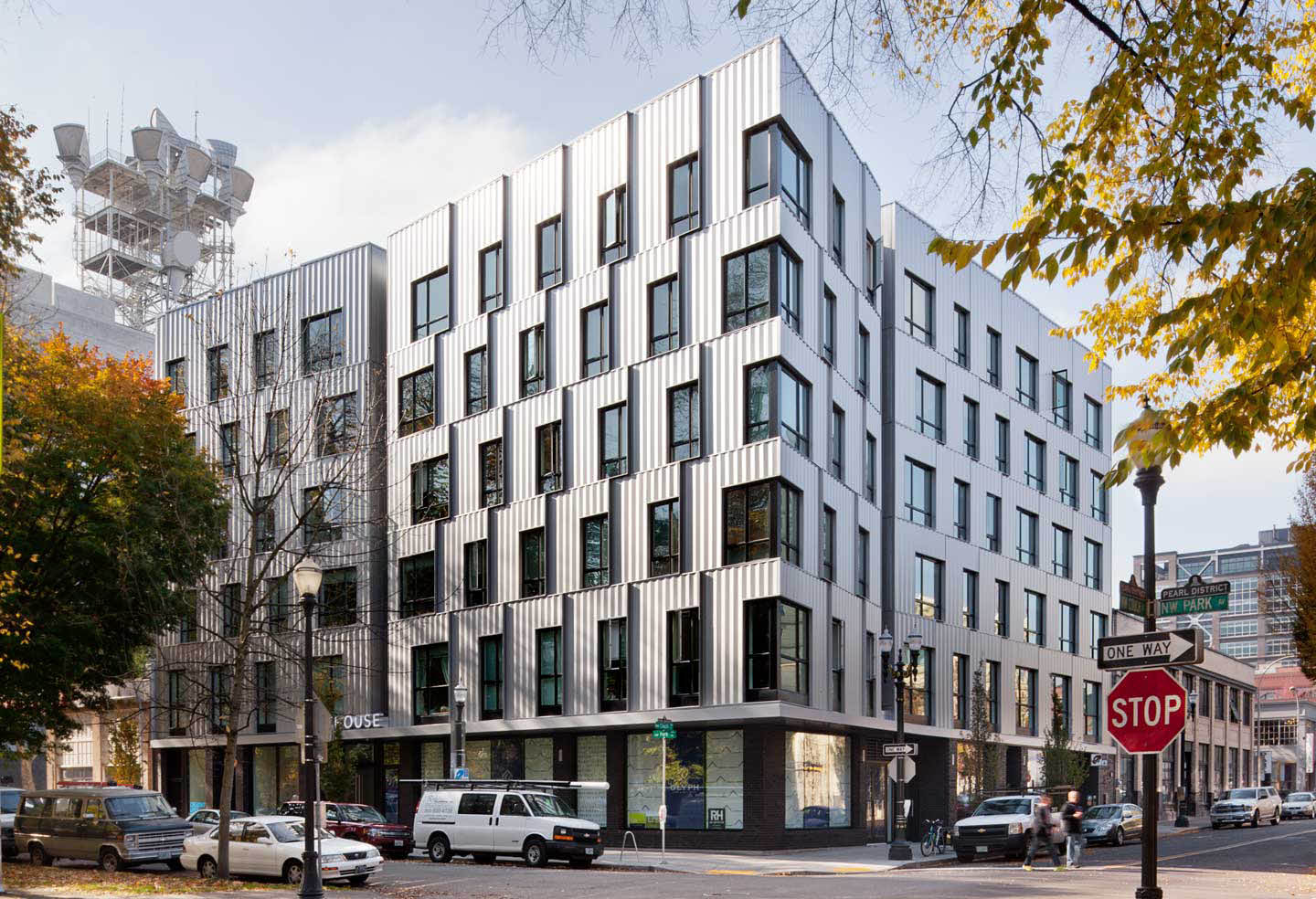 In the late 1970s, a city planner named Michael Harrison foresaw the inevitable growth. He also noticed how car-focused the city was becoming and decided to create guidelines to preserve what residents love about Portland – its walkability, the light-filled downtown streets, and activities happening at the ground floor.
"Those are the guidelines that really speak to character, quality, Portland personality," said commissioner Julie Livingston, an architect and developer with Multnomah County's housing authority, Home Forward. "It's very subjective."
The guidelines, established in 1983, now dictate all of the significant new developments in six Portland neighborhoods. Any developer looking to capitalize on the city's booming economy not only needs to meet the code for height and safety, but also abide by specific aesthetics.
The city is working to expand the neighborhoods that must go under design review. Soon, developments in areas such as Mississippi and Division Street could be required to follow design guidelines and present to the commission instead of just getting a building permit and going to work.
The five people currently serving on the commission are in charge of interpreting those guidelines and making sure the new hotels, office towers and apartment complexes abide by that vision for Portland. They meet at least twice a month to hear from developers hoping to build in Portland's booming neighborhoods. Lately, there have been so many proposals that the commission is meeting three or four times a month, often for eight or more hours at a time.
"It's a big job," said chair David Wark, a principal with Hennebery Eddy Architects who has served on the commission for more than 10 years.
Part of the commission's challenge is interpreting the guidelines, which vary from specific (activity at the ground floor of a building) to vague ("Portland personality").
"They're very gentle. In some cases they're almost saccharine in their sweetness," said Livingston.
In some ways, the guidelines reflect a Portland that no longer exists.
"The guidelines give examples of what constitutes 'Portland personality' from that [1980] era. Now we are a city that cycles. We are a city that drinks a lot of coffee," Livingston said. "We have become a much younger, hipper city."
Wark admits much of the language is outdated and the commission is considering significant revisions. But at their core, he believes the guidelines will always capture the spirit of Portland.
"Portland is about an intimate scale. I've had so many visitors come and marvel at the small-scale nature of our blocks. You don't find that in every city," he said.
That's why Livingston say the design commission is so important.
"There are a lot of people who scratch their heads and say, as a city, why do we do this? But you can visit other really great urban cities and see what happens when we don't do this," she said.
Livingston noted that Vancouver, British Columbia doesn't have similar requirements and the downtown has suffered.
"If you walk along most of the streets in that city, it's parking garage access right next to big empty lobbies next to service corridors that lead to alleys right next to parking garages," she said. "They never really paid attention to what lives inside those spaces."
Portland's aesthetic future
The design commission is trying to protect Portland's livability now, but what happens when the population surpasses a million people, or the number of skyscrapers downtown doubles?
The commissioners say upward growth is inevitable.
"We're going to see bigger, taller, bulkier. All of that leads to less light on the street, less access to daylight," said Livingston. "We're going to see more and more development happening in the commercial corridors like Division and Williams but also further out in East County. Every neighborhood's going to change."
Wark said the city will become less car-friendly.
"There will be less surface parking lots. Less emphasis on the car, more emphasis on moving around," he said.
But even with all of that growth, the design guidelines should protect the character – the creative spaces, the small, light-filled blocks, the little storefronts - that other cities might grow out of.
"Portland is a really creative city," Livingston said. "A lot of creative people are out and about every day and our environment supports that really well."
She thought for a moment and smiled. "Hey, it's working!"
The fate of Harrison Street
The proposed Core Spaces grocery store and apartment complex on Harrison Street is a beacon for what the future of Portland could look like. The multi-use development with hundreds of inhabitants will replace a much smaller structure, and in some ways a smaller way of life.
A roof-top pool and hot tub entice residents, who also have access to a gym and bike parking. The grocery store, with an outdoor vending area, means people will have all of their basic needs met without having to leave the property.
It's a far cry from the post-war buildings that were standing when landscape designer Lawrence Halprin created the parks across the street.
But after a year's worth of design changes, the commission hopes the new development will still evoke the same serenity and community Halprin first envisioned.
Instead of the cube that was first proposed, the building now falls down to one side with a park-like setting on the roof. Anyone standing on the roof or looking out of the windows above it will have a view of Pettygrove Park.
The Harrison Street project was approved in February. Core Spaces hopes to finish construction at the end of 2018.
Of the four commissioners present, three voted in favor. Wark abstained.
"I thought it could have been a little lower in its massing [size] to allow more light to come through," he said.
That tension is critical for the design commission to be successful. These are not small homes the commission is approving. These are the buildings that define our city. Neighbors walk by them every day. The developments are visible characters in Portland, and many will outlive the people who live and work inside of them.
That significance is not lost on the commissioners.
"I moved here in the late 1980s because I thought the city had such potential," Wark said. "It was a great city at that time and it's only gotten better. And I recognized at some point that's the result of the design commission in large part, and the people who implemented the design guidelines. All those volunteers who have come before me. I feel that I have been a part of something really important and something that has made a difference."