PORTLAND, Ore. — Teachers say they're leaving a profession they love because of an increase in classroom disruptions.
Now, some educators are retiring early or resigning because of the lack of support, training, and loss of classroom time they're experiencing daily.
"It was always bad, but what got worse was the lack of support," said Fred Ochoa.
Ochoa retired early after 28 years as an educator, the last 21 years spent as a teacher in the Salem-Keizer school district.
"In the quiet day you kind of wonder, did I do a good job," said Ochoa while flipping through a scrapbook of memories.
Ochoa said disruptive behaviors in his school reached a boiling point in his last few years of teaching.
"This one student was daily, by the hour, getting up, bullying kids, putting his hands on kids," said Ochoa.
Another student would run out of class nearly every day.
"Not only did she have panic attacks, but she would also get up, throw her chair and become what we would call a runner," said Ochoa.
PHOTOS: Classrooms in Crisis scenes
It wasn't the kids that made him want to stop teaching, it was the lack of resources to help them.
He remembers lobbying to get one of his students help and the district psychologist saying he simply didn't have time.
"He said, because I'm having to triage other students. My priority is I'm having to put out crises, fires, other disruptive children and I have no time for a child like yours, in your classroom," said Ochoa.
Ochoa finally decided to retire early.
"That last year, I was close to a nervous breakdown. I was coming home and needed complete silence to regain my sanity," said Ochoa.
He believes classroom disruptions are leading to burnout across the state.
"Yes, burnout is a good term to put to this issue. You're burned out mentally, physically," said Ochoa.
KGW also talked to newer teachers leaving the profession as well.
"The worst thing is caring about kids so deeply and seeing them in crisis and not being able to help. It's an awful feeling," said Emily Berchier.
Berchier resigned from her teaching job at Portland Public Schools after seven years in the classroom.
"I saw students in crisis, that we were not meeting their needs. When their needs weren't met, they were being defiant, they were being violent, running out of classrooms, threatening teachers, throwing scissors," said Berchier.
She said the district doesn't have the people, training or resources to offer the mental health supports these kids desperately need.
"We need more people in the classrooms. We need behavioral paras, mental health professionals," said Berchier.
Berchier resigned after she said her classroom became too unsafe for her and her students.
"It's really sad and I feel really guilty for leaving my students and community behind. I'm a peace with my decision but I'm also grieving the loss of the profession I love so much," said Berchier.
Numbers we obtained from the Oregon Department of Education show a slight increase in the number of teachers not returning to the classroom compared to five years ago.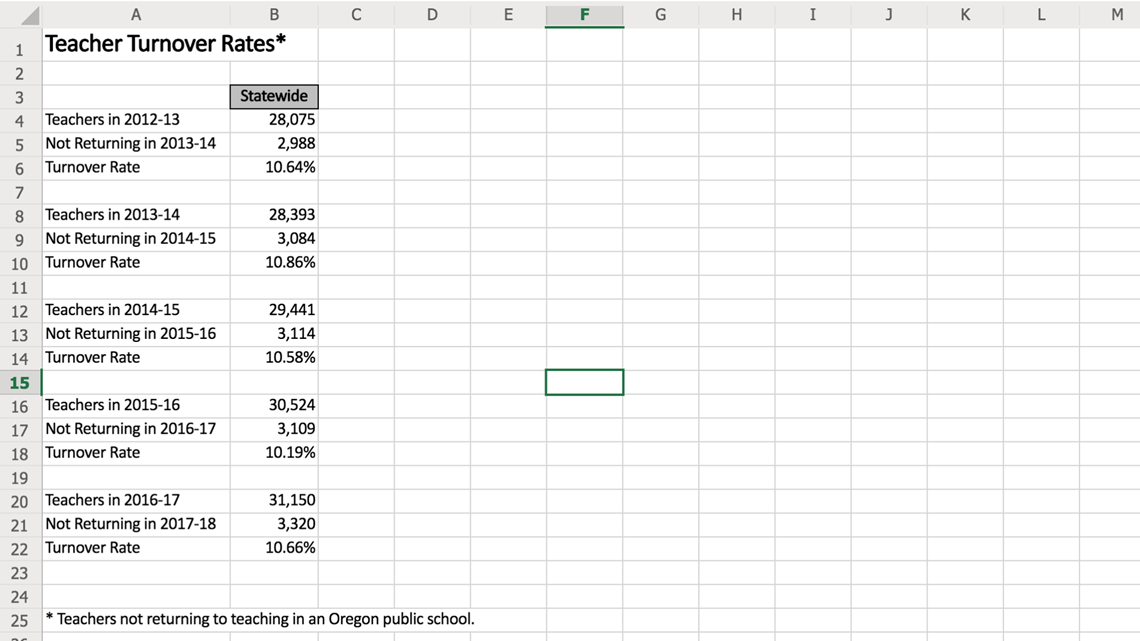 According to the ODE, 2,988 teachers didn't return in 2013-2014 compared to 3,320 in 2017-2018.
However, the state doesn't keep track of the reasons why those teachers left.
KGW sent our own survey to the more than 300 teachers who contacted us after our first "Classrooms in Crisis" investigation.
The more than 60 percent of educators who answered the survey said classroom disruptions have caused them to consider quitting.
Seventeen percent said they quit because of classroom disruptions.
"If you keep putting so many demands on us and so many students in our classes and so many students with so much need we can't do our jobs," said Berchier.
Berchier and Ochoa worry others will leave too, if districts don't focus on things like smaller class sizes, trained adults in the classroom and a focus on mental health.
"So, it's easy to get divisive and point the finger at admin, at a bad teacher, at parents. But really, we need to get together and understand that our intention is that we need to love these children and make them be the most successful they can be," said Berchier.
KGW has interviewed dozens of teachers and school administrators about an increase in verbal, physical and sometimes violent disruptions in Oregon and Southwest Washington classrooms. We've received emails from hundreds of additional teachers who tell similar stories. Many teachers say they don't have the proper training, support or resources to deal with this disruptive behavior. The teachers don't blame the kids, pointing out that many students have suffered trauma in their lives; however, they say the current law makes it difficult to handle these incidents effectively. In many cases they are forced to clear all other students out of a classroom until a disruptive student can calm down. We will continue to tell these stories and push for answers from lawmakers and school officials. KGW will be airing an hourlong community conversation with teachers, parents, administrators and lawmakers focused on solutions to classroom disruptions on Wednesday, May 8 at 7pm. Please join us for Classrooms in Crisis: Solutions.
Do you have a comment or idea related to our Classrooms in Crisis coverage? Please email callcristin@kgw.com