PORTLAND, Ore. — It's back. A fraudulent car ad featuring a 2008 Honda Accord is appearing in newspaper classifieds. Scammers used the exact same photos and vehicle description to defraud victims two years ago.
The advertisement has appeared several times in The Oregonian classifieds. The advertisement described a 2008 Honda Accord EX-L with 72,000 miles, leather interior and sunroof for $2,000.
"It sounded too good to be true," said Jim Maass, who responded to the advertisement. The Oregon man quickly realized the offer was a scam when the seller responded via email.
"Right off the bat he starts asking questions about wiring money," explained Maass.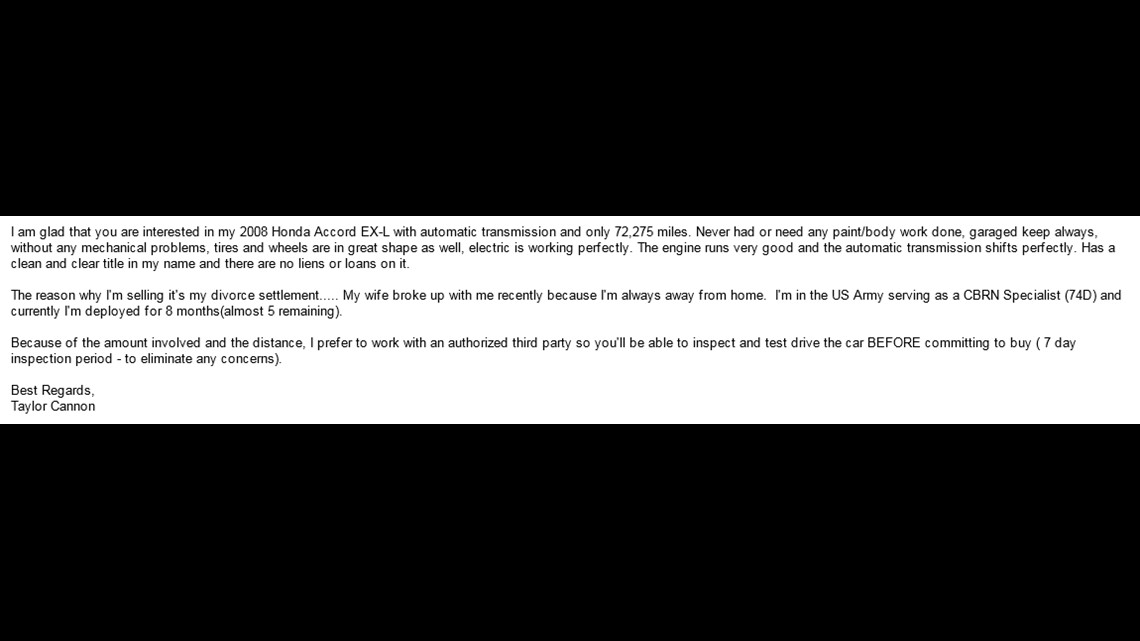 The seller typically replies to emailed inquiries by sending a series of car photos and a vehicle history report. Additionally, the seller writes about a recent divorce and serving in the military. The seller suggests working through a third party to arrange payment and shipment of vehicle.
Previous victims explain, once money is wired or a payment is made electronically- the seller stops responding.
In 2016, KGW reported a Portland man lost $2,000 to the car scam.
An internet search shows the same photo of a 2008 Honda Accord appears in newspaper classifieds across the country. Most of the ads were posted within the past two to three weeks. They all included the same email address.
It is not clear who is behind the ads. The telephone number, with a 541 area code listed in The Oregonian advertisement was disconnected.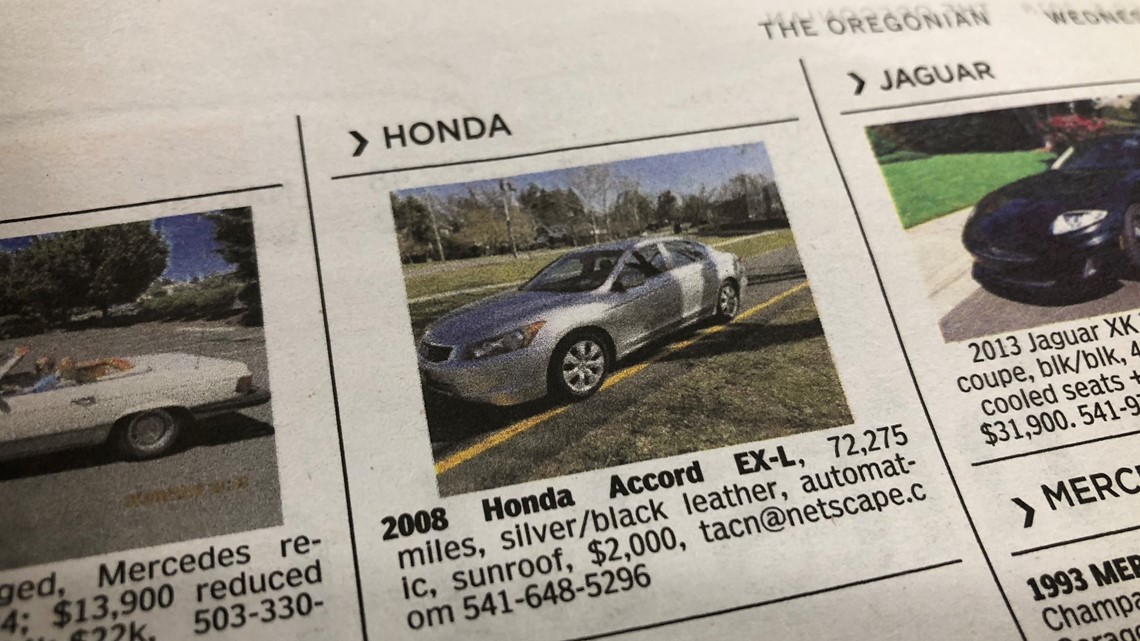 "We employ systems and processes that include both automated and human oversight in the placement of advertising on our platforms," wrote John Maher, president of Oregonian Media Group in a statement to KGW.
Maher explained that scammers are constantly changing their tactics to avoid getting caught.
"Based on this dynamic, we regularly review and enhance our prevention efforts to minimize the possibility that fraudulent ads make their way through to the consumer," said Maher. "In the event that we identify a potentially fraudulent ad after placement, we remove it as soon as possible."
How to avoid online car-buying scams:
NEVER wire money or use a bank-to-bank transfer in a transaction.
ALWAYS try to deal locally when buying or selling an automobile or other high-value merchandise
DO NOT sell or buy a car from someone who is unable or unwilling to meet you face to face.
NEVER buy a car that you have not seen in real life and had inspected by a professional. A vehicle history report may also be a good idea, though scammers have been known to use fake vehicle identification numbers to defeat this countermeasure.
WAIT until a check (personal, cashier's, certified, or otherwise) has cleared the bank to transfer title or the car itself. Funds being made available by a bank DOES NOT mean the check is not counterfeit. Clearing a check can take days or weeks depending on the financial institutions involved. Check with your bank about their particular processes for clearing checks.
NEVER trust a seller or buyer who says that the transaction is GUARANTEED by eBay, Craigslist, PayPal, or other online marketplace. These sites explicitly DO NOT guarantee that people using their services are legitimate.
BEWARE sellers or buyers who want to conclude a transaction as quickly as possible. Scammers want to get your money before you have time to think or have a professional examine the deal.
CALL the buyer or seller to establish phone contact. If the buyer or seller seems to neglect details agreed to via e-mail or is unable to answer questions about their location or the location of the automobile in question, it is likely to be a scam.
ALWAYS trust your gut. If a deal feels "fishy" or sounds too good to be true, it probably is. Plenty of people use online classified ads to buy and sell cars every day. The vast majority of these transactions are legitimate and go smoothly. Losing out on a "great" deal in order to work with someone you trust could save you big in avoiding a possible scam.
(Source: National Consumers League)