PORTLAND, Ore. — Lori Stewart got nervous as she pulled her minivan around the corner, approaching her apartment complex in Beaverton.
"I'm hoping my spot is still there," said Stewart, after circling the block. The 80-year-old jockeyed for an open parking space along the street.
"You've gotta play the game," explained Stewart. "It's not fun."
Stewart is one of four residents with disabilities living at The Barcelona at Beaverton apartment complex who filed complaints with the city over a lack of convenient street parking.
"None of us want to be in this position. None of us want to have a disability. It's just a fact of life," said resident Linda Briggs. "If there can be some accommodations to make it just a little bit easier- it would help all of us."
The residents wanted the city of Beaverton to provide four reserved parking spots for them along the street. The city explained, it's just not feasible and not fair to others.
"That is public parking. What they're asking for us to do is basically convert that public parking to private property," explained Jenny Marston, Americans with Disabilities Act (ADA) coordinator for the city of Beaverton.
The four-story apartment building on Southwest Lombard Avenue in downtown Beaverton includes eight units specially designed for people with disabilities.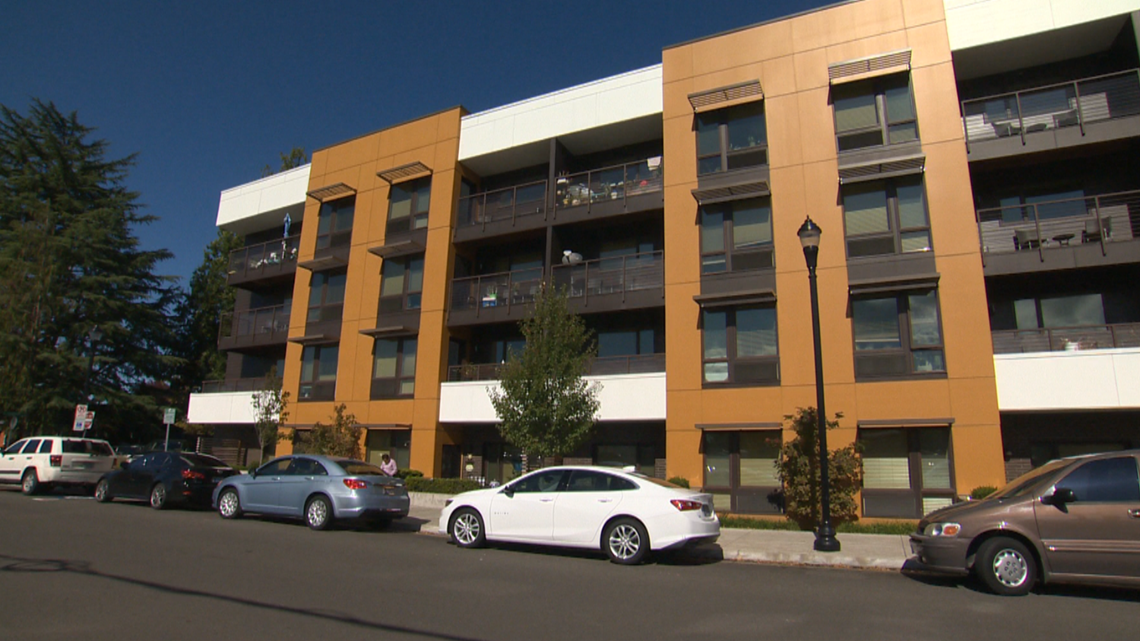 To access the apartment complex parking lot, residents with disabilities must navigate down a long hallway, then out of the front door and around the building. Once outside, residents with disabilities face another challenge, their mobility scooters must be stored in a safe, secure and dry location.
"What do we even do with our 300-pound chairs?" asked resident Kim Petitt. "We can't lift them. It's just not practical. It's not accessible."
The residents explain it would be much easier to go out the back door of their apartments. Curbside parking is roughly ten feet away, compared to the nearly 300 feet to reach the private, complex parking lot.
"The simple solution would be to accommodate us with the spaces that we need. Put our unit number on those reserved spaces," explained Petitt. "It's not too much to ask."
Residents fear the lack of available street parking is only going to get worse because a large multi-unit complex is being constructed across the street.
In January, the four residents with disabilities living at The Barcelona at Beaverton filed a request for ADA accommodation with the city. They requested four reserved parking spaces along the street.
The city denied the request because it was essentially turning public parking into private property.
"We felt privatizing those spots actually ran counter to accessibility because those spots become unavailable to other individuals with disabilities who might need to use those parking spots," explained Marston, Beaverton's ADA coordinator.
The city did install one disabled spot along the street which is available for anyone with a valid disabled parking permit.
"We're pleased with the result," said Marston. "We think it meets the needs that they had identified."
The city forwarded the ADA accommodation request to The Barcelona at Beaverton which, if requested and approved, can provide reserved parking spaces for residents with disabilities in the complex lot.
Residents argue that doesn't solve their problem.
"When they built this complex and the ADA units along this (south) side- they should have taken into consideration- adequate, accessible parking for residents with disabilities. They did not, so here we are," said Petitt.